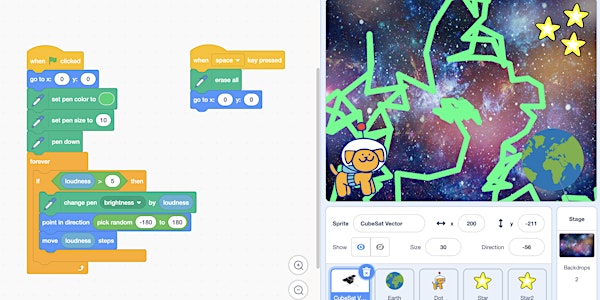 PLIX | Scratch Sensing Without a Micro:bit
Explore ways to blend the physical and digital worlds using sensing features in the Scratch programming language!
About this event
For the December workshop, PLIX will host a remix of our Scratch+micro:bit activity!
Electronics have been in short supply during the pandemic, and micro:bits have been especially hard to come by! Join us Thursday, December 16th, from 12:00-1:00PM ET to explore ways to use Scratch to blend the physical and digital worlds, without additional hardware/tools! We'll use this hour for hands-on tinkering, working with fellow members of the PLIX community to create interactive projects that use sensing features in Scratch. No previous experience is necessary!
This workshop will be held via Zoom, but is hands-on! Come prepared to create your own project in Scratch! As preparation, please review the activity write-up, including the Zine.
See you soon! ⚡