A new work from Justin Sayre Feat. Mary Testa, Queer As Folk's Randy Harrison & The Wild Party Original Cast Member Nathan Lee Graham
About this event
Babette in Retreat
LIVE 4/10 7PM.EST
On-Demand 4/11-4/14
By Justin Sayre ("2 Broke Girls")
Babette was one of the most famous courtesans of her day, but now at 50, she has decided to retire to her country house, wanting to live in isolation, with only her beloved maid for company. After a lifetime of pleasing others, she's ready to please herself. Unfortunately, her plans are destroyed even before her own arrival, as one by one those closest to her all come to the cottage wanting for something. It's a farce about love and responsibility to each other.
Featuring
Becca Blackwell (Is This a Room, Hurricane Diane)
Nathan Lee Graham (Zoolander, Priscilla Queen of the Desert)
Randy Harrison ("Queer as Folk", Cabaret)
Justin Sayre ("The Comeback", The Meeting*)
Mary Testa (Tony Nominee OKLAHOMA!, Xanadu)
Auden Thornton ("This Is Us")
Jack Wetherall ("Queer as Folk", The Elephant Man)
Directed by Ellie Heyman (The Great Work Begins: Scenes from Angels in America)
Net Proceeds Will Benefit Ali Forney Center
-This event requires having the free Zoom teleconference app which can be downloaded via https://zoom.us
-A Zoom link will be sent via Eventbrite to your email the day of the event if viewing live or the recording will be sent the morning of April 11th
-Performance time is subject to change.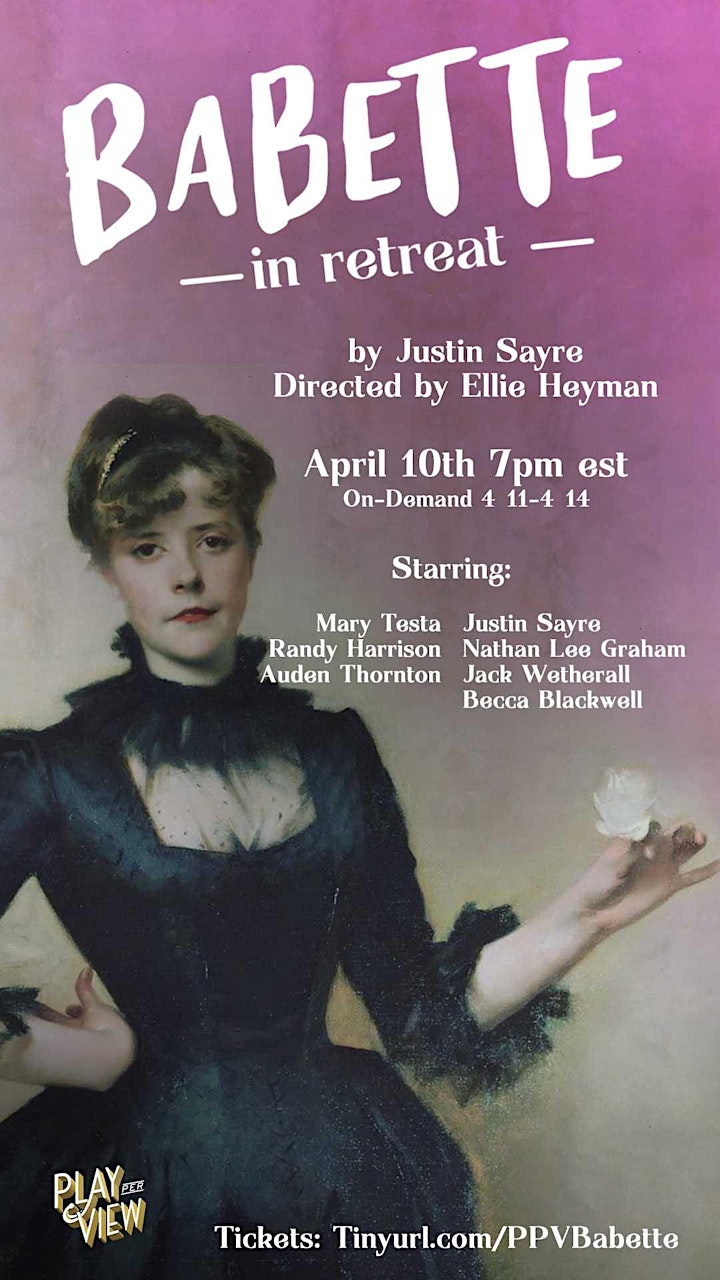 Organizer of Play-PerView: Babette in Retreat (Live-Reading)