Platform Design Masterclass con Simone Cicero - Roma - 10 Maggio 2017

Wednesday, May 10, 2017 from 9:00 AM to 5:30 PM (CEST)
Event Details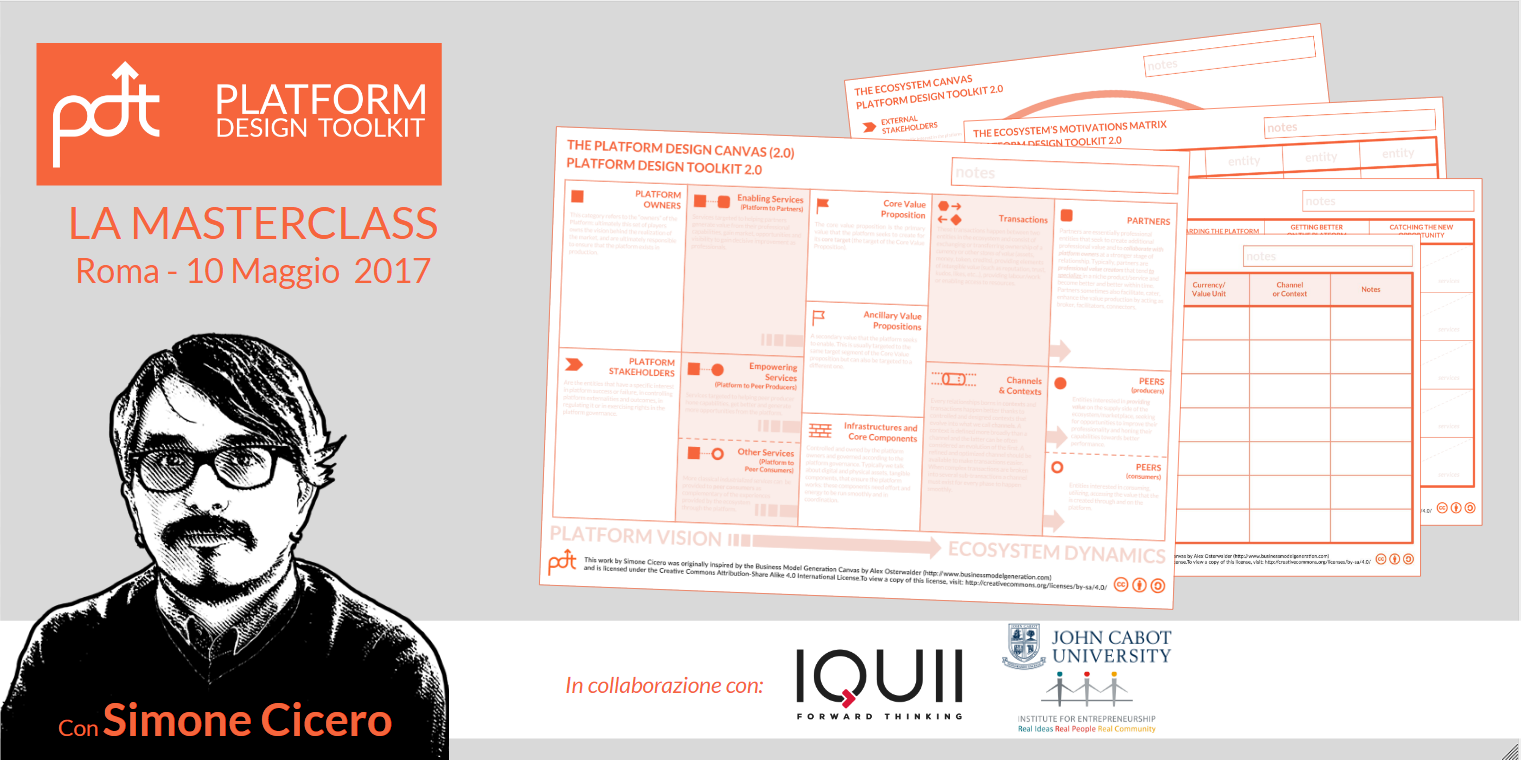 Le piattaforme stanno trasformando i mercati e dominano il business del 21° secolo: dai giganti storici come come Google, Apple, Amazon o Salesforce ai nuovi entranti come Uber e Airbnb, che in pochi anni hanno trasformato i loro mercati di riferimento.
Finalmente oggi sappiamo che creare piattaforme e connettere utenti e aziende in peer-to-peer è la via migliore per una crescita esponenziale e a risultati eccezionali.

Dopo la trasformazione di grandi mercati come il trasporto o il turismo il modello piattaforma offre possibilità importanti in tanti nuovi contesti: mercati più piccoli, nicchie, mercati locali. Progettare piattaforme oggi è una opportunità per tutti… anche grazie a strumenti più semplici di progettazione!
La Masterclass
Un corso di un giorno in cui imparerete – autonomamente o in team – ad usare il Platform Design Toolkit, lo strumento più completo per la progettazione di piattaforme, applicandolo direttamente al vostro prodotto, servizio, alla vostra idea di startup o a un mercato che vi sta a cuore.
Ottenere maggiori risultati con minori investimenti sfruttando la capacità della comunità e dell'ecosistema di creare valore per la vostra azienda: le piattaforme costano meno in termini di investimenti, producono più ricavi con un numero minore di impiegati, evolvono più facilmente e hanno utenti più fedeli.
Ecco perché anche piccole o medie aziende oggi possono sognare di trasformare i mercati che conoscono bene!
Durante il corso comprenderemo quali sono le transazioni base nel vostro marketplace come: creare canali giusti per monetizzarle, creare servizi che supportino gli utenti nel generare più valore, accumulare più reputazione e migliorare le loro competenze e performance.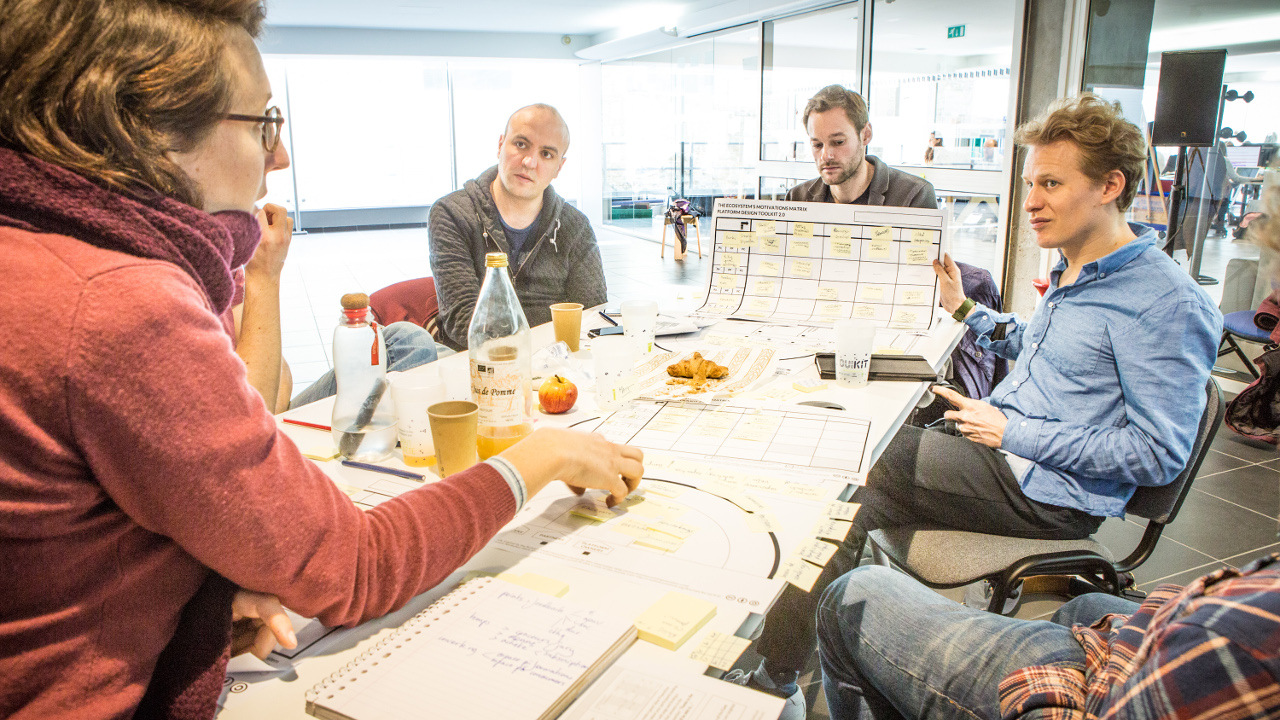 Platform Design Toolkit
Nato nel 2013, il Platform Design Toolkit è stato già utilizzato e studiato in tutto il mondo da Startup di successo come Sharing Academy, OSVehicle, SlowD e altre ancora e da grandi gruppi internazionali come Axway, Hutchison Whampoa, Adeo, Transdev e SWIFT.
Perfino il Servizio Sanitario nazionale Inglese e la Commissione Europea sono tra i clienti interessati all'implementazione di una strategia di piattaforma basata sul Platform Design Toolkit.

Business Schools europee e americane lo hanno utilizzato nei loro corsi di master e laurea. Designer e imprenditori di tutto il mondo lo hanno utilizzato per dare forma e migliorare le loro idee di business e di impatto.

Per comprendere meglio le opportunità dietro il Platform Design, scaricate il White Paper gratuito sponsorizzato da SWIFT Innotribe, il team di innovazione di uno tra i più importanti player della finanza globale.
Programma
Comprendere il proprio ecosistema di riferimento.
La prima fase del workshop vi aiuterà a comprendere meglio il vostro mercato di riferimento, mappare tutti i ruoli disponibili per gli attori dell'ecosistema e le motivazioni che essi hanno nello scambiarsi valore attraverso la vostra piattaforma: imparerete come motivare tutti a aderire e a partecipare, facendo leva su incentivi chiari e azionabili.
Creare un prototipo di modello di piattaforma.
Creeremo una foto di come la vostra piattaforma fornirà i canali per le transazioni e una serie di servizi abilitanti all'ecosistema: così facendo la piattaforma creerà un vantaggio speciale per i partecipanti e darà loro opportunità di crescita esponenziale.
Argomenti
Il corso tratterà i temi della trasformazione digitale e di come questa ha cambiato le aspettative degli utenti moderni: le piattaforme digitali saranno studiate e raccontate in quanto soluzioni in grado di conquistare nuovi mercati in questo contesto.
Utilizzeremo strumenti pratici di progettazione come i Canvas che fanno parte del Platform Design Toolkit in parallelo con informazioni chiave sui trend e sulle innovazioni tecnologiche.
Nota: Se non ne avete un progetto di piattaforma, utilizzeremo una piattaforma esistente o di finzione negli esercizi di modellazione.
Cosa aspettarsi da questo workshop
Al termine del workshop sarete in grado di:
riconoscere le entità e i ruoli principali in ogni ecosistema che nasce attorno a un'opportunità di mercato
progettare canali per monetizzare transazioni e aiutare la comunità-ecosistema a produrre e scambiare valore dentro la vostra piattaforma
creare un sistema di servizi di supporto alle relazioni e alle transazioni nell'ecosistema per migliorare le performance della piattaforma
utilizzare uno strumento pratico e aperto (in Creative Commons) che potrete usare decine di volte nella vostra attività professionale.

A chi si rivolge
Il workshop è strutturato e pensato per:
Manager che si occupano giornalmente di innovazione nelle grandi e piccole aziende, che devono creare nuovi prodotti e devono fare i conti con budget e capacità di investimento ristrette;
Startupper che, da soli o in team, vogliono lavorare per creare la loro ipotesi di prodotto e mercato e poi iniziare rapidamente la validazione;
Creativi, Designer e Consulenti che vogliono imparare a padroneggiare un set di strumenti di design semplici da applicare, ed efficaci per progettare soluzioni al passo coi tempi;
Gestori di comunità di innovazione e di prodotto servizio – dalle piattaforme digitali agi spazi collaborativi come incubatori, makerspace, coworking;
Funzionari pubblici e imprenditori sociali che vogliono capire come aumentare l'impatto sociale dei servizi collaborativi con minori investimenti.
Approfondimenti
Connettiti al sito di Platform Design Toolkit: www.platformdesigntoolkit.com
Testimonial sulla metodologia
In un mondo sempre più connesso in rete avremo sempre più bisogno di più strumenti come il Platform Design Toolkit.
John Hagel – Deloitte center for Edge Innovation
Il Platform Design Toolkit ci ha aiutato a costruire la nostra visione e ad entrare in YCombinator con un modello di business scalabile e multi sided.
Tin Hang Liu – CEO OSVehicle
Quando l'hype del momento era per il Business Model Canvas e tutti ne erano pazzi, Simone propose il suo toolkit, che si rivelò lo strumento che gli imprenditori della Sharing Economy, come me, stavano cercando da tempo. Io l'ho usato per creare Sharing Academy e lo raccomando ora agli imprenditori dell'Economia Collaborativa e non.
Jordi Esteve Llonch – CEO Sharing Academy
Abbiamo utilizzato il metodo e ci ha portato al ragionamento che era necessario per chiarire molte questioni complesse in relazione al funzionamento del nostro ecosistema. Voglio suggerire la metodologia perché abbiamo provato e funziona! Altamente consigliata!
Andrea Cattabriga – Chairman SlowD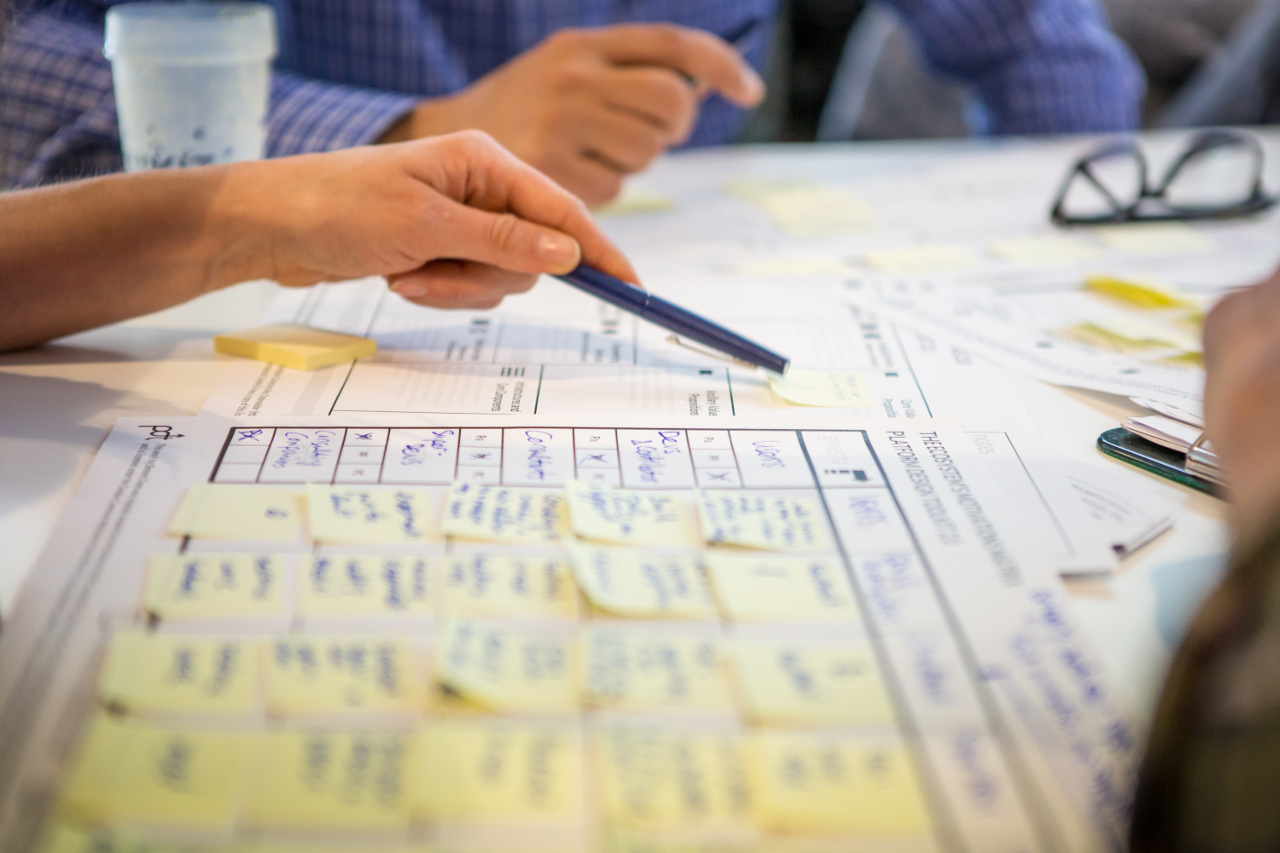 Testimonial sul workshop
L'abilitazione strategica, culturale ed operativa ad una modalità rivoluzionaria per l'analisi e l'elaborazione di modelli di business e connessione di ecosistemi.
Alessandro Bruni – Platform Design Workshop
Workshop molto pratico e ben focalizzato a mettere subito in pratica l'uso del toolbox. Molto utile in particolare se hai in mente un progetto di piattaforma (digitale, di business o social) che vuoi sviluppare
Roberto Pezza – Platform Design Workshop
Semplicemente funzionale ad iniziare la comprensione delle metodologie che sottendono a progetti basati su piattaforme abilitanti.
Stefano Pavani – Platform Design Workshop
PDT Partners
The Masterclass will be hosted by the Institute for Entrepreneurship at John Cabot University, proud supporter of Startup Events. The JCU Institute for Entrepreneurship provides education andtraining in the fundamentals of best entrepreneurial practices, building a strong international network of entrepreneurially-minded friends of the JCU community.
FAQ
Come devo prepararmi per il corso?
Il miglior modo di prepararsi è di scegliere un'idea di piattaforma che si vuole accelerare durante il corso o un contesto di mercato che si ritiene interessante.
È un corso per principianti o per esperti?
Questo corso tratta una materia avanzata – la creazione di nuovi prodotti e servizi – ma lo fa in maniera pratica e lasciando al partecipante gli strumenti e i riferimenti per usarli: è dunque un corso per partecipanti che comprendano cosa significa creare un nuovo prodotto-servizio ma non è richiesta alcuna conoscenza pregressa sul tema delle piattaforme o del design.
Politiche di fatturazione cancellazione 
NOTA BENE: SE NECESSITI FATTURA INTESTATA A UNA PARTITA IVA E NON A UN CODICE FISCALE CONTATTA L'ORGANIZZATORE DIRETTAMENTE PRIMA DI ACQUISTARE IL BIGlLIETTO
Se cancellerai il tuo bigliettio prima del 10 Aprile potrai ottenere un rimborso completo della quota.
Tra 10 Aprile e il 25 Aprile il rimborso che potremmo offrirti sarà del 70%. 
Dopo il 25 Aprile i biglietti saranno rimborsati al 30%: in alternativa - vi verrà offerta la possibilità di partecipare alla prossima Masrterclass organizzata direttamente da Platform Design Toolkit in qualsiasi città Europea.
Nota che i biglietti scontati del 50% non sono rimborsabili.
When & Where

Roma
John Cabot University - Institute for Entrepreneurship
Via della Lungara, 233
00165 Roma
Italy


Wednesday, May 10, 2017 from 9:00 AM to 5:30 PM (CEST)
Add to my calendar
Organizer
Simone Cicero - The Platform Design Toolkit Team
Training events on the utilization of the Platform Design Toolkit.
The Platform Design Toolkit is a set of design tools of consisting of several canvases and is suitable for the design of digital and non digital platforms that facilitate value creation through the involvement of users and ecosystem partners.
 The Toolkit is suitable for the startup phase, for corporate players who want to innovate by investing less and having better results, and also for community projects and for institutions and social enterprises that want to scale their impact.
Platform Design Masterclass con Simone Cicero - Roma - 10 Maggio 2017