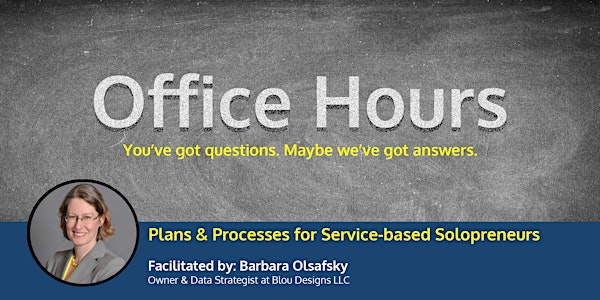 Plans and Processes for Service-based Solopreneurs - Open Office Hours
You have questions. We might have answers. Let's chat and see what makes sense for you.
About this event
Pop in and let's chat about what you're hoping to achieve in your business and what might make sense for you.
These office hours are designed to help you plan/design, document, delegate, and improve your standard operating processes and procedures (SOPs). Whether it's "big picture" or the individual steps you need to take, we can talk about it. Bring as many questions as you have.
If you're struggling to figure out how to implement something, or you just need a sounding board made up of other service-based solopreneurs, swing by.
---
When?
Office hours are held for 30 minutes every month, usually on the first Tuesday of the month.
Where?
Zoom. Register to get the link.
Join from wherever you are in the world, but know that these sessions are held in English.
What's the format?
This is open office hours. I never know how many people will attend - it could be several, and it could be just you.
Pop in any time during the session; pop out whenever you're ready to leave.
Bring your questions or just listen to the discussion.
There's no obligation to participate.
If no one has a question or issue to discuss, I'll chat about whatever's on my mind that month regarding plans and processes.
Why aren't you charging?
This is about community, and supporting other solopreneurs like me.
---
Meet Barbara
Hello! I help decision makers be more intentional and structured/systematic in their businesses so they can: guess less and feel more confident, save time by making the most of their efforts, and move the needle towards their business goals by choosing next steps that make sense instead of adopting whatever the latest guru is telling us all to do.
I've been consulting since 2005, with clients ranging from Fortune 500s to solopreneurs. Much of that work has been a mix of:
Clarity - How you understand and define "who" the company is, and what it might look like when success is achieved.
Data collection/automation/analysis - Being strategic about data means determining what data you need to be data informed, collecting it so it's easy to find and use, pulling it into easy-to-update analysis tools like dashboards so you can make timely decisions, moving it into reports without wasting time with copy and paste, etc.
Repeatable/scalable/efficient processes and procedures (SOPs) - like the topics we'll cover in these office hours.
---
Please note that there is no guarantee of results from anything discussed or shared during these sessions, and any examples shared should be interpreted as for demonstrative purposes only. At no point will you be expected to take a certain action as a result of these sessions. You remain responsible for all of your decisions.