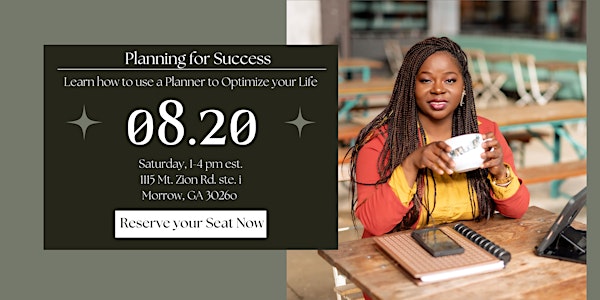 Planning for Success: Learn how to use a Planner to Optimize your Life
Living a life of leisure & freedom is an attainable goal that can be accomplished through the structure of planning. Join us in learning how
About this event
LEARN. HOW. TO. USE. A. PLANNER.
What if I told you that Planning is the key to Manifesting?
Imagine: Obtaining whatever it is you want in life in the next waking hours. I'm here to tell you that planning is the gateway to your bold audacious goals coming true. During this 3-hour event I will teach you how to gain clarity while clearing the chaos to invite with ease ALL things imaginable.
Learn how to effectively use a physical planner to:
Triple the Amounts of trips you take this year
Create Profitable Partnerships
Increase your Financial Goals
Improve Relationships
I know, I know it sounds far fetched but it is absolutely attainable through the simplicity of Planning Better. PERIOD!
For those with a little less imagination, here's what we'll be covering:
Steps to Organize your Life
Optimally gain structure in your business
Accomplish your SMART goals
Hit Metrics repeatedly
Get your household in order once & for all
Statistics shows, that if you can improve your planning capabilities it can extend your life by almost 45%. (Don't google or quote me on that please, lol) But isn't that grand?! Extend your livelihood today by joining us in our FIRST Planning Series.
Tickets are available for ONLINE OR IN-PERSON