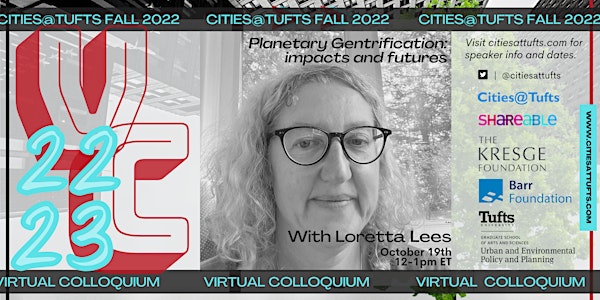 Planetary Gentrification: impacts and futures
Cities@Tufts open lecture featuring Loretta Lees
Refund Policy
Contact the organizer to request a refund.
Eventbrite's fee is nonrefundable.
About this event
Cities@Tufts is a cross-disciplinary academic initiative that recognizes Tufts as a leader in urban studies, planning, and sustainability. Join us as we welcome scholars and create spaces for innovative discussions on complex urban and environmental issues.
What is planetary gentrification (process)? Where in the world has it occurred (geography, spatiality)? When did it occur (temporality)? What have the impacts been (displacement)? And critically what might its future be like? These are all questions posed and discussed in Professor Lees's wide ranging presentation.
Loretta Lees is an urban geographer and urbanist who is internationally known for her research on gentrification, urban regeneration, global urbanism, urban policy, urban public space, architecture, and urban social theory. Before moving to Boston University in September 2022 to serve as Faculty Director of the Initiative on Cities, she was professor of Human Geography at Leicester University and before that King's College London in the UK.
Loretta has published 14 books, with 2 books in press (The Planetary Gentrification Reader, Routledge; Concise Encyclopedia of Human Geography, Edward Elgar). Her most recent book, co-authored with Elanor Warwick "Defensible Space: mobilisation in English Housing Policy and Practice" (2022), critically examines the concept of 'defensible space' which has been influential in crime prevention on housing estates in the UK, the USA, and beyond; evaluating its movement/mobility/mobilisation from the US to the UK and into English housing policy and practice.
Following the lecture, there will be a Q&A moderated by Julian Agyeman.
This event is part of the Cities@Tufts Virtual Colloquium, an ongoing open lecture series from the Tufts School of Urban and Environmental Planning and Shareable.