About this Event
It's taken decades of planning and hard work to get here, and now Hamilton's West Harbour Waterfront Redevelopment Plan is in full action, construction is underway and new public spaces will be taking shape.
Building on all of the design and consultation work to date, the City of Hamilton is looking for your ideas to assist in the development of a Placemaking & Activation Plan. This Plan will outline program ideas for how the current and future public spaces could be used, and look for ways to make this area a "people-place" in the immediate term, during construction, as well as the eventual long-term.
Join the City, and our consultants from Project for Public Spaces (www.pps.org), for a Community Conversation Meeting. We'll discuss innovative placemaking approaches that create public spaces which engage people, fostering a strong sense of place that, in turn, contributes to the growing vibrancy of a waterfront for all Hamiltonians.
To help you imagine how these public spaces could be used, the City of Hamilton will temporarily open the site of the future public trail along Piers 5 to 7 at the foot of James Street North. You will be able walk to the water's edge like never before, follow the path of the future trail and experience a series of placemaking activations that will help inspire ideas for discussion.
Details
All events are taking place on Thursday, August 22nd, and are free to the public.
A free trolley shuttle will be running between Pier 8 and Pier 5 for the duration of the events.
Free parking available at Hamilton Waterfront Trust Centre parking lot (57 Discovery Dr.) on Pier 8.
Public Transit (HSR Bus): Routes #20 A-Line; #99 Waterfront Shuttle – get off at HWT Centre. Route #4 Bayfront – get off at James St. N./Burlington St. E. stop and walk north one block. Pedestrian gate access to Piers 5-7 at James St. N. and Guise St. will be open.
Placemaking Demonstrations:
Location: Piers 5 to 7
Hours: drop in anytime from 3:00 p.m. to 8:00 p.m., RSVP not required.
Additional details about the demonstration activities that will be taking place will be added soon – please check back closer to the event date
Community Conversation Meeting:
Location: HWT Centre
Hours: begins at 6:00 p.m. and ends at 8:00 p.m.
Free to anyone interested, but RSVP through Eventbrite is requested so that we can prepare for appropriate numbers numbers (click the green "Register" button). However, last-minute arrivals will still be welcome.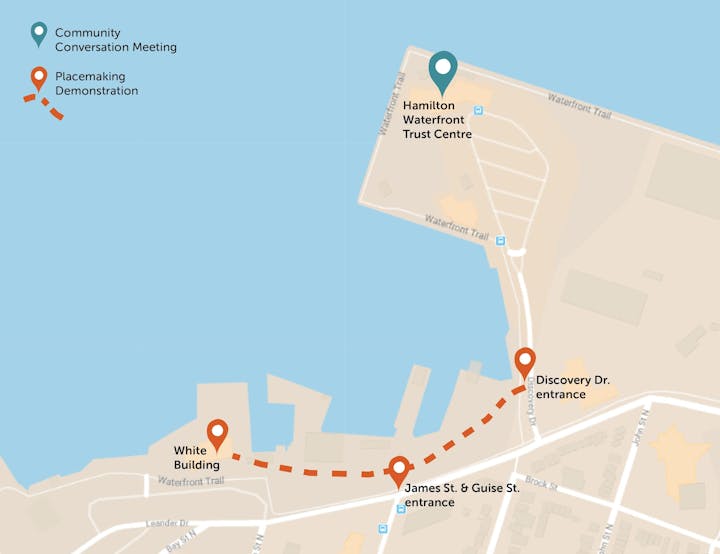 Can't make it? Please share your ideas here!