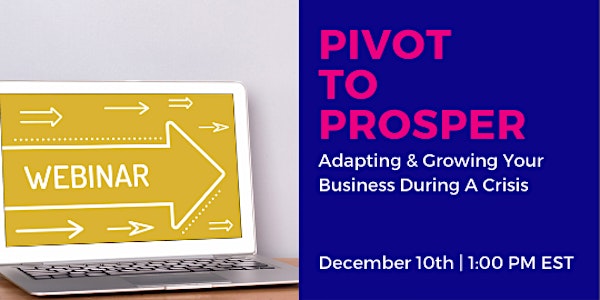 Pivot to Prosper: Adapting & Growing Your Business During A Crisis
Pivot to Prosper: Adapting & Growing Your Business During A Crisis
About this event
The National Women's Business Council (NWBC) is an independent federal advisory committee established to provide advice and policy recommendations to the President, Congress, and the Small Business Administration (SBA) on issues related to women's business enterprise. In doing so, the Council regularly convenes women business owners and entrepreneurs from across the country to connect their voices to policymakers in Washington, DC.
NWBC's #WebinarWednesday is a monthly, multi-series webinar that serves as a platform for women entrepreneurs and business owners, to connect them to key advocates, experts, and useful resources that can help bolster their knowledge and skills and elevate their entrepreneurial potential. At NWBC, we will continue to prioritize this challenge and strive to make inroads for women-owned businesses in starting and growing their business.
This special #WebinarWednesday installment is brought to you on Thursday, December 10th in partnership with the Tory Burch Foundation (TBF). The coronavirus pandemic has forced small businesses to re-imagine operations to survive. This Q&A discussion will convene business owners and entrepreneurs to explore effective tactics in adapting and pivoting their businesses during this crisis. The conversation will feature advice for planning and agility, various industry examples of innovation, and a brief overview of Tory's Foundation and Fellowship Program.
About the Tory Burch Foundation:
Founded by designer and entrepreneur Tory Burch, the Tory Burch Foundation advances women's empowerment and entrepreneurship in the United States by providing access to capital, education and digital resources. Learn more about their programs for women-owned businesses on ToryBurchFoundation.org. Follow the Tory Burch Foundation on Instagram, YouTube, Facebook, LinkedIn and Twitter.
Our panelists will be listed down below.
Gabrielle Raymond McGee, Chief Operating Officer, Tory Burch Foundation
Gabrielle Raymond McGee is a creative marketing Executive in New York City and Philadelphia where she leads the Tory Burch Foundation as Chief Operating Officer. Under her leadership the Tory digital initiatives have become the go to resources for women entrepreneurs. Gabrielle is responsible for creating the Seed Box, a sold-out curated box featuring women-owned products, marketing the Capital program, which has deployed $50 million+ in loans for women. She conceptualized the digital campaign: EmbraceAmbition.org celebrating female ambition which has reached people in 98% of the world's countries. Gabrielle is the host of the Tory Foundation Webinar Series for Small Business Owners. Prior to the Foundation, Gabrielle worked in Sports & Entertainment. Her experience in sports includes working for Major League Baseball, as part of the Special Events and Cause Marketing teams working on the All-Star Game and World Series. As one of the first employees in MLB's cause marketing department, she conceptualized and launched the League's first ever site dedicated to all 30 Clubs and players' charitable initiatives via MLBCommunity.org. She holds a Masters in Public Administration in Nonprofit Management from NYU's Robert F. Wagner School of Public Service. Gabrielle received the Stanford Intellectual Contribution Award three times. In 2018, she was named to the Marketing Hall of Femme, which celebrates the brightest female talent in marketing. Gabrielle is a passionate ocean conservationist and serves on the Board of Directors for Dr. Sylvia Earle's nonprofit Mission Blue.
Follow and connect with Gabrielle on Instagram, Twitter and LinkedIn.
Charis Jones, Owner, Sassy Jones
Charis Jones, owner of Sassy Jones, built an award-winning accessory brand that specializes in selling confidence to its millions of customers across the globe; it's her ministry. After ranking as a highly coveted sales professional for Fortune 50 companies like Verizon and Geico, she left her corporate position to build her brand full time at the most inconvenient life stage, after becoming a twin mom to boys. Through much savvy, perseverance and persistence, today Sassy Jones has become a multimillion dollar brand in just 1 year; earning an impressive ranking of #75 on the prestigious INC 5000 list and recognition as 1 of 25 business who thrived in a pandemic by Forbes magazine. While noted a 2019 Best Company Award by Entrepreneur Magazine, Charis Jones boasts an industry shattering 72% 30-Day Customer Return Rate through consumer engagement & the underutilized power of community.
During her studies at Hampton University, she learned the importance of differentiation in the marketplace and building lasting customer relationships. She is an expert in converting customers into lifelong raving fans while creating unforgettable customer experiences. Charis has also been featured in national campaigns for Motorola, Strayer University, GEICO & AT&T. Undoubtedly, her favorite place in the world is on her couch with her husband and 5-year-old twin boys, Jaxon & Julian.
Dr. Susan Duffy, Executive Director, Babson College Center for Women's Entrepreneurial Leadership, NWBC Council Member
Dr. Susan Duffy is the Executive Director of the Babson College Center for Women's Entrepreneurial Leadership (CWEL), a co-founder of the Women Innovating Now (WIN) Lab venture accelerator, and an inspired educator and advocate for gender equity as a driver of social and economic growth. Throughout her career Susan has recreated what is possible for the organizations she leads across diverse sectors including construction; food, nutrition, and health; and education.
Susan earned her Ph.D. from The George Washington University, was inducted into the prestigious Wilford White Fellows of the International Council for Small Business, and in 2019 received the Practitioner of the Year award from the United States Association for Small Business and Entrepreneurship. She is a globally recognized award-winning entrepreneurial educator; is an investor and advisor to several early stage companies; and in addition to her role on the National Women's Business Council, serves on the board of the Tory Burch Foundation.
Rebecca Hamilton, Co-Ceo, Badger, NWBC Council Member
Rebecca Hamilton is a second-generation owner and co-CEO (Collaborative Executive Officer) at Badger, a natural and organic personal care products manufacturer known for its unique company philosophy, pioneering family-friendly benefits, and B Corp community engagement. The Company has received numerous awards and recognition including landing a spot-on Forbes' "Small Giants 2017: America's Best Small Companies" list.
In addition to leading new product development and company sustainability initiatives, Rebecca also speaks out on issues concerning the environment, ingredient transparency, and societal change. She has spoken at the White House, testified before Congress on behalf of safer cosmetics, and routinely attends Senate and House briefings on Capitol Hill in support of family-friendly workplace practices and chemical reform. Rebecca also spearheaded the passing of Benefit Corporation legislation in New Hampshire, a for-profit status that incorporates the pursuit of positive environmental and social impact in addition to profit.