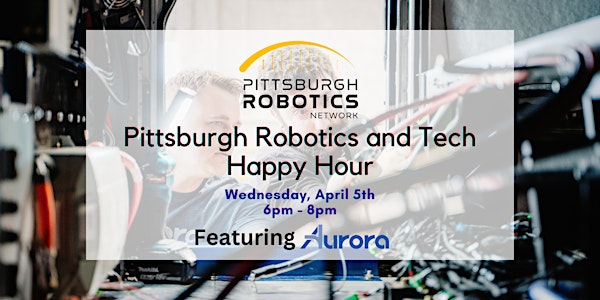 Pittsburgh Robotics and Tech Happy Hour
⭐ Fun and Infomative Robotics and Tech Happy Hour - In Person Networking Event! ⭐
By Pittsburgh Robotics Network
Date and time
Wednesday, April 5 · 6 - 8pm EDT
Location
Aurora 1628 Smallman St. Pittsburgh, PA 15222
About this event
Come Network at the Pittsburgh Robotics & Tech Happy Hour!
WHEN: Wed, April 5th at 6PM
WHERE: Aurora Office Showroom (Strip District)
Join us for an exciting evening at the Aurora Office Showroom, located on Pittsburgh's Robotics Row in the Strip District.
Come learn more about Aurora and the work they do, see their autonomous vehicle technology, meet others from this AMAZING tech and robotics community, enjoy food and drinks (provided) and more!
Also, the Pittsburgh Robotics Network will be making an announcement live at this event, about a new program being launched that will allow businesses from all over the world an opportunity to get more engaged with our region's thriving robotics cluster ecosystem. Be there to be the first to hear about this new program being launched by the Pittsburgh Robotics Network!
So mark your calendars and join us for a fun and informative evening you don't want to miss!
Join 200+ of Pittsburgh's most interesting tech & robotics professionals and leaders. All are welcome: tech/robotics founders, tech execs, hardware engineers, software engineers, designers, hiring managers, data scientists, analysts, digital creatives, tech sales/marketing leaders, investors, etc. 
It doesn't matter what your background is....'tech' is a broad definition and all are welcome. Our attendees come from a wide variety of backgrounds but share one thing in common...an interest in meeting other people who also work in/around the tech and robotics industries. 
Come hang out, have a drink and talk to other humans. Learn about cool tech and robotics companies, technology and automation innovations, new opportunities and more. It's a welcoming and friendly atmosphere, so bring your co-workers and come on out and join us!
Cirtronics is a contract manufacturer in the greater Boston area, with over 40 years of experience in meeting the exacting standards of robotics, medical equipment, and other quality-sensitive applications and regulated industries. If you're looking to outsource or expand your manufacturing capacity, we'll help transition your product to full-scale manufacturing. We're ready for your project. Whether it's a complex system, sub-assembly, or board level build, our services are aligned to meet your specific needs. We call this approach Precision Engagement®. We think you'll call it refreshing. FDA and ITAR Registered, ISO 9001 and 13485 Certified, and Employee-owned (ESOP).
Nova Place is a multi-million dollar urban redevelopment of the former Allegheny Center with the goals of revitalizing the community and reconnecting the North Side to downtown Pittsburgh.
Nova Place is home to the largest concentration of innovative, leading-edge companies in Pittsburgh. The campus encompasses 1.5 million square feet of first-class office, robotics, life science, and data center space in addition to luxe amenities including restaurants, a 14,000-square-foot fitness center, modernized common areas with plush soft seating, a 3,000-car parking garage with bike storage and electric car charging, residential units, and the city's largest co-working space, Alloy 26.
The campus boasts a wide range of versatile spaces with on-site property management, maintenance, and 24-hour security. Designed to attract today's top talent, Nova Place is equipped with everything they want in a workplace—and some things they never knew they wanted but discover they can't live without.
Supporting Strategies provides outsourced bookkeeping, accounting, and back-end operations services to growing businesses. Since 2004, our locally owned and operated offices have served thousands of companies, helping business leaders free up their time, focus on revenue growth, and gain peace of mind with clear financial data. Our experienced, U.S.-based professionals use secure, best-of-breed technology and a proven process to deliver a full suite of services without the overhead of a full-time accounting department. Our flexible packages let you select the services you need at a fair and predictable monthly cost and the option to add services as your business scales.
Aurora (Nasdaq: AUR) is delivering the benefits of self-driving technology safely, quickly, and broadly to make transportation safer, increasingly accessible, and more reliable and efficient than ever before.
The Aurora Driver is a self-driving system designed to operate multiple vehicle types, from freight-hauling semi-trucks to ride-hailing passenger vehicles, and underpins Aurora Horizon and Aurora Connect, its driver-as-a-service products for trucking and ride-hailing. Aurora is working with industry leaders across the transportation ecosystem, including Toyota, FedEx, Volvo Trucks, PACCAR, Uber, Uber Freight, U.S. Xpress, Werner, Covenant, Schneider, and Ryder. For Aurora's latest news, visit aurora.tech and @aurora_inno on Twitter.
FAQs
Parking
Paid parking is available in the garage connected to the Aurora office building at 1606 Smallman Street (0-2 hours is $5, 2-4 hours is $7). Street parking is also available nearby in marked spaces (avoid any restricted, unmarked or alley parking as you will be towed.)
Onsite Arrival
Upon arrival, enter the building (we'll have a sign on the door) and provide your name to the Pittsburgh Robotics Network check-in desk to receive your printed name badge. (All event registrations are electronic, so you do not need to print/bring any tickets.)
Dress Code
There is no required dress code for this event (smart casual will be just fine).
Refreshments
Complimentary beer, wine, drinks, and food will be provided.
Photo & Video Disclaimer
Video footage and/or photos will be taken during this event, which may or may not include your recognizable image. Please be advised, by registering for this event, you permit the Pittsburgh Robotics Network (PRN) to use the images in print, digital or web-based formats in publications or other media material produced, used or contracted by the PRN for promotional and/or archival purposes.
Contact Information
For questions about this event, please contact: events@robopgh.org
Interested in Sponsoring an Event?
Pittsburgh robotics companies are leading the future of robotics - not just locally, but globally. Partnered with 100+ regional robotics organizations, the PRN brings these organizations together for events, networking and other important initiatives. The PRN also supports these organizations by bringing well-deserved visibility to their work - visibility that is critical to the success both of these organizations and our region as a whole.
Sponsorship can offer your business significant benefits. Contact us today!
About the organizer
The Pittsburgh Robotics Network (PRN) is a nonprofit organization dedicated to empowering and strengthening robotics companies in the Pittsburgh region and positioning the ecosystem as an internationally recognized powerhouse. Pittsburgh robotics companies are leading the future of robotics - not just locally, but globally. Our members strive to use robotics to make the world a better place and are trailblazing a new generation of robotic products that solve real problems in a wide variety of industries. Our programs and activities are focused on fostering community and contribute to the growth and promotion of this region's robotics companies and research institutions.
Join us as we continue growing our region's legacy as a leader in robotics, and please reach out if you'd like to partner or sponsor our programs: info@robopgh.org