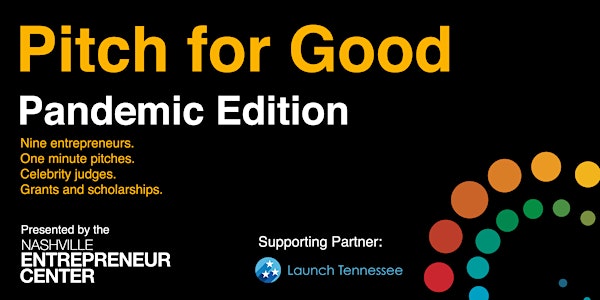 Pitch for Good: Pandemic Edition
Pitch for Good: Pandemic Edition. A pitch event to support entrepreneurs addressing COVID-19. Supported by Launch Tennessee.
About this event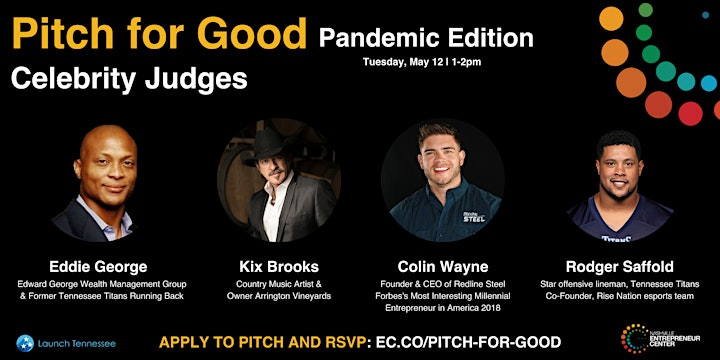 Entrepreneurs are problem solvers. While COVID-19 has disrupted our lives, entrepreneurs are finding solutions to make the world a better place.
If you have an idea or a business that addresses individual, economic, or community needs during the pandemic, this is an opportunity to share it with the community and to be awarded a grant or an EC scholarship.
On Tuesday, May 12th from 1-2p, we are hosting a virtual pitch competition for entrepreneurs building solutions addressing COVID-19's effect on individuals, communities, and economies.
We understand and appreciate the entrepreneurial lifecycle and celebrate entrepreneurs along the journey. No project is too big or too small when it comes to having a meaningful impact on people's lives.
We will have entrepreneurs pitching in the following stages:
STAGE 1: Just an idea (pre-revenue)
STAGE 2: Idea in motion (less than $25k in revenue)
STAGE 3: Up and running ($25k+ in revenue)
Three entrepreneurs from each stage (9 total) will be selected to present a 1-minute pitch to a panel of judges and an open audience. The top voted entrepreneur in each stage will take home $$$. On top of this, we will be awarding at least one EC scholarship.
Qualifications:
Any Tennessee based entrepreneur OR any EC member, program participant, or Alumni
Solutions must either address COVID-19 related challenges or shed light on the social aspect of this crisis
There has never been a greater time when we need entrepreneurs. At the Nashville Entrepreneur Center, we support entrepreneurs by connecting them to the resources needed to increase the probability of success.
We can't wait to support all of you world-changing entrepreneurs!