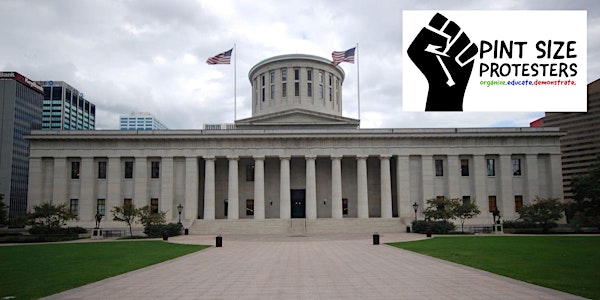 Pint Size Protesters Lobby Day
Join Pint Size Protesters for a half-day of learning and action with our state elected officials! In-person at the Riffe Center/Statehouse.
When and where
Location
Riffe Center, across from the Ohio Statehouse 77 South High Street 3rd Floor Columbus, OH 43215
About this event
Pint Size Protesters is teaming up with State Rep. Mary Lightbody (D-Westerville) to hold a family-friendly half-day of learning and action with our state elected officials. We will gather safely in-person at the Riffe Center and then proceed to the Ohio Statehouse. The morning will include a brief program and an opportunity for kids to talk with state representatives from across Franklin County, followed by a casual lunch for PSP families. We hope you can join us!
DAY-OF DETAILS:
Location and building entry:
PSP Lobby Day will begin at the Riffe Center, 3rd Floor (77 S. High Street); later we will transition to the Ohio Statehouse (see agenda below).
All visitors will be required to go through the metal detectors.
Visitors 18 and older must present a government issued photo-ID.
No ID required for visitors under the age of 18; those under 18 must always be accompanied by an adult.
Having trouble finding us or need to get in touch day-of? Call 617-448-6337 or 913-485-5264.
Parking
Parking options at the Statehouse garage and other nearby garages can be found here: https://drive.google.com/file/d/1DycNt_64U7cFKeAtQRqkPHLA7Q03nI19/view?usp=sharing
Safety guidelines
Given that this gathering is geared toward families with children who are not yet eligible for COVID vaccination, we are asking Lobby Day attendees to please plan to wear masks for the indoor portion of the event.
High-level agenda:
~9:15-9:30: Arrivals (Riffe Center, 3rd floor)
~9:30-9:45: Welcome from Rep. Mary Lightbody and PSP founder Jamille Jones
~9:45-10:45: Breakout chats and activities with state legislators
~10:45-11:00: Transition to Ohio Statehouse
~11:00-12:00: Statehouse tour
~12:00-1:00: Lunch on Statehouse lawn (rain location: Riffe Center, 3rd Floor)