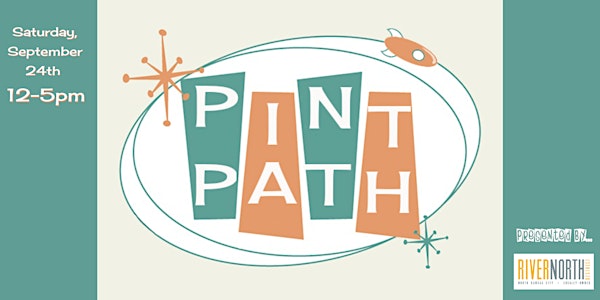 Pint Path Fall 2022
WALK-UP TICKETS AVAILABLE FOR PURCHASE AT IWERX 11AM SATURDAY! Northtown pub crawl with 24+ stations celebrating a retro futurism theme!
When and where
Location
iWerx, North Kansas City 1520 Clay Street North Kansas City, MO 64116 United States
Refund Policy
Contact the organizer to request a refund.
Eventbrite's fee is nonrefundable.
About this event
***UPDATE: A limited number of walk-up tickets are available for purchase today (Saturday, 9/24) at iWerx starting at 11AM. Swing by our check-in counter in the lobby and get yours!
==================================================================
Fall Pint Path returns to North Kansas City, as we celebrate our ninth pub crawl! Get your tickets for the best pub crawl in North Kansas City.
Pop on your bubble helmet as we explore a world of tomorrow-- where everything is lux and -a-matic (for your convenience, person of tomorrow!)
Journey over the Heart of America Bridge from downtown Kansas City, and feast your eyes on 24+ pubs, breweries, entertainment centers, and pop ups by bike, foot, scooter, shuttle bus, jetpack* or other safe mode of transportation.
Check our website www.pintpathnkc.com and follow us on social media to keep updated on what we're planning: @pintpathnkc
We will be having another Bike Fun Ride as an add-on event! North Kansas City is just 4.63 square miles and flat, very flat - perfect for a Fun Ride! You'll traverse the wonderful flatlands of NKC by bike for additional swag and special perks! Tickets for the Bike Fun Ride will be separate from main ticket and will be an additional $5.
NEW FOR FALL 2022: Free Shuttle Bus for Pint Pathers! Travel through NKC in style on a Shuttle Bus provided by KC Beer Tour. See more information and route at www.pintpathnkc.com/shuttlebus
Use of a bicycle for the main event pub crawl is not required. This is a rain or shine event with no refunds.
CHECK IN MAIN EVENT: Check In for the main event pub crawl will begin at 11am at iWerx at 1520 Clay St, North Kansas City. We'll have decorations and places for you to take photos and some other fun activities so get there early to enjoy the festivities. The pub crawl begins at noon so you'll have the time before noon to plan your route and enjoy the Check In area.
CHECK IN FUN RIDE: Check In for the Fun Ride will begin at 10:30am at Price Rite Market & Deli NKC - "The Little Store" at 2107 Knox Avenue, North Kansas City. If you are wanting to be a part of the group ride, you will need to be checked in and ready to go at 10:45am SHARP.
PRIZES: The first 250 to Check In will receive a ticket to redeem at Driftwood Ceramics 1827 Buchanan St, North Kansas City, for a free Pint Path pint glass. You can redeem this ticket until 2:30pm and then the glasses will be open to other Pint Pathers. We will have Prize Patrol during the event giving out prizes that have been donated by local businesses. The Grand Prize will be available at Check Out (starting at 1:30pm) for a limited number of Pint Pathers (first come). We will determine this number and update this page with that information.
HOW TO WIN: For your chance at the Grand Prize, you will need to collect 4 cards from the participating Stations, Check Out starting at 1:30pm, and be one of the first in line since we have a limited amount. We will know how many we will have soon and will update with that information. NOT EVERYONE WILL GET THE GRAND PRIZE. You will receive a Travel Brochure at Check In that will have each of the participating Stations. There will be 4 quadrants with Stations. You will choose 1 Station from each quadrant and visit those locations where you will receive a card. Each card has a part of a QR code and when you put it together, you can scan it and it will reveal the Check Out location. The more cards you get the more prizes you could win! Any additional card you get from additional Stations, you can turn in at Check Out to receive a chance to win additional prizes.
You do not have to "play the game" unless you want a chance at the Grand Prize. It's a pub crawl so you can just enjoy all of the specials at the Stations.
Please visit www.pintpathnkc.com for all of the information. No refunds on either the regular main event ticket or the Fun Ride ticket. This is a fundraiser for RiverNorth KC, a 501(c)6.
(*jetpacks not promised)