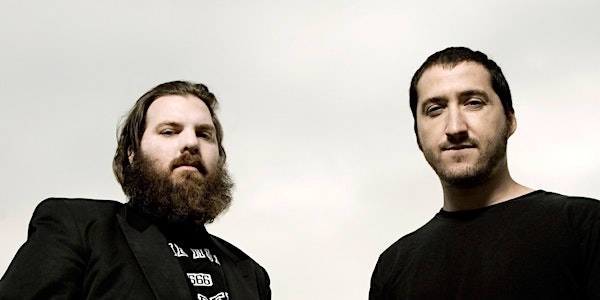 Pinback w/ Disheveled Cuss
Now on sale!
Date and time
Saturday, April 29 · 8 - 11pm EDT
Location
3S Artspace 319 Vaughan Street Portsmouth, NH 03801
About this event
Pinback
w/ Disheveled Cuss
Saturday, April 29
Doors 7pm / Show 8pm
$27 Member / $30 General Admission Advance/ $35 General Admission Day of Show
All ages / Standing
The partnership of Armistead Burwell Smith IV and Rob Crow is at the heart of some of the most complex, postmodern indie pop happening on the West Coast. In the first few days of 1998, Smith (of San Diego-based Three Mile Pilot) and Crow (of Thingy and Heavy Vegetable) formed a part-time recording project under the name Pinback.
Pinback made their Touch & Go debut in fall 2004 with Summer in Abaddon, which saw the band members continue slowly to push themselves a bit further with complex song structures while maintaining their indie pop sensibilities. Two years later, the band issued Nautical Antiques, a collection of rarities and B-sides spanning from 1998 to 2001. Their second album for Touch & Go, Autumn of the Seraphs, followed in 2007. Though it would be five years before Pinback followed up, their 2012 album, Information Retrieved, found them easily settling into their melodic groove.
About Disheveled Cuss:
"Disheveled Cuss sounds like the name of a grimy hardcore band screaming at you from some sweaty basement. Disheveled Cuss are not that band. Their grungy heaviness is always tempered by a power-pop sweetness, making a delicious meal of Nick Reinhart's impeccably crafted melodies. With his Sacramento math-rock band Tera Melos, Reinhart already proved that he knows his way around the kitchen. And with Disheveled Cuss, he shows that sometimes, guitar-rock comfort food can taste just as good." – Stereogum: 40 Best New Bands of 2020
----
Click here to learn about our Health & Safety policies and measures.
Masks are strongly encouraged but not required during your visit to 3S Artspace.
By purchasing a ticket and/or visiting 3S, you are agreeing to follow 3S Artspace's health & safety requirements as they are on the date of your visit (not at the time of purchase). There may be exceptions or changes to our requirements for upcoming events, based on factors such as artist requirements and public health mandates.
Attendee Promise & Health Acknowledgement
All attendees agree to follow 3S Artspace policies and posted instructions during their visit. All attendees should evaluate their risk in determining whether to visit 3S. By entering the building, attendees voluntarily assume all risks related to exposure to COVID-19 and confirm they will adhere to both local and CDC quarantine requirements.
COVID-19 Warning
There is risk of exposure to COVID-19 in public spaces and there is no guarantee those attending an event will not be exposed to COVID-19.
About the organizer
3S Artspace is a 501(c)(3) non-profit grounded in an unwavering appreciation for the vital role that contemporary arts play in the health of a community, both locally and globally. We believe that art has the power to transform individual lives, bridge divergent perspectives, and establish meaningful connections between and across communities.
Please consider adding on a donation to 3S during checkout while making your ticket purchase. Thank you for your support!