Pie & AI: Berlin- The Power of Data Science: Predicting User's Activities
Reveal online users from their online footprints by the power of data science and machine learning
About this Event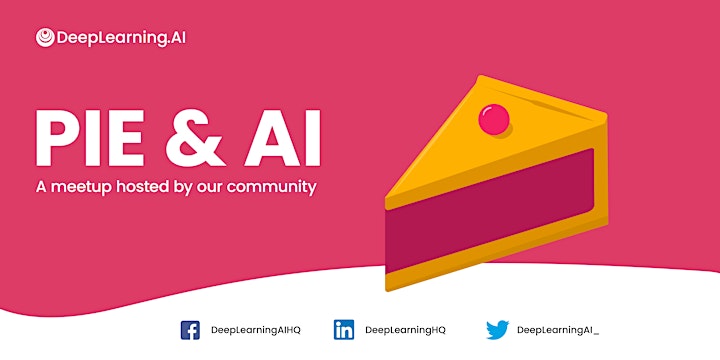 Pie & AI is a series of DeepLearning.AI meetups independently hosted by community groups. This event is hosted by DeepSource. Special thanks to their support!
Internet users have many footprints online, especially from their social media profiles. In this talk, we show how these publicly available online signals can be used to predict undisclosed information about the users, including their demographic information and political beliefs. This highlights the power of data science and machine learning which can be used in a positive way to provide users with the content they prefer but also shows the danger when they get misused to violate user's privacy. By the end of the session, we would mention how this can be applied in business and answer audience questions.
Event Agenda & Speakers:
- Introduction and Welcoming
- Speaker session ( 30 - 45 minutes )
Walid Magdy is an associate professor at the School of Informatics, the University of Edinburgh (UoE), and a faculty fellow at the Alan Turing Institute. Walid is the founder and director of social media analysis and support for humanity (SMASH) in Edinburgh. His main research interests include computational social science, data mining, and natural language processing. He holds his Ph.D. from the School of Computing at Dublin City University (DCU), Ireland. He has an extensive industrial background from working earlier for IBM, Microsoft, and QCRI. Walid has over 90 peer-reviewed published articles in top-tier conferences and journals. He also has a set of 9 patents filed under his name. Some of his work was featured in the popular press, such as CNN, BBC, Washington Post, National Geographic, and MIT Tech reviews.
Personal webpage: http://homepages.inf.ed.ac.uk/wmagdy/
- Q&A
For intermediate learners.
How to join the event online:
This event will be on Zoom. Please check your ticket confirmation email (scroll down to the bottom) for access URL.
Course Promo Code
After the event, we will provide a limited number of promotional code for attendees who complete a post-event survey sent by DeepLearning.AI. With this promo code, learners can avail 50% off the first month subscription for any DeepLearning.AI course on Coursera. You can check out a full list of courses here.
About Pie & AI: Pie & AI is a series of DeepLearning.AI meetups independently hosted by our global AI community. Events typically include conversations with leaders in the world, thought-provoking discussions, networking opportunities with your fellow learners, hands-on project practice, and pies (or other desserts you prefer.)
If you are interested in hosting a local Pie & AI event for us in other cities and becoming one of our global ambassadors, send us a note at events@deeplearning.ai!