Discussing the fundamental shift happening from the classical Software stack to AIDLC and reviewing its application into various industries
About this Event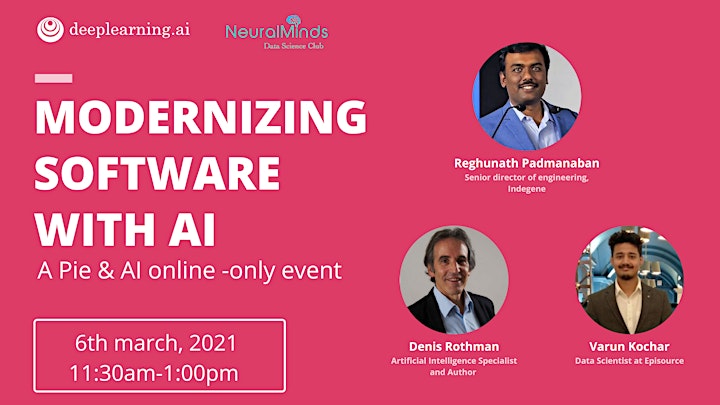 Join us for the Session on "Modernizing Software with AI" while staying safe at home, this is an online meetup scheduled on March 6, 11.30 am, it's free of charge, Kindly register here to receive the Session Link.
* Attendees will receive 50% off for first-month using subscription code for any of deeplearning.ai's courses on Coursera *
Abstract:
In collaboration with deeplearning.ai we are hosting an event on Saturday 6th March, 11.30 AM on-wards, the focus will be on "Modernizing Applications with AI", Discussing the fundamental shift happening from the classical Software stack to artificial intelligence development life cycle and reviewing its application into various industries used in production and for researchers to modernise the applications with cognitive intelligence.
Agenda:
11.30 AM - Introduction
11.35 AM - Talk 1: ML pipelines from research to production
12.05 PM - Talk 2: E-commerce recommenders using transformer NLP models
12.35 AM - Talk 3: NLP for Clinical data
12.55 PM - Closing Note
Speakers:
Reghunath Padmanaban, Senior Director of Engineering at Indegene
Denis Rothman, Artificial Intelligence Specialist | Author
Varun Kochar, Data scientist II at Episource LLC
< deeplearning.ai >
Pie & AI is a series of deeplearning.ai meetups independently hosted by community groups. This event is hosted by NeuralMinds Data Science Club.
For intermediate learners.
How to join the event online:
This event will be on GoToMeeting. Please check your ticket confirmation email (scroll down to the bottom) for access URL.
Course Promo Code
After the event, we will provide a limited number of promotional code for attendees who complete a post-event survey sent by DeepLearning.AI. With this promo code, learners can avail 50% off the first month subscription for any DeepLearning.AI course on Coursera. You can check out a full list of courses here.
About Pie & AI: Pie & AI is a series of DeepLearning.AI meetups independently hosted by our global AI community. Events typically include conversations with leaders in the world, thought-provoking discussions, networking opportunities with your fellow learners, hands-on project practice, and pies (or other desserts you prefer.)
If you are interested in hosting a local Pie & AI event for us in other cities and becoming one of our global ambassadors, send us a note at events@deeplearning.ai!