Introduction to Computer vision
About this Event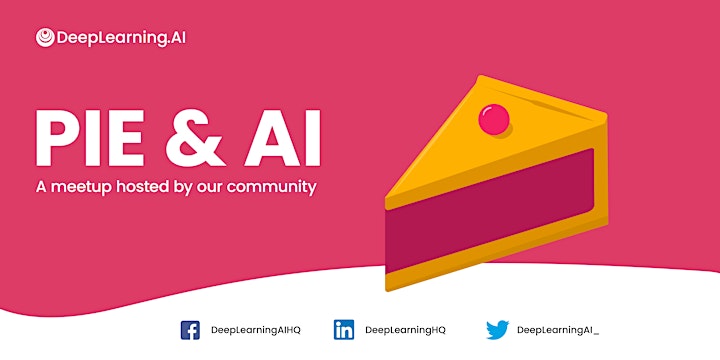 Pie & AI is a series of DeepLearning.AI meetups independently hosted by community groups. This event is hosted by Ajay Kumar and Vishwas Narayan, Computer Architecture Club. Special thanks to their support!
Demystifying what NLP can do in precision medicine is all about is being talked here and also some introduction what this technology can be is also talked here.
Event Agenda & Speakers:
10 min : introduction
30 min of the Insights for computer vision
30 min of project demonstration
20 min Q/a
Beginner friendly.
How to join the event online:
This event will be on Zoom. Please check your ticket confirmation email (scroll down to the bottom) for access URL.
Course Promo Code
After the event, we will provide a limited number of promotional code for attendees who complete a post-event survey sent by DeepLearning.AI. With this promo code, learners can avail 50% off the first month subscription for any DeepLearning.AI course on Coursera. You can check out a full list of courses here.
About Pie & AI: Pie & AI is a series of DeepLearning.AI meetups independently hosted by our global AI community. Events typically include conversations with leaders in the world, thought-provoking discussions, networking opportunities with your fellow learners, hands-on project practice, and pies (or other desserts you prefer.)
If you are interested in hosting a local Pie & AI event for us in other cities and becoming one of our global ambassadors, send us a note at events@deeplearning.ai!