Pie & AI: Bangalore - Deep Learning on Mobile, A Practitioner's Guide
With the rise of deep learning, many applications can benefit by moving from servers closer to the users - on mobile and edge devices, reduc
About this Event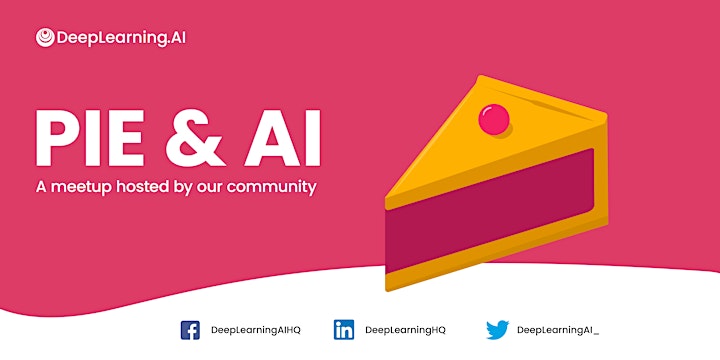 Pie & AI is a series of DeepLearning.AI meetups independently hosted by community groups. This event is hosted by event ambassador Vishwas Narayan. Special thanks to their support!
With the rise of deep learning, many applications can benefit by moving from servers closer to the users - on mobile and edge devices, reducing network transfer, bandwidth, latency, and ensuring better privacy. And this comes with its challenges, ranging from running a computationally expensive algorithm on resource constraint devices, to large memory, battery and power requirements, to missing access to user data needed for training models, all the way to large scale deployment and A/B testing AI models, not on your infrastructure.
Event Agenda & Speakers:
In this demo based talk, we will take a 360-degree look at the mobile AI application industry, by dive into the development lifecycle, identifying challenges, benchmarking, and solving them step by step. By the end, the practical learning should be applicable beyond mobile applications, helping optimize both costs, bandwidth, and compute on a range of devices.
For learners of all levels; beginners, intermediate and advanced
How to join the event online:
This event will be on YouTube. Please check your ticket confirmation email (scroll down to the bottom) for access URL.
Course Promo Code
After the event, we will provide a limited number of promotional code for attendees who complete a post-event survey sent by DeepLearning.AI. With this promo code, learners can avail 50% off the first month subscription for any DeepLearning.AI course on Coursera. You can check out a full list of courses here.
About Pie & AI: Pie & AI is a series of DeepLearning.AI meetups independently hosted by our global AI community. Events typically include conversations with leaders in the world, thought-provoking discussions, networking opportunities with your fellow learners, hands-on project practice, and pies (or other desserts you prefer.)
If you are interested in hosting a local Pie & AI event for us in other cities and becoming one of our global ambassadors, send us a note at events@deeplearning.ai!