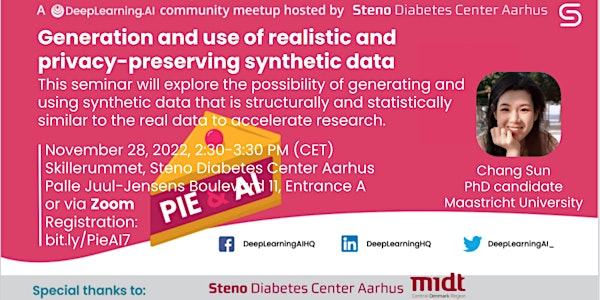 Pie & AI: Aarhus - Generation and use of privacy-preserving synthetic data
The talk will explore the possibility of generating and using synthetic data that is structurally and statistically similar to the real data
About this event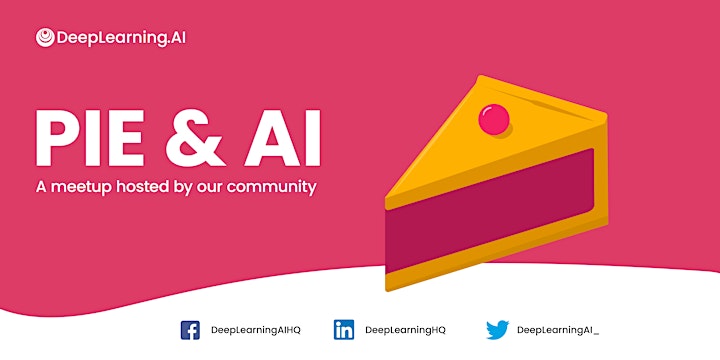 Pie & AI is a series of DeepLearning.AI meetups independently hosted by community groups. This event is hosted by event ambassador Adam Hulman . Special thanks to their support!
A large amount of personal data is highly valuable for the research and scientific community. However, these data are often not accessible or require a lengthy request process because of privacy concerns and legal restrictions. Synthetic data is one of the most promising solutions to this issue.
Chang will present her work on generating realistic and privacy-preserving synthetic tabular data using conditional GANs (Generative Adversarial Network) models combining differential privacy techniques. She will talk about how synthetic data can help researchers to build up analysis models before obtaining the access to the real data and for education and training purpose to enhance students analysis skills without taking risks of using real personal data. Finally, she will open the discussion on the legal-ethical aspect of generating and use of synthetic data in different domain and its future research direction.
Event Agenda & Speakers:
14:30 - 15:10 Talk by Chang Sun
15:10 - 15:30 Q&A
Beginner friendly.
How to join the event online:
There will be a physical event at Steno Diabetes Center Aarhus (Skillerummet, AUH Indgang A, Palle Juul-Jensens Boulevard 11, Aarhus N) with the speaker present.
This event will also be available on Zoom. Please check your ticket confirmation email (scroll down to the bottom) for access URL.
Course Promo Code
After the event, we will provide a limited number of promotional code for attendees who complete a post-event survey sent by DeepLearning.AI. With this promo code, learners can avail 50% off the first month subscription for any DeepLearning.AI course on Coursera. You can check out a full list of courses here.
About Pie & AI: Pie & AI is a series of DeepLearning.AI meetups independently hosted by our global AI community. Events typically include conversations with leaders in the world, thought-provoking discussions, networking opportunities with your fellow learners, hands-on project practice, and pies (or other desserts you prefer.)
If you are interested in hosting a local Pie & AI event for us in other cities and becoming one of our global ambassadors, send us a note at events@deeplearning.ai!