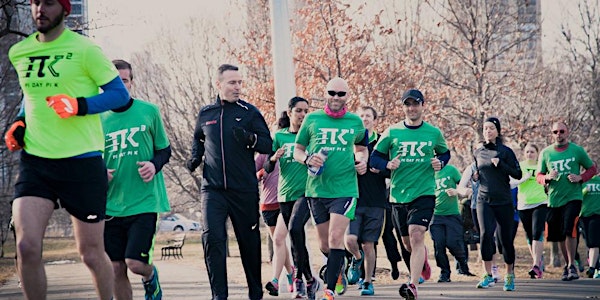 Pi Day "Pi K" Fun Run 2022 - our 10th Annual - for the BEST HOLIDAY EVER!
Join us in-person 6:28pm on 3/14 for a 3.14 mile loop with donuts and coffee at the end! Too soon for people? Then select our virtual option
When and where
Location
Fleet Feet Sport store South Loop 150 W Roosevelt Rd Chicago, IL 60605
About this event
We're back and in-person! We hope you've all gotten your vaccs and boosters! (Yeah science!) It's time for us to get together for the annual 3.14-mile "Pi K" Run followed by pie-flavored donuts. If you're not ready for people yet, you can select our virtual option.
Here's the plan:
1. REGISTER:
Register EARLY (by midnight Thursday, February 24) and we'll do our darndest to get this year's awesome PiK t-shirt delivered to you by March 14th to wear on Pi Day.
Register later (until midnight March 14) to have your collectible PiK t-shirt delivered after Pi Day.
Pi & Pie Fans anywhere can join this year -- no need to come to Chicago! (There will be a small surcharge to ship t-shirts overseas. There's math involved.)
All registrants receive this year's awesome Pi K t-shirt they can wear proudly to show their respect for math and support of science outreach.
2. "RUN" 3.14 something:
In Person: We'll meet at the South Loop Fleet Feet Sports running store in Chicago on March 14. Arrive 5:30 on to be ready for the run start at 6:28pm CT (2 PI!!) We'll have a 3.14-mile route mapped out for you and afterward we'll have donuts to enjoy in celebration of everything circular.
Virtual: You should run, walk, skip, cartwheel, or saunter 3.14 miles, which is a little more than a 5K. (It's the honor system. We won't know if you spent 3.14 hours on your couch.) You can also go 3.14 kilometers, furlongs, acres, leagues, or city blocks if you choose, where you choose! But make sure you are wearing your Pi K shirt, and share your picture on our social media pages.
-----------------------------------------------------------------------------
Mid-March is the perfect time to treat your body to some exercise, your tastebuds to some delicious pie, and your brain to some fun trivia. Join us! All proceeds support the STEM outreach efforts of Illinois Science Council, an independent 501c3 nonprofit based in Chicago that offers creative and engaging science programs for teens and adults.
Significance of Pi:
Pi, in case you don't remember, is abbreviated to 3.14 but continues indefinitely. To date, it has been calculated by computer to over 1.2 trillion digits. Competitions exist for reciting the most digits by memory. As the world's most famous mathematical constant, Pi is important to many formulas used in mathematics, science, engineering and statistics. 
Awesome Sponsors! If you are interested in sponsorship opportunities with Illinois Science Council and our many STEM events and program, email Monica at PiDay@IllinoisScience.org.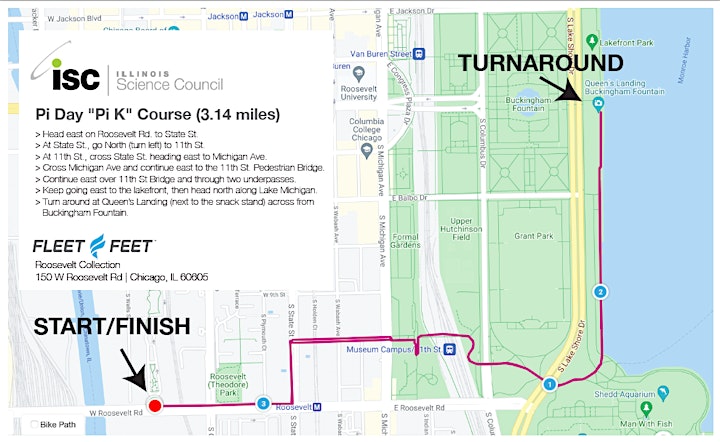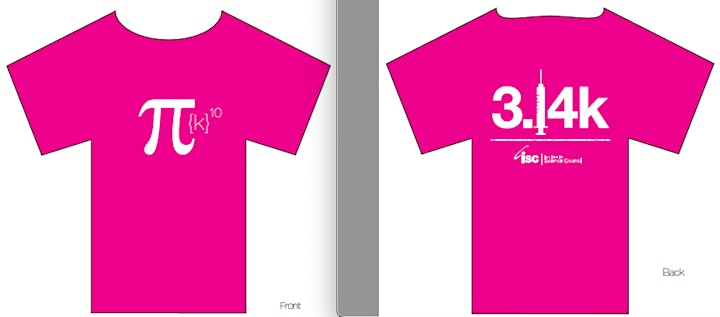 ISC's 2022 Pi K Fun Run T-shirt is a softstyle unisex cotton tee available in sizes XS - 2XL. This year's collectible tee is in hot pink!!
The logo on the front is not some esoteric equation. Rather, it simply indicates this is a "Pi K" as opposed to a 5K run (a little extra for math), and the exponent number indicates this year, 2022, is the 10th(!!!!) annual run.
The back of the shirt gives a nod to the pandemic and celebration of vaccines by featuring an image of a syringe replacing the numeral 1 in 3.14. The "dividing line" between 3.14 and ISC's logo is not a line at all. Up close you'll notice it's a long sequence of digits of pi. :-)