Description
This eventbrite is for the February workshop for New Year: New You.
Join us as we review the goals that we made at our January workshop and learn about attaining our utmost potential in Physical Wellness! This is an open group, new participants are always welcome!
For February 7, 2016, we have a holistic nutritionist and personal trainer presenting us with "5 Ways to Achieve Physical Wellness"! They have some fun surprises in store for us, like free giveaways!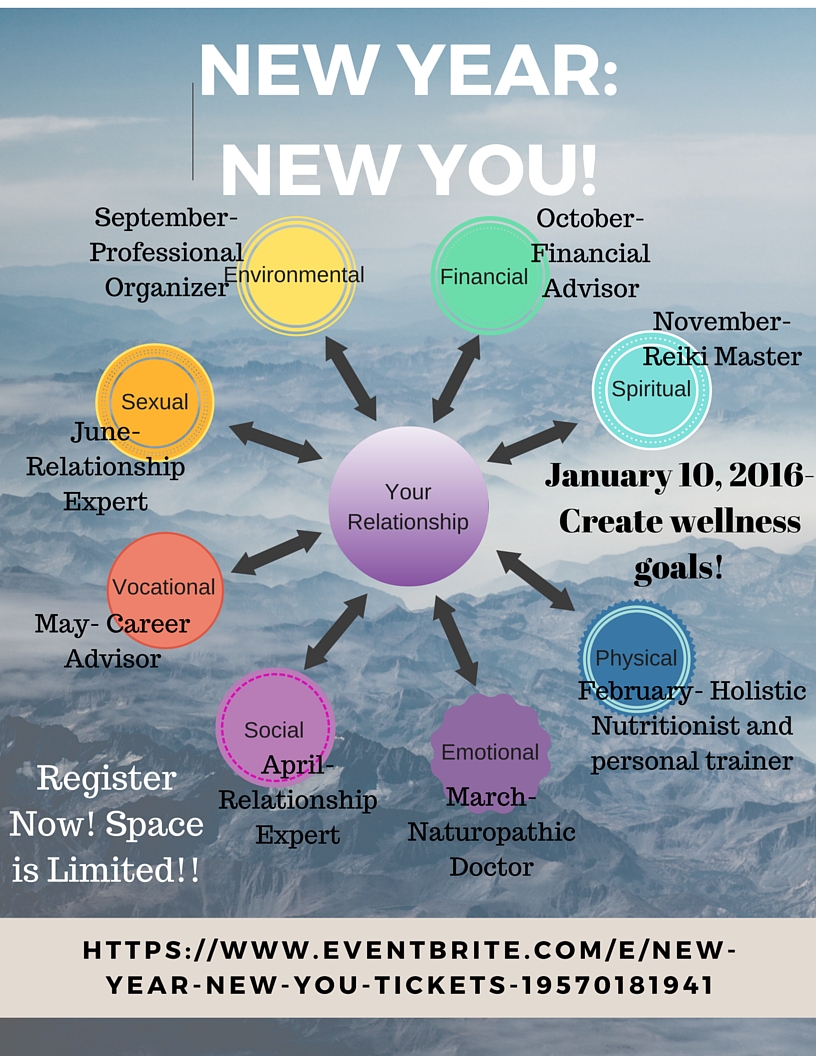 February 7, 2016 schedule:
1:45pm- Check in and Open Networking
2pm-2:30pm- Speaker Presentations (Anna and Giuliana- see below)
2:30-2:45pm- Q&A and Open Discussion
2:45pm-3:30pm- Break into small groups for support with your personal goals, review and write out monthy goals
This free workshop will be taking place at Women on the Move at 2111 Dundas St. W. There is some street parking available, and a Green P Parking lot beside Starbucks. If taking TTC, would be 505 Streetcar to Howard Park.
$5 donation at the door goes to a local charity (Holiday Helpers).
Anna Lubaszka, holistic nutritionist, and Giuliana Carbone, personal trainer, will be talking about Physical Wellness. They can help you with any nutritional goals, fitness goals, building self-confidence and improving general health and well-being.
Anna Lubaszka is a holistic nutritionist, transformational coach and a health & wellness crusader. Her passion and mission is to coach women to create a life they are meant to live. Prosper, live with purpose, love and express your true self to the world. Her approach is heart based, inspiration-packed and wisdom infused. Her delivery is always compassionate and empowering. She has been passionately dedicated to helping women transform their lives for the past four years. Anna can help you achieve Physical Wellness at the "New Year, New You" workshop by providing simple solutions to your Physical Wellness goals. She will coach you on how to fit being more physically active into your daily life, increase your energy and feel healthy and strong from the inside out.
https://www.facebook.com/AnnaLubaszkaHolisticHealthPractitioner/
Giuliana Carbone has a strong passion and desire to share her vision of health and fitness with others. Her constant desire to learn & expand her knowledge brings a wholistic approach to her teaching style.
She received her undergrad in Communications & is a certified Yoga Teacher, Personal Trainer, Fascial Stretch Therapist & Thai Massage Practitioner who is focused on keeping her clients in shape & youthful for life!
For extra peer support, please join our "New Year: New You! Group!" on Facebook:
https://www.facebook.com/groups/450302661846640/
Looking forward to seeing you in February, and continuing to work together towards our personal wellness goals!
Be Well!
Melissa