Philippines (Cebu) Recruiting Tour: US Computer Science Master's Program AM
Description
The Computer Professionals Master's Program at Maharishi University of Management is one of the most unique, popular and successful Computer Science M.S. programs in the United States, with 1777 graduates from 80 nations since 1996, and more than 1000 current students. Accredited by the Higher Learning Commission. Location: Fairfield, Iowa (near Chicago).
The program combines the advanced academics of a graduate level Master's Degree in Computer Science with practical applications in the advanced technical companies in the US.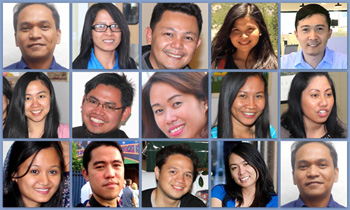 A few of our wonderful Filipino Computer Science students and graduates.
Meet the Dean and the Computer Science Director
In response to the thousands of inquiries and applications we receive every year from East Asia, Greg Guthrie, Ph.D., Dean Emeritus of the School of Computer Science, Dean of Academic Technology, and Professor of Computer Science, and Computer Science Program Director Elaine Guthrie will be traveling to Vietnam, Mongolia, China, the Philippines and Singapore from May 19th through July 1, 2017 to meet with prospective students and top universities in each nation.
See complete tour schedule here.
FAQs
How can I contact the organizer with any questions?
Please contact us at intadmis4@mum.edu or director@mscs.mum.edu with your questions & comments, and visit us at http://mscs.mum.edu/east-asian-recruiting-tour.
Organizer of Philippines (Cebu) Recruiting Tour: US Computer Science Master's Program AM
Maharishi International University is a private, non-profit, non-religious and accredited university celebrating its 50th anniversary in 2021. MIU (formerly Maharishi University of Management) is located approximately 5 hours drive southwest of Chicago, in Fairfield, Iowa--in the upper midwest of the United States. Please see a map on http://ComPro.miu.edu/contact/ .
The Master's Degree program at MIU enrolls more than 400 students per year, with international students enrolling every August, November, February and May.
Attractions of the program include:
Low initial cost
Advanced knowledge of software development, web applications and architecture, data science courses
Leadership and project management courses
Paid internships in U.S. companies after 8-9 months on-campus study, with 98% hiring success
Average starting full-time internship salary, $90,000 per year
Extensive financial aid for international students
Safe, welcoming international campus community
Study one course per month full-time
Learn from top, caring faculty in an accredited university
Learn a simple, scientific technique that reduces stress and increases creativity
More than 3300 graduates from 98 nations since 1996
COVID-safe campus.
We are fully accredited by the Higher Learning Commission in the United States.