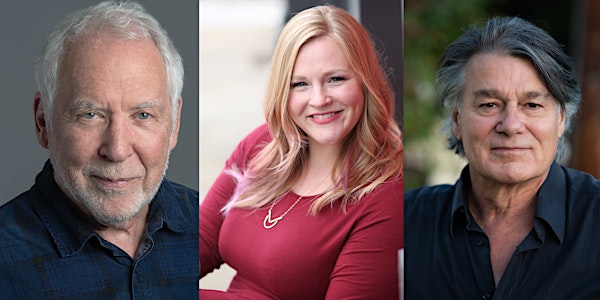 Phenomenology of Conversation with David Whyte & Peter Block
Rabbi Miriam Terlinchamp will speak with Peter Block and David Whyte about what happens when you try to have a real conversation.
Refund Policy
Contact the organizer to request a refund.
Eventbrite's fee is nonrefundable.
About this event
Join Peter Block, David Whyte, Rabbi Miriam Terlinchamp and other social innovators in this Abundant Community Conversation.
Rabbi Miriam Terlinchamp will speak with Peter Block and David Whyte about what happens when you try to have a real conversation. Why is it so difficult to have these conversations? What is the role of silence in these interactions? Does anyone survive a real conversation? How is vulnerability a form of invitation to authentic encounter? This event will draw on David's poetry and attendees will be invited to be active participants in this emerging conversation.
David Whyte's writing explores the timeless relationship of human beings to their world, to creation, to others, and to the end of life itself. He makes his home in the Pacific Northwest, where rain and changeable skies remind him of the other, more distant homes from which he comes: Yorkshire, Wales and Ireland. He has traveled extensively, including working as a guide in the Galapagos and leading trips into the Himalaya; much of his work chronicles a close relationship to landscapes and histories. He speaks to the suffering and joy that accompany revelation, and the necessity of belonging to families, people and places. David Whyte's poetry can be heard in the boardrooms of Fortune 500 companies, the hallowed halls of educational institutions, and from the stages of literary festivals and theological conferences. In each of these disparate settings, his work and compelling speaking style is moving and relevant, transcending the confines of any individual context.
Peter Block is an author, consultant and citizen of Cincinnati, Ohio. His work is about chosen accountability, and the reconciliation of community. Peter is the author of several best selling books. "Community: The Structure of Belonging" came out in 2008 and he co-authored "The Abundant Community: Awakening the Power of Families and Neighborhoods" with John McKnight. His writing is about ways to create workplaces and communities that work for all. They offer an alternative to the patriarchal beliefs that dominate our culture. His work is to bring change into the world through consent and connectedness rather than through mandate and force. He is founder of Designed Learning, a training company that offers workshops designed by Peter to build the skills outlined in his books. Peter serves on the Board of Directors LivePerson, a provider of online engagement solutions, and the Cincinnati Access Fund; he also serves on his local neighborhood council. He is director emeritus of Elementz, an urban arts center in Cincinnati and is on the Advisory Board for the Festival in the Workplace Institute, Bahamas. He was the first Distinguished Consultant-in-Residence at Xavier University. With other volunteers in Cincinnati, Peter began A Small Group, whose work is to create a new community narrative and to bring his work on civic engagement into being. Peter's office is in Mystic, Connecticut. You can visit his websites at peterblock.com, abundantcommunity.com, designedlearning.com, commongood.cc, restorecommons.com and asmallgroup.net. He welcomes being contacted at pbi@att.net. He lives with his wife, Cathy Kramer in Cincinnati, and helped raise a bunch of kids.
Rabbi Miriam Terlinchamp serves as the spiritual leader of Temple Sholom in Cincinnati, Ohio. Temple Sholom sets itself apart through dynamic, mission-driven initiatives. Most notable is their pioneering approach to "sacred marketing." Through the release of over 40 innovative videos, Temple Sholom has delivered Jewish content to a growing viewership of more than 700,000 people. Rabbi Terlinchamp is the Director of JustLOVE, a multi-faith initiative that seeks to empower individuals with the knowledge, inspiration, and spiritual strength to be their best selves and do justice in this world. Terlinchamp serves as the Immediate Past President of The Amos Project, the largest faith-based organizing body in Ohio with 35 Cincinnati-area congregations. She writes for several media outlets including The Enquirer Board of Contributors and The Times of Israel Blogs. Rabbi Terlinchamp is a Rabbis Without Borders Fellow and is a member of the esteemed GLEAN Spiritual Entrepreneur 2017 cohort, a collaborative incubator formed in partnership between CLAL and the Columbia Business School. She is active in several boards and committees within the Cincinnati community. Rabbi Terlinchamp received her masters degree in Hebrew Letters in 2008, and was ordained as a rabbi in 2010 at HUC-JIR, Los Angeles. She received her Bachelors degree in Philosophy of Religion and Studio art from Scripps College in Claremont, CA and received additional studio art training at the London Slade School of art. Previous to joining Temple Sholom, Rabbi Terlinchamp served as chaplain at both the Los Angeles County Men's jail and the Los Angeles Home for the Aging, as a rabbinic fellow at Temple De Hirch Sinai in Seattle, WA, and as a national Kol Tzedek fellow for AJWS. Rabbi Terlinchamp and her husband have two young daughters.