Popscene presents PETEY live at Brick & Mortar, plus BOY WILLOWS! Advance tickets sold out but we may release a few more at the door.
About this event
PETEY
Petey just wants to make stuff.
"If I can wake up every day for the rest of my life and make something new, that's all I could ever ask for," he explains. "It's the only goal I've got."
Take a listen to Lean Into Life, Petey's exhilarating full-length debut, and you'll start to get the picture. The songs here are explosive and cathartic, with moments of aching honesty and probing self-examination giving way to biting wit and joyful exuberance amidst a sea of arpeggiated synthesizers, distorted electric guitars, and shouted vocals. Is it indie rock? Punk? Electro-pop? Emo? Sure, but if you're getting hung up on what to call it, then you've already missed the point. Lean Into Life is about release over analysis, about transcendence over fixation. That's not to say that the writing isn't deeply introspective—in fact, Petey's lyrics are often unflinchingly candid—but rather that it's the message not the medium that matters. Each video Petey posts to TikTok (where he's already amassed nearly a million followers) takes place in its own little universe, just as each track on the album is its own emotional snapshot with its own framework and context. Taken as a whole, though, all those little moments add up to something profound and cohesive, a raw, insightful meditation on the ways that tiny, incremental changes can lead to seismic transformation.
"Everything I make is representative of the moment in which I make it," explains Petey. "There's no set in stone philosophy at play here, and I'm certainly not trying to tell anybody how to live their lives. I'm just capturing my experiences as they happen and hoping people can relate to them."
It was that sense of personal connection that drew Petey to music in the first place. Born and raised in the suburbs of Chicago, he and his friends would regularly take the train into the city to see bands like Motion City Soundtrack, Alkaline Trio, and Fall Out Boy. Though Petey played drums in groups throughout high school and college, he never really imagined a career in music, instead focusing all of his energy and ambition on finding a way to make it to California.
"I watched The OC a lot as a kid, which made me obsessed with the idea of living in California someday," Petey says. "I wanted to get there so bad it was like an itch I had to scratch, and when I finally made it in 2014, I had no plans beyond just being there."
Realizing he needed to find a way to support himself in a hurry, Petey took a job in the mailroom at a large corporation. It was dull, unfulfilling work, but if he was being honest with himself, he didn't feel particularly qualified to do much else, and his anxiety made interviewing for other jobs a nightmare. For the first two years, Petey was miserable, constantly looking for a way out but always running into the same dead ends. Then, during his third year on the job, Petey had a revelation: if he couldn't change his reality, then he could at least change his perception of it.
"I started setting all these little challenges for myself," Petey recalls. "'How much can I enjoy work today?' 'How many friends can I make there?' 'How much fun can I have doing it?'"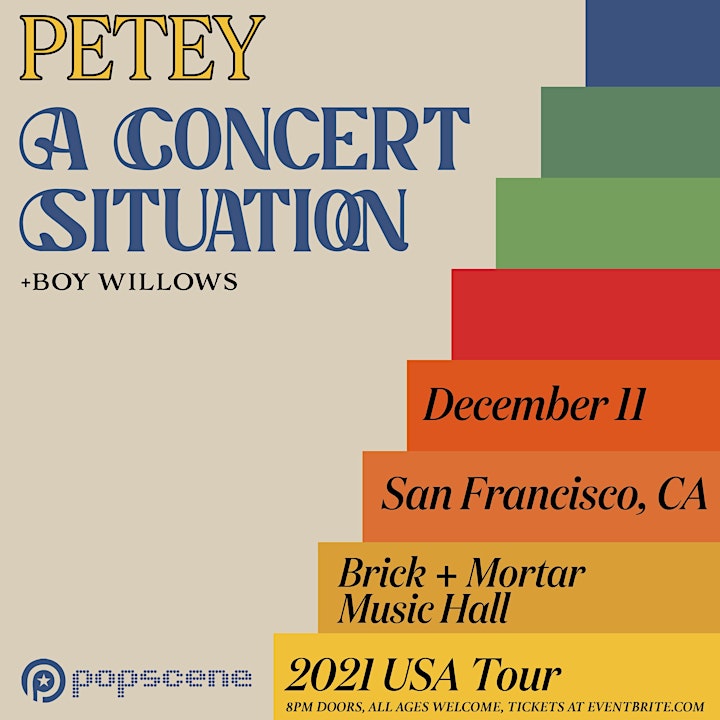 Performers
Date and time
Location
Refund policy
San Francisco's long-running weekly indie party Popscene showcases new and emerging artists each week and our resident DJs Aaron Axelsen and Omar spin the very best of indie, britpop, post-punk, electronic, synthpop and more. Popscene is every Friday at Rickshaw Stop, though we'll occasionally throw parties at other fine Bay Area venues, too. So yeah, come out and dance and check out some amazing new bands and DJs @ Popscene