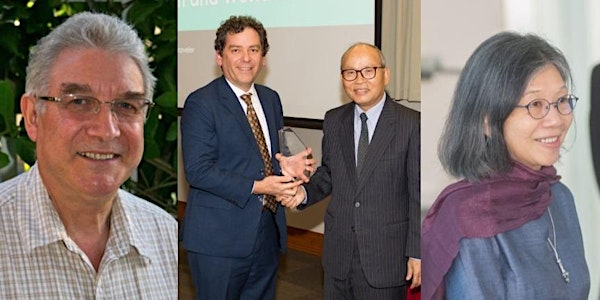 Peter L. Lee Endowed Lecture
When and where
Location
Seattle University 901 12th Avenue Seattle, WA 98122
Description
Peter L. Lee Endowed Lecture
Sponsored by Seattle University College of Arts and Sciences and Asian Studies Program
5 - 6:20 p.m., LeRoux Room, pre-lecture reception at 4:30 p.m.
Peter L. Lee Endowed Lecture, Professor Robin Yates, "Chinese Science, Medicine, and Technology: Some Recent Discoveries and New Trends in the Field."
Special added event
9:20-10:45 a.m., Casey Commons
Professor Grace Fong, "On My Birthday and When I am Sick: Women Reflecting on Aging in Qing Dynasty China."


Thanks to a generous contribution by Dr. Peter Lai Sun Lee '64, Seattle University established the Peter L. Lee Endowed Lectureship in East Asian Culture and Civilization in April 2015. Housed in the College of Arts and Sciences and managed by the director of Asian Studies, the lectureship brings to campus prominent experts to explore the impact of East Asian thought and tradition on contemporary global issues.
On May 4, 2018, Dr. Lee will receive the University Service Award at the Annual Alumni Awards.
Dr. Lee, who majored in chemistry, was one of the earliest international students to come to Seattle University from Hong Kong. Early in his career, he served as the first President of Coca Cola China. Subsequently, he led the Asian operations for several multinational companies including Mead Coated Board (then part of Mead Corporation) and Chesapeake Corporation. His most recent venture is Rondabosh International Ltd., a company he founded upon retiring from Chesapeake in 2008.
Dr. Lee received his PhD in chemistry from Michigan State University, did postdoctoral research at New York University, and studied with the great China scholar Joseph Needham at Cambridge University. He has had a longstanding association with the East Asian History of Science Foundation in Hong Kong and currently serves as its chairman. Throughout his academic, corporate, and nonprofit leadership involvement, Dr. Lee has worked tirelessly to build bridges of understanding between China and the West.
---
Robin D.S. Yates, James McGill Professor of East Asian Studies and History and Classical Studies, McGill University, is a specialist on the social and cultural history of pre-modern China, history of Chinese law, the history of Chinese military science and technology, and the history of Chinese women. Trained at Oxford University, the University of California, Berkeley, and Harvard University, he was elected Chair of the international Society for the Study of Early China and Editor of its journal, Early China (2003-2010), and inducted into the Royal Society of Canada, Division of the Humanities of the Academy of the Arts and Humanities, in 2010. His most recent publication, a collaboration with Anthony Barbieri-Low, Law, State, and Society in Early Imperial China: A Study with Critical Edition and Translation of the Legal Texts from Zhangjiashan Tomb no. 247, was published in 2015 and was awarded Honorable Mention in the Patrick D. Hanan Book Prize for Translation (China and Inner Asia), Association for Asian Studies in 2018. He has been an on-camera expert for numerous television documentaries on Chinese history produced for the BBC, the History Channel, PBS-Nova, the Learning Channel, the Discovery Channel and National Geographic, among others.
---
Grace S. Fong is Professor of Chinese Literature in the Department of East Asian Studies, McGill University. She received her PhD in classical Chinese poetry from the University of British Columbia. A Guggenheim Fellow in 2011-2012, she has also been visiting professor at both the University of Hong Kong and the Chinese University of Hong Kong. Her research interests encompass classical Chinese poetry and poetics, women writers of Ming and Qing China, and autobiographical practices in the Chinese literary tradition. She is Editor of the Women and Gender in China Studies series published by Brill. Her book, Herself an Author: Gender, Agency, and Writing in Late Imperial China, was a Choice "Outstanding Academic Title, 2008." Engaged in exploring the potential of developments in digital humanities for new modes of critical inquiry in the domain of literary studies, she has been directing the Ming Qing Women's Writings digital archive and database project (http://digital.library.mcgill.ca/mingqing/) since its inception in 2003. Her lecture will draw on data from Ming Qing Women's Writings.
---
If you have any questions, please contact Yitan Li, PhD, Director, Asian Studies at liy@seattleu.edu