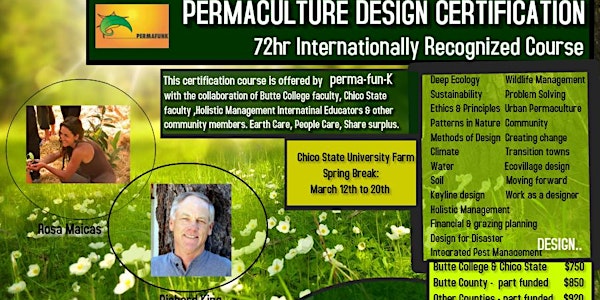 PERMACULTURE DESIGN CERTIFICATION COURSE 2016
When and where
Location
Chico State University Farm. Hegan Lane. Chico CA
Refund Policy
Contact the organizer to request a refund.
Description
PERMACULTURE DESIGN CERTIFICATION COURSE 2016
72hr Internationally Recognized Course

This Certification Course is offered by perma-fun-K in collaboration with Butte College faculty, Chico State College of Agriculture faculty, Holistic Management International Educators, John Champaign a permaculture expert from Australia & other valuable members of our Chico community.

March 12th to March 20th 8am-6pm During Spring Break
What is a Permaculture Design Course?

PDF Contents here
It is a standard, internationally recognized course presented as a 72-hour curriculum laid out by Bill Mollison in his book "Permaculture: A Designers' Manual" and taught around the world as a way of introducing people to creating sustainable human settlements and putting humanity on a course to a more sane future.
To whom is directed?
To students, teachers, sustainability projects and businesses, farmers, landowners, ranchers, gardeners, landscapers, architect, horticulturalist, psychologist, sociologist, economist, food shop owners, parents & pretty much anyone who is wanting to create change in their personal lives and the lives around them.
Course description
This certification course has lectures, presentations, group dynamics, hands-on workshops, field trips & design projects.



Objectives:

We focus on Permaculture as a framework for understanding and integrating the vast diversity of technologies and trends in the movement of sustainability. Using Permaculture ethics & skills as a new cultural paradigm.


This course is life a life transforming experience!

Dont miss this opportunity to get certified in your area.



Students demonstrate:



The ability to interpret a landscape and its ecological implications.
Effective communication of these interpretations through maps, graphical analysis and assessment & group presentations.
Their key ecological design strategies.
Their discovery & development of the relationships between elements, goals & site realities.
Proficiency with design methods & techniques, observation, pattern recognition & systems understanding.
The application of Permaculture Ethics & Principles in their designs.
The vision & ability to implement solutions on a personal level in their culture.


Discounted Prices
for the first 20 participants registered & paid
Butte College & Chico State members $750 (part funded price)

Butte County Locals $850 (part funded price)

Members of other counties $920 (part funded price)


THIS IS HOW YOU REGISTER:
1.- SEND US AN EMAIL with your name, address, phone number, email & the reason why you want to do this course, to perma_fun_Kinfo@yahoo.com.
2.- Get our MEMBERSHIP.
3.- MAKE YOUR PAYMENT to secure your spot. If you need to pay the course in two times please let us know and we will direct you on how to do that. Contact us: perma_fun_Kinfo@yahoo.com

4.- You will receive an email confirmation & more details about what things to read prior the course and what to bring to the course.
What this course provides you with:
Videos & bibliography used
A big file of docs, pdfs and information for you to further study at home.

Bill Mollison's Permaculture Design Certificate

What you need to bring:
Notebook & pen
Camera
Water bottle
Lunch & snacks for the day to share with the group
Comfortable clothing & shoes
Pen drive or hard drive at the end of each module, so we can share information, docs etc with you.

Bring something to contribute towards our CERTIFICATION Celebration BBQ the last day of the course, March 20th. You can bring meat, salad, drinks etc..
Those who would like to camp together, share meals and watch videos at the end of each day could do so in our property for no extra cost. 2604 W Sacramento Ave. Let us know if you would like to camp with us during the whole course.
To read more information about this course : http://www.perma-fun-k.com/permaculture-design-course-layout.html or contact us at perma_fun_Kinfo@yahoo.com