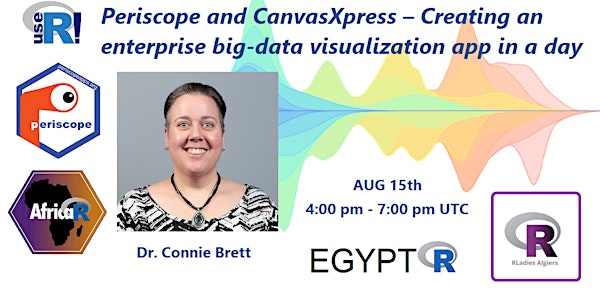 Periscope and CanvasXpress – Creating an enterprise big-data visualization
EgyptR & RLadies Algiers are honored to be facilitating a useR! 2020 tutorial : Creating an enterprise big data visualization in a day
About this event
The periscope R package is a toolkit built specifically to address the need of developers to produce enterprise-grade Shiny applications.
Learning Objectives:
Understand the business and development problems facing the ever-expanding use of Shiny applications in the enterprise.
Understand the limitations that can affect the usability of web-delivered interactive visualizations.
Gain hands-on experience using the periscope R package to jump-start the creation of a Shiny application that will incorporate a large dateset visualization.
Become familiar with the capabilities of the canvasXpress visualization package.
Gain experience utilizing canvasXpress visualizations from both the user-and developer-perspectives to create and interact with sophisticated big-data visualizations.
Instructor Background:
Dr. Connie Brett is the CEO, Founder, and Principal Data Scientist of Aggregate Genius Inc. located in BC, Canada.
She is responsible for analytics oversight as well as delivering on the corporate vision backing the "Know what you KNOW"™ philosophy of the company.
She is experienced in using many types of models and algorithms as well as architecting cutting-edge big-data analytics-integrated platforms.
She has submitted publications and patents, contributes enterprise-grade frameworks to the open-source community, and attends and speaks at industry events. With over 20 years spent focusing on producing solid analytical models, software and visualization tools, as well as custom IT solutions architecture she continues to carry forward her passion for helping clients realize true business insights from analytics.
Target Audience:
The audience targeted are intermediate R users with experience creating data visualizations (in any package) plus a general understanding of Shiny applications and reactive programming.
The workshop attendees should have created at least a basic Shiny application prior to attending this workshop.
Please go through this site : Mastering Shiny , to learn more about Shiny apps .
Technical Requirements:
To be able to follow the workshop it's advised that your machine have the following installed :
Please read the useR! 2020 Code of Conduct carefully: All participants are required to agree to it.
Only 50 slots are available for this tutorial. The tickets will be available from July 13th to July 21st.