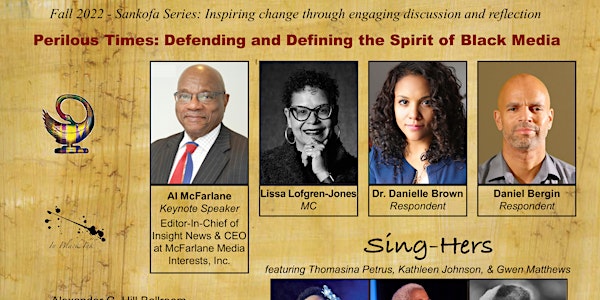 "Perilous times: Defending & Defining the Spirit of Black Media" - Sankofa
The 2022 Sankofa Event & Series will be held on Saturday, November 12, 2022, at Macalester College in Kagin Commons from 2:00 - 5:00 pm.
When and where
Location
Kagin Commons 21 Snelling Avenue South Saint Paul, MN 55105
About this event
Perilous times: Defending and Defining the Spirit of Black Media
The Sankofa Series: Inspiring change through engaging discussion and reflection
Location: Alexander G. Hill Ballroom, Kagin Commons
Macalester College
21 Snelling Ave. S.
St. Paul, MN 55105
Date: Saturday, November 12, 2022
Time: 2:00 pm - 5:00 pm
This is in-person event. RSVP required. No live streaming will be available.
Description:
The Sankofa Series is a community gathering and conversation on the theme: Perilous times: Defending and Defining the Spirit of Black Media. This topic explores the impact of the media on the Black community posing questions such as: What has been the impact of mass media and social media on our community and how has Black media balanced the narrative about Black people in airwaves and internet? Whether trying to influence the next political election or covering the next protest for justice against police brutality, the media has a perceived positive and negative impact and influence on all of us. The American populous is essentially divided on the issue of justice and freedom for African Americans, therefore creating a perilous time for narratives of truth, justice and historical record told by the Black media and Black media makers.
This gathering will include a keynote address from Al McFarlane with responses from local media makers and journalists.
Al McFarlane is the Editor-In-Chief of Insight News and CEO at McFarlane Media Interests, Inc. both housed at the Marcus Garvey House located in north Minneapolis. He is a journalist, news reporter, editor, content creator and curator of many multi-media vehicles such as Conversations with Al McFarlane, a daily online pod cast and his partnership with KFAI radio where he hosts a weekly forum.
Respondents:
Daniel Pierce Bergin
Bergin creates media that explores people, places, and the past through restorative storytelling. He is a filmmaker and Twin Cities PBS Executive Producer.
Danielle K. Brown, Ph.D.
Brown is the John & Elizabeth Bates Cowles Professor of Journalism, Diversity & Equality in the Hubbard School of Journalism and Mass Communication at the University of Minnesota. She researches media's contribution to uneven power dynamics and diversity issues in society.
Tabletop Discussions: Facilitated by our youth and young people on this topic will follow the keynote.
Entertainment: The acapella group, Sing-Hers featuring Thomasina Petrus, Kathleen Johnson, & Gwen Matthews
Hors d'oeuvres provided.
The Sankofa Series is organized by a volunteer committee and supported by In Black Ink.
This event is free and open to the public.
Contact:
Shakita Thomas Kpetay, Sankofa Series Coordinator
In Black Ink
(773) 756-8567 c • SankofaSeries@InBlackInk.org
www.InBlackInk.org