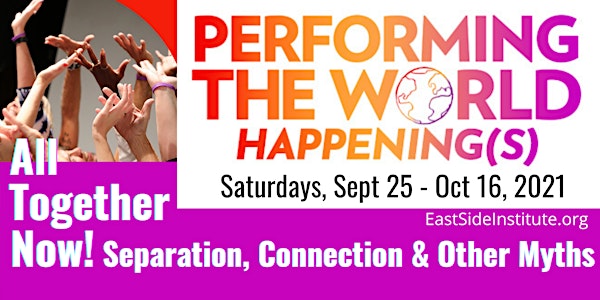 Performing The World Happening(s) 2021 - All Together Now
Join us from Sept 25th to Oct 16th for an online festival exploring the power of performance and play to re-imagine and re-create the world!
Refund Policy
Contact the organizer to request a refund.
Eventbrite's fee is nonrefundable.
About this event
Performing the World Happening(s) is a virtual conference and a global community of hundreds of "performance activists" from all over the globe who are exploring the power of performance and play to re-imagine and re-create the world. The Performing The World community creatively engages social problems, educates, heals and activates others, to bring new social-cultural-psychological and political possibilities into existence.
Performing the World Happening(s) 2021 — "All Together Now!" — brings together grassroots leaders who are reaching out, experimenting, and challenging our old ways of seeing, feeling, and relating, who are questioning, with their praxis, the underpinnings of psychology, education, culture, science and politics, who are pushing beyond the traps of "separation" and "connection" and reaching for the joy of being "All Together Now!"
Calendar of Events - All Times Eastern US (UTC -4)
Opening Weekend - Saturday, September 25th (9AM - 6PM)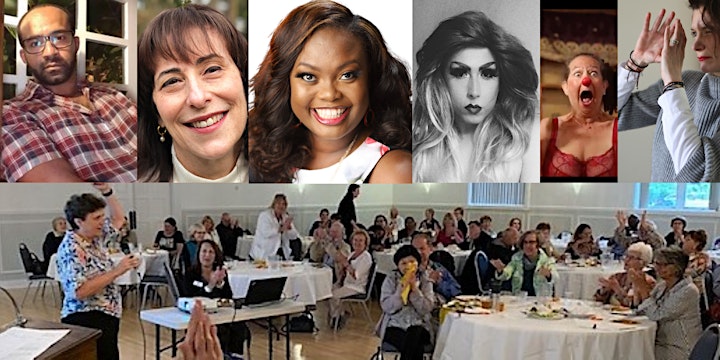 9:00AM - Opening Ceremony
10:00AM - "I didn't know I needed to Play w Strangers!": Rediscovering the Value of Play with the Global Play Brigade (Creative Director: Cathy Salit, Co-creators: Jeff Gordon - Israel, Valerie Monti Holland - United Kingdom, José Carlos Barbosa Lopes ("Ze") - Brazil, Rita Ezenwa-Okoro - Nigeria, Sean Kwan - Hong Kong)
When the pandemic hit and tens of millions of people around the world had to lock-down, improvisors, clowns and performance activists of all sorts stepped up. They organized the Global Play Brigade (GPB) to bring play, via Zoom and WhatsApp, into homes around the world. In a year and a half, the GPB has grown to 150 volunteer facilitators from 40 countries. Five thousand people from 62 countries have participated in 275 free virtual workshops created and led by the GPB. In the midst of sickness, death and political crisis, strangers came together and discovered the need and joy of play. Come learn how it happened, and why it works!
12:00PM - Creating the Ensemble: Reimagining Dementia as Community Performance (Creative Directors: Mary Fridley and Dr. Susan Massad, Co-creators: Holly Marland - United Kingdom, Nancy Nelson - United States, Jennifer Hicks - Canada, Jennifer Carson - United States, Myrna Norman - Canada)
Does the onset of dementia have to be the "beginning of the end" for us as creative, social and productive human beings? Across the globe, a growing movement of people—including people living with dementia—are re-imaging dementia by engaging our culture(s) which insist that we human beings "are our brains." In so doing, they are challenging the prevailing narrative that dementia is a tragedy to be ignored, stigmatized and feared. Instead, they are approaching dementia as an offer—varied, uncertain and unpredictable—that we can create new possibilities with. This playful and philosophical interactive workshop, led by leaders of the Reimaging Dementia movement is open to everyone (no matter your relationship to dementia) who wants to collectively create a dementia performance that embraces our humanity, relationality and growth and supports us all of us to joyfully navigate this challenge in an increasingly uncertain world.
5:00PM - Identity: Myth in Progress (Creative Director: Marian Rich, Co-creators: Dražen Horvatić - Serbia, Aurelie Harp - United States / France)
We are in the midst of an identity revolution. Our assumptions around identity, and gender specifically, are being challenged. Such times give birth to both cruel and often violent reactions by those threatened by change, but also open previously unseen doors to those willing to explore and embrace new possibilities of being in the world. Can we creatively transform those static categories and find new (and more) identities, or indeed, can we do away with the conservative constraints of identity altogether? What if there was no identity? What if there are no words? This workshop is an invitation, with creative identity benders and shape-shifters, into a playground to explore, challenge and play with who we are becoming.
Weekend Two - Saturday, October 2nd (10AM - 6PM)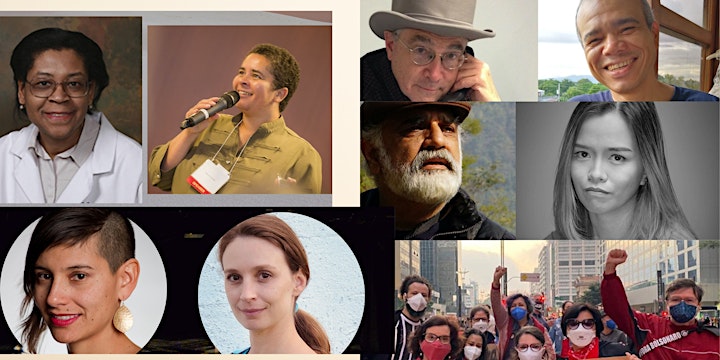 10:00AM - Creative Responses to Political Repression (Creative Director: Dan Friedman, Co-creators: Thinzer Shunlei Yi - Myanmar, Sanjay Kumar, Pandies Theater - India, Ruben Reyes - Nicaragua, Andre Liberali - Brazil, Gold Lim and Gail Billones, Philippine Educational Theatre Association - Philippines)
All over the world, hard won—and always tenuous—democratic rights are under attack. Representative forms of government, however limited and weighted in favor of the rich, are giving way to the naked violence of authoritarianism. How can those seeking to preserve democracy—and extend it beyond limited political rituals to encompass the economy, education, culture and social life—effectively respond to this trend? What can be done to oppose authoritarianism and generate positive alternatives in the face of tear gas, bullets, prisons, and hate fueled mobs? Given the limitations of traditional forms of resistance—demonstrations, elections, general strikes, occupations—this question is particularly pressing. "Creative Responses to Political Repression" brings together activists from various countries facing different forms and levels of repression. Together they will share their attempts at creatively responding and generating alternatives to authoritarianism, repression and violence.
12:00PM - Performing Blackness Together: Humanity Stepping Out Around the World (Creative Directors: Dr. Raquell Holmes, Dr. Jessie Fields)
In 1903, the great African American sociologist and progressive activist W.E.B. Du Bois wrote, "The problem of the twentieth century is the problem of the color line." Building on Dr. Du Bois, in 2013 Dr. Lenora Fulani, the leading African American developmentalist, political independent and activist, wrote, "the problem of the 21st century is the problem of the development line". It is clear that racism, poverty and the stifling of human development remain cutting-edge barriers to human flourishing in the United States and around the world. In 2021, what will we write? This session will look at how humanity, in its many hues and rhythms, is stepping out in new performances of Blackness that may lead us all to transformative possibilities.
5:00PM - Embodying Possibilities: Dance Activism in Latin America (Creative Director: Paola Lopez, Co-creators - Janelle Sibauste, Patricia Machado)
Liberation is not primarily cognitive; it is, far more, an emotional, visceral, and physical activity. Our histories, oppressions and generational traumas are embedded in our musculature, our postures, our ways of moving, our nerves, our guts. They are in the lines of our faces. Featuring dance activists from throughout Latin America, this session will share the role that movement and dance can play in the struggle for social justice and development.
Weekend Three - Saturday, October 9th (10AM - 6PM)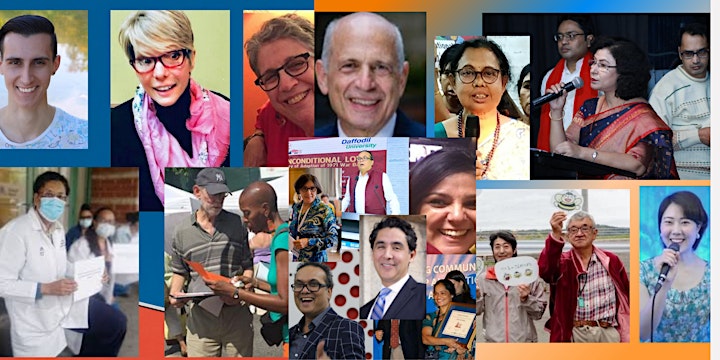 10:00AM - Creating Community Approaches to Emotional Distress (Creative Directors: Jeff Aron, Mana Mukaiyachi, Co-creators: Ishita Sanyal, Founder and Director of Turning Point, Kolkata, India / Ikuyoshi Mukaiyachi, founder of Bethel House, Urakawa, Japan / Prativa Sengupta, Director of SEVAC Clubhouse India and Chief Psychologist of SEVAC Mental Health, Kolkata, India)
Around the world, creative, non-psychological approaches to helping people with psychosis are emerging. These approaches involve "patients" in the activity of creating environments in which they are supported to be interactive, creative and productive—to join the global human community supported with what they need to be able to give and grow.
12:00PM - Performance in Higher Ed: Sparking Creativity Within an Uncreative Box (Creative Director: Carrie Lobman, Co-creators: Syed Rahman, Head of General Educational Development and Director of Students' Affairs, Daffodil International University, Dakar, Bangladesh / Fernanda Liberali, Pontifical Catholic University of São Paulo, Brazil / Omar Ali, Dean, Lloyd International Honors College, University of North Carolina, Greensboro, United States)
All over the world, colleges and universities have evolved into learning factories, designed to train not only the ruling elite (in the elite institutions) but to prepare the rest of us to fit passively into our various alienated roles in a drastically unequitable and tightly scripted global play. As the Authority of Knowing bears down on students and teachers alike, is it possible to break out of that script, exercise power and improvise new performances, new methodologies and new ways of seeing in Higher Education? Well, yes it is. Here three playful educators share what they have done to spark creativity within the uncreative box of the university.
5:00PM - Emotional Development in Time of Crisis (Creative Director: Steven Licardi, Co-creators: Barbara Silverman (Developing Across Borders) / Hugh Polk (Creating Our Mental Health) / Jen Bullock (International Emotional Support Group) / Dr. Jessie Fields
In the face of the COVID Pandemic, political repression and economic hardship new ways of reaching across national and cultural borders to collectively engage and develop our emotionality are emerging. This session brings together three pioneers of this work. After brief introductions of these activities by their initiators, participants in each program will join the conversation.
Weekend Four - Saturday, October 16th (10AM - 2:30PM)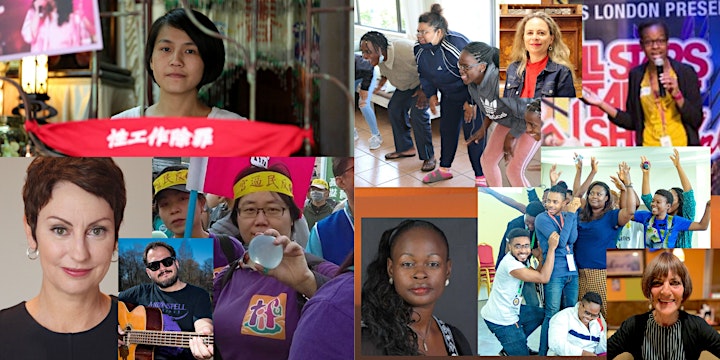 10:00AM - Psychology, Politics and Transformation: The Building of a Taiwanese Development Community (Creative Directors: Pei Yu Kuo, Wei Hsuan Lung w/Maureen Kelly)
In Taiwan for over 30 years a core of creative political, community and cultural activists have engaged everything from trade unions to political elections, from organizing sex workers to advocating for immigrant women, from Indigenous rights to support for the disabled. This is the story of that intrepid group of organizers' experimental and constantly evolving approach to social transformation that has allowed them to endure and develop.
12:00PM - Youth Development and Community Building (Creative Director: Rita Ezenwa-Okoro, Co-creators: Chantelle Burley, All Stars London / Pamela Ateka, Community Focus Group and Women in Democracy and Governance, Nairobi, Kenya / Alex Sutherland, Tshisimani Center for Activist Education, Cape Town, South Africa)
In large parts of the world, particularly the Global South, the population is drastically trending younger. Providing young people with the experiences, methodologies, and tools to not only navigate life, but to transform it, has become an increasingly important aspect of building communities for growth and development. Innovative youth organizers will share their approaches to creating a unity between youth development and community building.
1:30PM - Closing Ceremony

PRESENTER BIOS (in alphabetical order)
Omar H. Ali is Dean of Lloyd International Honors College at the University of North Carolina at Greensboro and Professor of Global and Comparative African Diaspora History. He has helped to infuse performativity into the university through curricular changes, workshops, programming, and creating a culture that is philosophical and improvisational. His most recent project, Let's Learn! The World as Classroom, with Dan Friedman in collaboration with the East Side Institute, extends shared 'classrooms' across the globe. A former member of the Castillo Theatre, he received his Ph.D. in History from Columbia University and was recently knighted by the French government for his work with French teachers around the world.
Jeffrey Aron is recently retired from Fountain House, a community-based mental health organization in New York City. Under his leadership, Fountain House won the Conrad N. Hilton Humanitarian Prize, the world's most prestigious humanitarian award; and created a partnership with the World Health Organization to develop guidelines and best practices for health practitioners working with people with serious mental illness. Jeff has been associated with All Stars Project since its inception and helped develop its community-building and fundraising model. For more than 40 years he has been a creator and builder of the development community and its initiatives. Currently, he has passionately embraced growing the Global Play Brigade.
Pamela Ateka is a mother, sister, friend, poet, storyteller, politician and community mobiliser. She is the author of " Sing Africa Sing" and founder of Community Focus Group, Women In Democracy And Governance (WIDAG) and the CEO of WIDAG Enterprises. When not helping out at those organizations or mentoring girls, she gives her services to other Non Govermental and Community Based Organizations that have a heart of lifting others to excellence. Pamela has given keynote speeches, performances and facilitated workshops for The Australian Storytelling Guild, UNESCO, International Federation Of Ageing, among others internationally.
Gail Billones is currently the Director for PETA's Lingap Sining Program: Healing through the Arts. She is currently leading two major creative campaigns for the Lingap Sining Program:
1) Health and Human Rights: Community Health Education using the Arts. A 3-part video series and community training package which aims to orient common people on health and human rights, mental health and breaking barriers of fear, stigma and discrimination. The project will run from 2020-2021
2) ImagiNATION: Activating Youth Engagement towards Voters Education and Civic Participation. This is a creative campaign in engaging the youth towards Voters Education and Empowerment from 2021-2022. From 2019 to 2020, she led the program's project on Rehearsing Democracy and Resiliency: A Creative Campaign on Human Rights and Resiliency Education providing psychosocial support and capacity building activities for families and communities affected by the War on Drugs, within areas in Metro Manila. Gail has 33 years in service as a cultural worker and 26 years with PETA. Born a Kapampangan, she cooks good food and loves to travel.
Jennifer Bullock, M.Ed., M.L.S.P., LPC is a licensed psychotherapist with 35 years of experience in mental health and child welfare. At her social therapy practice in Philadelphia, PA, she works with groups, couples, and families. She offers life development social therapy groups with adults and teens. Jennifer is a political activist for voting rights of nonpartisans in the US. She is also a long-time youth advocate, working with young people affected by poverty and institutional oppression to develop leadership skills with use of play, performance, and wellness practices. With the Global Play Brigade, she produces, designs and co-leads free play and emotional support session for teens and adults from around world. Jennifer is committed to making wellness a social activity accessible to everyone. Jennifer writes a self-help blog that offers unconventional, unique approaches to our everyday life challenges and adventures with one another. As a 200-hour certified yoga instructor, Jennifer offers free online classes to people across the globe.
Chantelle Burley co-founded All Stars London with Brian Mullin in 2014 and works as the charity's coordinator and Chair of Trustees. All Stars London is inspired by the All Stars Project in New York City where Chantelle worked as an Activist for Social Development Fellow and then a coordinator for their flagship Talent Show programme. Growing up in a poor neighbourhood in east London was the main motivation for her wanting to start the organisation after experiencing the impact the All Stars performance model had on young people living in poor communities. Outside of All Stars London, she works with young people engaged in criminal exploitation and gangs, and as a youth worker in a young offender's prison. Chantelle has a BA in Drama, Applied Theatre and Education from the Royal Central School of Speech and Drama in London, and a MA in Educational Theatre from New York University.
Dr. Jennifer Carson is Director of the Dementia Engagement, Education and Research (DEER) Program in the School of Community Health Sciences at the University of Nevada, Reno. Dr. Carson works with tribal, rural and urban communities across the state as Project Director of the Dementia Friendly Nevada initiative and is a founding member of Reimagining Dementia: A Creative Coalition for Justice.
Rita Ezenwa-Okoro is the Founder/Lead Visionary of Street Project Foundation, a Social Enterprise that uses performing arts as a tool to facilitate opportunities for youth leadership development and cross-cultural exchanges, she has been responsible for the creation of initiatives that have impacted the lives of thousands of young people in Nigeria. She is also a marketing communications expert and is the founder/principal communications ROC an e-commerce Advertising Boutique Agency. She is a recipient of the 2013 Champion of Change Award, 2013 Future Awards Honoree, a 2014 recipient of President Barack Obama's Mandela Washington Fellowship for Young African Leaders (YALI), a 2017 recipient of the Lagos State Government Youth Development Award and a 2018 recipient of the Extraordinary Women Award in Gabriac, France, 2019 Next Generation Leaders award and 2020 Global Fellow of the very prestigious International Society for the Performing Arts (ISPA) and 2021 recipient of the Lagos State Government award of excellence in Entrepreneurship Development.
Dr. Jessie Fields is a poet and independent political activist. A longtime associate of Dr. Lenora Fulani, Dr. Fields is an enthusiastic supporter of the All Stars Project and a member of the All Stars Board. Growing up in poverty in the Black community of Philadelphia, Dr. Fields set out on a career to bring better health conditions to poor urban communities. Awarded a National Public Health Service Corps medical scholarship, she attended Bryn Mawr College and the Medical College of Pennsylvania in Philadelphia. She has been a primary care physician in the Harlem community for over three decades. In additional to her direct care duties as a physician, Dr. Fields has been involved in medical education for medical students and residents. She is currently active in the grassroots movement to maintain public housing in New York City.
Mary Fridley is pro-bono Director of Special Projects at the East Side Institute and coordinator of Reimagining Dementia: A Creative Coalition for Justice. An accomplished teacher and workshop leader, Mary practiced social therapy for 12 years and uses the social therapeutic approach as an Institute faculty member. She is the author/co-author with Susan Massad of several articles and chapters on the Joy of Dementia, guest blogger for agebuzz.com, theater director and non-profit fundraising consultant.
Dan Friedman is a member of the faculty of the East Side Institute and Artistic Director Emeritus of the Castillo Theatre, which helped to found in 1983. He is managing producer of the Institute's podcast, "All Power to the Developing," and co-chair, with Lois Holzman, of Performing the World Happening(s). He is a playwright and theatre director with a doctorate in theatre history from the University of Wisconsin. Friedman has been a progressive political/cultural organizer and grassroots educator for half a century. His latest book, Performance Activism: Precursors and Contemporary Pioneers, is the first book-length work on performance activism. It will be published by Palgrave later this year. danfriedmannyc.org
Juan David Garzon is a musician, music educator, workshop leader & trainer devoted to facilitating social change through improvisation, sound and play. Based in Utrecht, The Netherlands, and working with several organizations around the globe, he focuses on community development and youth work by exploring and experimenting with inter-cultural communication, diversity, democracy, inclusion, belonging, peace and solidarity. He has worked with communities and individuals that underwent significant stress because of refuge seeking, culture clash, extreme poverty and social injustice in Colombia, Germany and The Netherlands. With degrees in popular and improvised music, music / event management and professional training in music pedagogy, he works as a guest lecturer at the Methodologies for Musical Training program of the Javeriana University in Bogotá, at Tontalente e.V. in Lübeck and advises cultural and education organizations like the Youth Philharmonic Orchestra of Colombia in project conception and development.
Jeff Gordon was born and raised in London, and moved to Israel 32 years ago. He is trained in Community and Social Theatre, Clowning, Therapeutic Clowning, and Drama Therapy. Jeff works with a wide range of populations, supporting people through play and performance to express their authentic voice and challenge the social 'norms'. Jeff headed up training and development programmes for Simchat Halev, the medical/therapeutic clowning organization in Israel where he supported a large body of clown volunteers in hospitals, elderly homes and special ed schools. He has co-developed a Clown Therapeutic approach that has been effective in the field of 'addictions'; alcohol, drugs and gambling, and he leads workshops on Happiness and its impact on emotional wellbeing in life and work. Jeff has been an active member of the Global Play Brigade since its onset.
Aurélie Harp is is a Relational & Performance Coach and the founder of Womanity Play, a human development organization focusing on cultural growth in support of business growth, the sister company of Womanity Project, a nonprofit to champion Diversity, Equity and Inclusion among youth and underserved communities. She graduated from Science-Po Paris with a BA in Sciences Politics & History and a Master in Marketing Research and Strategy. She has 20+ years of experience in theater improvisation, oral history and relational management. She is a graduate of the East Side Institute's International Class (2017-18). She is now training in Group Social Therapeutics at the Institute and has started women's groups and family & gender groups. She is also a filmmaker and a playwright and a founding member of Global Play Brigade. She believes that playing and arts can help us transform our culture and create new possibilities. All of it is at the heart of Womanity.
Jennifer Hicks is a Nia (Creative Movement) instructor who also runs a private practice in Speech-Language Pathology, specializing in acquired brain injury. She holds a Nia Black Belt certification and earned her Master's of Health Science at the University of Toronto. sJennifer's creative arts work has included supporting individuals through The Royal Conservatory's Living Through the Arts Program, The Alzheimer's Society of Toronto, Baycrest's Memory-Link Program, The Hospital for Sick Children's Eating Disorders Day Treatment Program, New Outlook, The Residences on Bayview and the University Health Network's Dotsa Bitove Wellness Academy. Currently she is offering virtual services through The Alzheimer's Society of Toronto, The Bitove Method, Baycrest@Home and The Centre for Addiction and Mental Health (CAMH).
Valerie Monti Holland is a facilitator, trainer and coach. Following her masters in Applied Theatre (Manchester) and a diploma in Sociodrama and Action Methods, she works across the public, private and voluntary sectors in the UK, US and throughout Europe. She uses creativity as a key to exploring emotional health and wellbeing among teams and individuals as well as mapping out organizational systems as a pathway to more effective leadership. Valerie lives on the edge of the Peak District where she cycles and walks balanced by a lifetime passion for yoga. She is the proud mother of a son and a daughter.
Dr. Raquell Holmes is a builder of independent movements and innovative programs that bring people together across traditional boundaries. She is a pioneer in the use of improvisation and performance in scientific research communities. She is founder and director of improvscience, a life performance coach with Life Performance Coaching, and founder of the innovative Arts Humanities and STEM conference--Cultivating Ensembles. Trained formally as a cell biologist at Tufts Biomedical and Harvard Medical schools, she uses her training in human development and performance from the East Side Institute to help scientists build developmental, collaborative learning and research environments. In May 2020, Raquell created Uncomfortable Independent Conversations (UIC) to bring together individuals who, independent of institutional identities, are interested in having conversations that transform their experiences of race, class and gender in America and move us closer to one another.
Lois Holzman is founder (with Fred Newman) and director of the East Side Institute, a center for social therapeutics and other humanizing approaches to the learning and development of people and communities. As an activist-scholar, her work is political-philosophical, community-located and international. She is a founder and the chair of the Performing the World conferences and a leader in the social change movement known as performance activism. Lois introduces performatory approaches to human development and social change to hundreds of grassroots practitioners and supports their home-grown initiatives to develop people and their communities in order to engage poverty, violence, conflict, underdevelopment and environmental destruction. Lois is the author of 10 books – including her latest The Overweight Brain – and dozens of chapters, articles and essays, some featured in Big Ideas and Revolutionary Activity.
Dražen Stojković/Horvatić, based in Belgrade, Serbia is apparently having difficulties owning his identity at the moment. Here are some of his involvements, that are usually highlighted as crucial for who he is becoming:
- Graduated from Faculty of Philology in Belgrade, Serbia, Department of Scandinavian Languages, Cultures and Litteratures in 2016 (BA degree)
- Graduated from Academy of Arts in Novi Sad, Serbia, Applied Theater program at the Department of Drama in 2020 (MA degree)
- Graduated from East Side Institute International Class in Social Therapeutics, Class of 2018 - 2019
- Graduated from Soul Works, Psyche and Soma - Sesame method in 2021 (Lower Education degree)
Dražen has also been connected to the existence and departure of a late Serbian identity bender, Dajana Ho (she despised being called a drag queen).
Before Dajana died, she gave birth to twelve s∞ns, twelve ephemeral phenomena that cannot be physically sealed. These s∞ns offer a traveling multimedia playground which threatens to question the structure of the entire society as you know it...that is, only if you find that kind of a question threatening.
Maureen Kelly - In her role as President and Chief Possibility Officer of Performance of a Lifetime," Maureen Kelly leads a global team in continuously breaking new ground in the use of play and performance as a catalyst for human development in the workplace. She has led the company in a decade of extraordinary growth — launching strategic change programs and securing a spot on the Inc. 5000 Fastest Growing Companies List for three consecutive years. Trained in Social Therapeutics, she thrives on innovating with clients, whom she loves for their bravery, business savvy, and humanism. She holds a masters in organizational psychology from Teachers College, Columbia University, and is a member of the East Side Institute faculty.
Sanjay Kumar is a practitioner of activist theatre. As the founding President of Pandies' theatre and the director/chief facilitator of its productions and workshops from 1993 onwards, he has been creating performances with and for the marginalized in India for over 20 years. Pandies represents a loud voice of dissent within its ethos. Sanjay has directed over 40 plays for the proscenium, and led many projects of workshop theatre with underserved communities enabling the young of these to create theatre with their own issues and visions. He is a resident of the Rockefeller Bellagio Residency (Italy, 2010) for work on platform children, a participant of the US government's prestigious International Visitor Leadership Program (Social Change through Arts, 2011) and alumni of the International Class for Social Therapy, East Side Institute for Long and Short Term Psychotherapy (New York, 2012). He teaches English Literature to students in Hansraj College, University of Delhi. In the pandemic he has been exploring cyber-theatre with theatrical performances and storytelling sessions as means of resisting right wing assaults.
Pei Yu Kuo is a Taiwan based activist. She worked in the community mental health field before joined COSWAS (Collective of Sex Workers and Supporters) in 2014. She's also a member of People's Democratic Party, a small political party based in Taiwan. Pei Yu organized a group of disabled individuals in her community to participate in Performing The World 2014 and contributed to the Chinese translation of Psychological Investigations and The Myth of Psychology. Pei Yu is a graduate of the East Side Institute's International Class (2019 - 2020).
Sean Kwan is a performance activist, improviser, clown, executive coach, facilitator and trainer. Sean has more than 25 years of corporate experience in media industry. His experience goes from frontline TV presenting and radio broadcasting to content programming, company management and business development roles.
Sean began his corporate learning and development work in the late 1990s. His service covers Asia Pacific and beyond. Sean is well known for his innovative experiential and transformational coaching and facilitation approaches. His extensive Drama/Theatre-in-Education and NLP background has given him an unique edge. Sean is passionate about coaching and utilising the application of performance approaches. He takes pride in championing individuals and teams over personal and leadership advancement, hence to bring about sustainable positive transformations to self and others.
Andre Liberali (Brazil) has an MBA with the concentration Business Ethics in Companies, as well as a graduation in Production Engineering. He has over eleven years of experience as a CEO within the corporate sector and has currently undergone a shift from business executive as usual to work with different kinds of roles: business advisor/ consultant proposing activities that develop solidarity, connection and community sense among the participants; acting as psychoanalyst and coordinating a voluntary program among therapists, educators and psychoanalysts, created in 2020, to offer listening to people that have been suffering.
Fernanda Liberali is a teacher educator, researcher and professor at the Pontifical Catholic University of São Paulo, in the Languages Science and Philosophy Department, in the Program of Postgraduate Studies in Applied Linguistics and Language Studies, in the Post Graduate Program in Education: Education of Educators and in the Post Graduate Program in Education: Curriculum. She holds a degree in Languages from the Federal University of Rio de Janeiro, a master's and a doctorate degree in Applied Linguistics and Language Studies from the Pontifical Catholic University of São Paulo, and three postdoctoral degrees from the University of Helsinki and from the Berlin Freie Universität. She is currently involved with a new post-doctoral study in the area of play/performance and agency at Rutgers University. She is an Eastside Institute Associate, a member of the Global Network of the University of Leeds, one of the leaders of the Research Group / CNPq / PUC-SP Language in Activity in the School Context, an advisor to CNPq, CAPES and FAPESP, a Brazilian representative of the international committee of the International Symposium on Bilingualism and Bilingual Education in Latin America (BILINGLATAM), the general coordinator of the Digitmed Program and the Brincada Project and co-founder of the Global Play Brigade. Among her relevant academic and administrative activities are: the national coordination of the DIGIT-M-Ed International project, funded by Marie Curie Actions, the Brazilian representation of the international Vygotskian association ISCAR, the coordinator of projects for the continuing education of principals, coordinators, teachers and councils of municipal public schools of São Paulo, and on the boards and editorial commissions of scientific journals. Within the framework of Socio-Historical-Cultural Activity Theory, her main research interests are related to teacher education, teaching-learning, play, multimodal argumentation, multilingualism/bi/multilingual education.
Steven T. Licardi is a social worker, spoken word poet, actor, and performance activist working at the intersections of art and social policy. He travels domestically and internationally using the power of spoken word to create empathic dialogue around, to confront the realities of, and to assist communities in dismantling the stigma surrounding mental health and mental illness. As a child, Steven was diagnosed on the Autism Spectrum, an experience that has deeply informed his professional work. Since 2016, his ever-evolving performance series "Coup de Mot" has been confronting how mental illnesses manifest out of oppressive social pathologies, with versions appearing in Vigo, Spain in 2016, in Edmonton, Alberta, Canada in 2018, and in Thessoliniki, Greece in 2019. His most recent collection of poems, 'a billion burning dreams' (STL, 2018) traces his own mental health journey from patient to professional. www.thesvenbo.com
Gold Lim started in PETA in 2004 as a young artist of our youth arm, the Metropolitan Teen Theater League (PETA-MTTL). In her two decades of being an active member of PETA, Gold has shown exemplary work as an ARTIST in many theater productions and as a TRAINER of theater arts, applied theater/drama in disaster risk reduction, youth participation and psychosocial processing. She has worked with many community partners of PETA, combining the use of the arts and her formal training in community development. She has been in the Executive Committee of PETA-MTTL and has handled numerous festivals and special projects, such as the Taga-alog Pasig River Rehabilitation Campaign of the National Commission for Culture and the Arts. She has also represented PETA in International Drama/Theater and Education Association held in Paris, France. Gold is part of the leadership succession program of PETA.
Carrie Lobman is a sociocultural scholar and play movement leader. She is the Leader of Education and Research at the East Side Institute and associate professor and chair of the department of Learning and Teaching at the Graduate School of Education at Rutgers University. She facilitates the Institute's "Play, Development and Social Justice" webinar series and co-leads the International Class, its flagship program. She serves as a mentor to emerging performance activists around the world and is on the national board of directors of the All Stars Project. Carrie is the author or editor of three books: Unscripted Learning: Using Improv Activities Across the K-8 Curriculum, Big Ideas and Revolutionary Activity: Selected Essays, Talks and Articles by Lois Holzman and Performance and Play: Play and Culture Series, Volume 11.
Zé is the nickname for José Carlos Barbosa Lopes, a Ph.D. student and a Master in Applied Linguistics and Language Studies at the Catholic University of São Paulo (PUCSP). Zé is affiliated to LACE Research Group - Language in Activity in the School Context, which has developed the Brincadas Project aligned with the Global Play Brigade (GPB) since the pandemic started. He has experience as an English teacher in public and private schools in São Paulo and is currently working with languages in Higher Education in different majors. After he attended PTW in 2008, he took some improv and clown workshops with some renowned Brazilian artists and decided to investigate how he could combine performance with his teaching. Zé joined GPB last year and has worked with other brigadiers in the Latin American group and the research group. He says he has learned a lot about creativity and how to create possible realities with GPB members and participants.
Sandra Paola López Ramírez (MFA, EdM) is an interdisciplinary dancemaker, cultural organizer, improviser and mother. She was born and raised in the luscious Andes mountains in what is currently known as Bogotá, Colombia and her relationship to the Andean landscape, the music and dances from Afro and indigenous peoples in this territory and her mixed heritage deeply influences her artistic work and activism. Sandra Paola now lives in the Chihuahuan desert straddling the U.S.-Mexico border, another beautiful and complex region that has shaped her understanding of the connection between body, ancestral memory and land. In her decades of work, she has developed her practice to radically integrate her creative process and her community organizing efforts creating small and large scale works that activate public spaces, non-traditional and formal performance venues, and natural landscapes. Her commitment to transformation and healing is mostly manifested in the work of the Institute for Improvisation and Social Action (ImprovISA) and the binational coalition Performing Communities de Esperanza (PCE). Sandra Paola is currently a Visiting Assistant Professor in the College of Liberal Arts specializing in Interdisciplinary Arts and Community-Engaged Practices at The University of Texas at El Paso. She is a graduate of the East Side Institute's International Class (2012-13).
Weihsuan Lung studied social work in Taiwan, but found her passion in social activism. She works with immigrants and international families in TIFA (Taiwan International Family Association) and is also a member of the People's Democratic Party. In Performing The World 2016, she and the members of TIFA performed the marriage immigrants' (the major population of immigrants in Taiwan) social and political situation in Taiwan. Weihsuan is a graduate of the East Side Institute's International Class (2019 - 2020).
Patrícia Machado is a Brazilian dancer, choreographer, performer and art facilitator. She is a PHD student in Pedagogy of the Performing Arts, at UDESC/Brazil, a master in Art and Education at UNESPAR/Brazil, and a specialist in Performing Arts from the Institut del Teatre /Spain. She has performed in dance projects in several Latin American and European countries. She is a professor and researcher in contemporary dance, interested in the refugee cause and migration, developing choreographic works and urban interventions in this field. Patricia is the idealizer and collaborator in different cross-cultural and interdisciplinary projects in Art and Education aimed at situation of vulnerability such as Criança que Dança (Child that Dance), involving children and community leaders in Haiti and also Visita Guiada, with refugee minors, in Greece. She is co-founder of Nós em Traço, a collective of artists interested in the dialogue between the body, movement and trace.
Holly Marland is a composer, singer and kora player (W.African harp) with over 20 years of experience working in health and social care settings. She set up the So Many Beauties project in 2017 to explore co-creative practise with people living with dementia and their communities of care. Holly supports professional and student musicians to work in hospitals and residential care settings, using musical improvisation as a means of creating new music and poetry. The new music is performed publicly at large scale collaborative events to challenge stigma and celebrate creativity. Most recently, Holly has been supporting musicians and artists from different ethnic backgrounds to become involved in arts for health practise. During the pandemic, the So Many Beauties Collective has delivered online workshops for frontline hospital staff and older people in the wider community and recently presented a showcase performance of newly co-created music for South Asian Heritage Month.
Susan Massad is a retired primary care physician, educator and is on the faculty of the East Side Institute, where she leads conversations on health, wellness and creative aging. A co-founder of The Joy of Dementia project, she has written a play, Remember? REMEMBER!, about the dementia experience and is co-author of a chapter, "Creating An Ensemble for Performing Health" that will appear in an upcoming book published by the Taos Institute.
Mana Mukaiyachi is a performer, social worker, and the coordinator of Open Dialogue Network Japan (ODNJP). She graduated from the Eastside Institute International Class in 2019. She also leads the session with Sean Kwan at GPB (Global Play Brigade) to create bonding together. Through her unique life experience of living with people at Bethel House in Japan, she expresses the world of Bethel House by her dancing and publishing the magazine.
Nancy Nelson was diagnosed with early-stage Alzheimer's in the fall of 2013.Re-diagnosed with Mild Cognitive Impairment in 2017, Nancy believes stronger than ever that lifestyle matters…and by becoming a partner in our own health, there is HOPE to beat this thing, Alzheimer's! She has written and published three books, depicting daily stumbles vacillating between "more wins, than not wins," honest sharing about how she's a fighter, and a non-believer in blindly turning her life over to strangers. Nancy shares survival techniques learned by stepping square in the middle of any fear she might occasionally feel about the Alzheimer's challenging landmines. Lighthearted in her journaling approach of six years' worth of insightful personal experiences, Nancy's Blue.River.Apple series is an exploration of Alzheimer's through poetry. More recently Nancy co-created a play, Gifts of Hope, with Stephen Murray—two high school friends communicating via emails and texts, one diagnosed with Alzheimer's and the other a caregiver for a family member diagnosed with Alzheimer's. In addition, Nancy and Kat Hartley are co-entrepreneurs in a new dementia-friendly company called dangle & dot—Let's Dare to Do Dementia Different. In Nancy's own words, "Someday I may not know you, but that doesn't matter…you will know me. Step right up and say … Hello Nancy!"
Myrna Norman was diagnosed in 2009 with Frontotemporal Dementia. Feeling absolute despair, her daughter Sherry explained to her, 'It is what it is.' At that moment, Myrna decided to become educated in neuro-cognitive disorders, and to become an advocate. Myrna regularly speaks with the Purple Angel Ambassadors, the Alzheimer's Society of British Columbia, care homes, and other organizations about the need for long and short term dementia care practices to provide a path to a fruitful life. She is the author of a book, Dementia Strategies, Tips and Personal Stories and is an active member of Reimagining Dementia: A Creative Coalition for Justice.
Hugh Polk, MD is a psychiatrist and social therapist practicing in New York City. He has been practicing for 40 years, presenting and leading workshops in the US and around the world on social therapy, the non-diagnostic, developmental therapeutic approach developed by Fred Newman in the late 1960's. Hugh is on the faculty of the East Side Institute, the international education and research center for social therapeutics. He is a contributor at Mad in America where he co-authors the blog with Ann Green, Psych NP, Talkin' Therapy. He is a former medical director of a number of community mental health centers in NYC. Hugh completed his undergraduate studies at Harvard University, received his M.D. from Case Western Reserve University School of Medicine and did his psychiatric residency at the Albert Einstein College of Medicine.
Syed Mizanur Rahman is a youth worker and community theatre organizer from Bangladesh. He is currently the Head of the Department of General Educational Development and Director of Students' Affairs, Daffodil International University. He describes himself as someone who has come from poverty and, because of this, can relate to development / growth issues with an empathetic heart. For Syed, psychological poverty is a major contributor to financial poverty. While studying economics at Jahangirnagar University in Savar, Bangladesh, Syed developed a deep interest in theatre. Discovering the power of theatre to both entertain and motivate, he began to actively participate in theatre as an actor, director and producer. In addition to staging classics, he produced performances on drugs, tobacco, AIDS, and intolerance. Syed completed a second Masters in Drama (Direction) at Rabindra Bharati University, India and received a Diploma in film direction from the National Institute of Film and Fine Arts in India. Upon his return to Bangladesh, he joined an advertising firm as Executive Creative, and later Directorate of non-formal education for social mobilization. In 1999, Syed along with a grouping of dynamic young people, established the Theatre for Research Education and Empowerment (TREE) aiming to access the potential of theatre to teach and to empower audiences/participants.
Ruben Reyes has a degree in psychology and lives in Managua, Nicaragua, working as a freelance consultant. He worked with Puntos de Encuentro for more than 20 years in the field of leadership development with young people, as well as in the field of gender issues and masculinities, mostly as a trainer. Ruben is also a member of the political party UNAMOS, the new name of the former Sandinista Renovation Party (MRS), which is a party struggling for social justice and democracy in Nicaragua. Six of their top leaders were recently incarcerated by Ortega´s regime, which is a way of silencing key critical voices against the dictatorship and an attempt to stop the party from doing its organizing work for building a large alliance of social and political movements. He is also a member of the Global Play Brigade Latinoamerica and, within this framework, has been co-facilitating virtual workshops on gender issues and masculinity. Ruben is an International Class alumnus (class of 2004-5).
Marian Rich is a performance activist, comic educator and play revolutionary. Trained as an actress, comedic improviser and theatrical director, Marian has spent over 30 years designing and delivering improvisational workshops and programs in which people come together to grow and develop. As a faculty member of the East Side Institute, her playful and philosophical sessions during International Class residencies have impacted activists, educators and scholars from around the world who are looking for ways to infuse their work with the power of performance. She is the co-author (with Carrie Lobman) of "Playing Around with Changing the World," a chapter about this work in The Applied Improvisation Mindset, Bloomsbury Press (2021). Her recent article - "A Year of Creating Heart in a Havenless World" appears in POIESIS: A Journal of the Arts and Communication, Volume 18, 2021. She is a founding member of the Global Play Brigade.
Cathy Salit is a social entrepreneur, speaker, coach, improviser, jazz singer and performance activist. She is the founder and chief organizer of the Global Play Brigade, a community/coalition of performance activists that has provided over 275 free play and emotional support sessions to over 5000 people in 60 countries during the pandemic. As a founder and now CEO Emerita of the award winning leadership consultancy Performance of a Lifetime, she led the growth of the company for over 23 years, working with thousands of leaders and teams in top brand companies across the globe. Cathy has been active as a community organizer since she was a teenager; working on many grassroots projects including alternative schools, teen pregnancy prevention programs, independent political campaigns, the All Stars Project and the Performing the World and Applied Improv Network global conferences. She is the author of Performance Breakthrough: A Radical Approach to Success at Work (Hachette 2016), an artistic associate at the Castillo Theatre in NYC, on the advisory board of the Freestyle Love Supreme Academy and a jazz singer; recent performances include The Jazz Loft in Stony Brook, NY, 55 Bar in Greenwich Village and the San Sebastian Jazz Festival in Spain.
Ishita Sanyal is a psychologist and mental health activist who, for last 23 years, has been involved in transforming the lives of people suffering from chronic mental illness and fighting for their rights. She is the founder of Turning Point, the first day care activity center in India for people with mental illness. She has initiated employment and entrepreneurship opportunities for community and family members of these people, as well as organizing a parent's group. Ishita is the Regional Director, NAMI, INDIA; the Indian Representative ISPS and the International Director, Social Therapy India. She has presented papers at national and international conferences and received numerous awards for her research and community work.
Prativa Sengupta is the Director of the SEVAC Clubhouse of India, the only accredited Clubhouse in the entire Indian Subcontinent. She is a mental health professional with 35 years experience in the fields of Clinical Psychology and Rehabilitation. Prativa obtained a Ph. D degree long ago, has undergone a Social Therapy Certification Course from the East Side Institute and a 9-month fellowship at Fountain House, New York. Besides running a Clubhouse and shelter home for the members of clubhouse, SEVAC is implementing a multidimensional mental health project putting emphasis on the human rights promotion of persons with mental illness. This project operates a residential care and treatment center for Alzheimer's patients and a mental health facility for persons with acute mental illness, as well as providing outreach services.
Janelle Sibauste is a Panamanian dancer, educator, and cultural manager based in Panama City, Panama. Janelle is on the dance faculty at Universidad de Panamá teaching modern and contemporary dance techniques, theory and practice of dance, and dance pedagogy. Janelle is also a flamenco and Argentinian Tango instructor and creator of "Tango Sobre Materia", a project that promotes tango dancing as a personal and collective creative practice based on the joy of movement, communication, and improvisation as means for personal and social transformation. She is a graduate of the East Side Institute International Class (2020-21).
Barbara Silverman, L.C.S.W., is a master designer and organizer of location-specific social therapeutic group environments—having brought an explicitly developmental approach into public schools, mental health centers and other community-based agencies. A talented social therapist and educator, she leads groups that self-organize themselves to create spaces where all can grow. She challenges herself and others to use everything (including racial reckoning, Covid mass illness and death) to create new possibilities. In 2010, Barbara founded the East Side Institute's "Developing Across Borders," a global, cross-cultural development zone now with dozens of participants from every part of the world. More locally, she leads a social therapy practice in New York City. Barbara received her M.S.W. from the Adelphi School of Social Work.
Alex Sutherland worked as a professor in Applied Theatre for many years at Rhodes University, South Africa, where she specialised in the uses of improvised theatre in criminal justice settings and with many communities who wished to play with creativity as a means of self-determination. In June 2017 she left full time academia to work more fully in social justice settings, and she now co-ordinates the creative and performing arts in activist education and organising at the Tshisimani Centre in Cape Town, South Africa.
Thinzar Shunlei Yi is a young Myanmar activist who is the Advocacy Coordinator for the Action Committee for Democracy Development (ACDD), a grassroots political coalition. She advocates publicly against the Junta since the coup. She is currently running a global campaign called #Sisters2Sisters for promoting solidarity for Myanmar Women in the revolution. Thinzar is the winner of the Women of the Future Southeast Asia Award 2019 and Emerging Young Leader Award 2016 by U.S. State Department. Previously, she was the coordinator of National Youth Congress and elected president at the Yangon Youth Network. Before the coup in 2021, she organized and took part in several coalitions to advance grassroots democracy and human rights. She led Youth Festivals joined by thousands of young people every year marking International Youth Day and co-founded Mizzima TV program "Under 30 Dialogue" since the Rohingya Crisis to channel progressive youth voices.

FESTIVAL STAFF BIOS (Alphabetical Order)
David Belmont (Producer) is a mixed media artist and community organizer living in New York City. He is the registrar of the East Side Institute and a member of its sales and promotion team, the co-music director of the Castillo Theatre and a researcher/statistician for Independent Voting. His CD WindWater Excursions spent 8 months on the New Age Voice Top 100 Airplay List and was in heavy rotation on the syndicated radio program Echoes (2000-2001). In all, David has produced 26 albums of his own work. He is currently the world dobro player in SoSaLa, the eclectic music ensemble led by saxophonist Sohrab Saadat Lajevardi. He writes poetry, memoir and short fiction. World Gone Zoom: Notes from the American Epicenter, his first book of poems, was published by The Poetry Box in May 2020. https://davidbelmontwriter.wordpress.com
Ann Green (Marketing) is a psychiatric nurse practitioner and social therapist in private practice in NYC. She is the East Side Institute's director of professional outreach and its graphic designer. Ann received a Master's degree from Hunter College, where she was awarded the Certificate of Merit for Demonstrated Commitment in Professional Leadership. https://www.psychoptionsnyc.com
Melissa Meyer (Co-chair, International Organizing Committee) is associate director of the East Side Institute and a social therapeutic coach. Together with Carrie Lobman, she teaches a 6-week introductory seminar on social therapeutics entitled "Creating Communities of Hope: Introducing a Performatory Approach to Human Development and Its Community Stages." She leads and co-leads four Developing Across Borders groups, weekly virtual emotional development groups that bring people together from all over the world.
Mike Pickering (ZJ Mic Drop) (Producer) is a long-time community organizer, a co-founder and organizer of the Atlanta All Stars youth and community development program, producer of multiple Atlanta Independent Theater presentations and co-founder of Georgia Independent Voters. Professionally, Mike is an organization builder, software developer, technology designer, ecologist and entrepreneur, having led numerous organizations through growth, most recently helping to lead healthcare software company Ingenious Med over 15 years of rapid growth and acquisition in 2018. Mike joined the East Side Institute's volunteer sales, technology and Zoom Jockey teams in the fall of 2018, and recently joined Performance of a Lifetime as Vice President of Finance and Operations. Mike is also a novice beekeeper, an undiscovered poet and loves the color mauve, partly because it must be a nice color (Mike is color-blind), but mostly because it's spelled mauvelously.
Desire Wandan (Producer) is a videographer, content creator, teaching artist, producer and interviewer residing in Brooklyn, New York. He has created pieces highlighting Dance as well as activism, history, sports, and culture. He is currently an assistant producer for East Side Institute, a non-profit organization that specializes in alternative and radically humanistic approaches in psychology, education, and community building. Overall, Desire wishes to explore artistry and development in several of its multiple facets and use the tools of content creation and the arts to tell stories and build communities.
Randy Wilson (they/them/theirs) (Producer) is an experienced life coach trained in social therapeutics who excels at creating intimate and philosophical environments that are both loving and challenging. Having lived with HIV – and faced other serious challenges – over the last four decades, Randy is passionate about helping clients become more creative choice makers and believes that participating in building communities of development helps to reshape and redefine their relationship to emotional and physical pain. As part of the East Side Institute's Tech Production Team, they have helped lead an expansion of the Institute's global offerings.