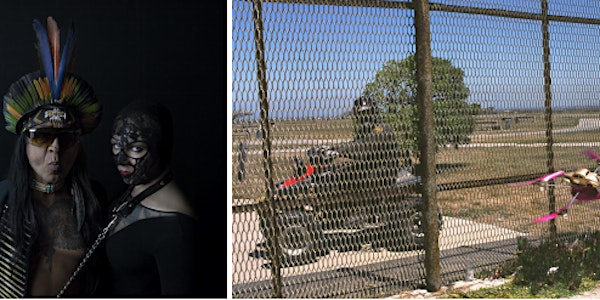 Performative Presentation with Guillermo Gomez Pena, Balitronica & Alex Riv...
Event Information
Location
205 Hudson Street
2nd Floor
New York, NY 10013
Description
New York City -- Atomic Culture as curatorial artists in residence at Loisaida Center and in conjunction with the Hemispheric Institute of Performance and Politics, Hunter Artist Action Group, and EyeSpeak presents a two-part keynote address on artivist strategies and interventions. The evening will start with "The Future as Sanctuary" by Alex Rivera, followed by a performative talk by Guillermo Gómez-Peña aka El Mad Mex and Balitronica aka The Phantom Mariachi.
In "The Future as Sanctuary," Alex Rivera will discuss different approaches to the terrain of 'the future' through his science fictions, virtual realities, and drone interventions. The discussion will include clips of Rivera's work, from the mid 1990s to the present, work that migrates from present-day crises into post-colonial imaginaries.
Guillermo Gómez-Peña and Balitronica from international performance troupe La Pocha Nostra present a performative talk on their artivist strategies for fighting xenophobia, sexism, homophobia and racism both in the art world and larger society. Alongside their candid conversation, they will invoke performance texts, sound art and a photo slide show of recent work.
This presentation is part of an ongoing exhibition and r​ esidency Future Now, Futura Ahora curated by Atomic Culture at the Loisaida Center. Atomic Culture's dynamic residency Future Now encourages active participation by creating art-focused social and cultural programs accessible to everyone. The exhibit and correlating programming aim to map examples of cultural practices from the Southwest that integrate historical events and traditions to examine how futurism can be used as a decolonizing tool to reclaim land, natural resources, and ways of living that occupying forces have sought to wipe out. Atomic Culture asks how are art practices used as a tool to confront neo-colonialism?
Guillermo Gómez-Peña​ is a performance artist, writer, activist, radical pedagogue and director of the performance troupe La Pocha Nostra. Born in Mexico City, he moved to the US in 1978. His performance work and 11 books have contributed to the debates on cultural & gender diversity, border culture and US-Mexico relations. His art work has been presented at over nine hundred venues across the US, Canada, Latin America, Europe, Russia, South Africa and Australia. A MacArthur Fellow, Bessie and American Book Award winner, he is a regular contributor for newspapers and magazines in the US, Mexico, and Europe and a contributing editor to The Drama Review (NYU-MIT). Gómez-Peña is a Senior Fellow in the Hemispheric Institute of Performance and Politics, a Patron for the London-based Live Art Development Agency and in 2012 he was named Samuel Hoi Fellow by USA Artists.
Balitronica​ is a performance artist, cyborg poet, and queer sex radical raised on the Tijuana/San Diego border. She studied Literature at San Diego State University under the guidance of Harold Jaffe, Edith Frampton, and Sydney Brown. She then relocated to Paris to study American Expat Literature and lived in a 17th century convent with Dominican nuns. Currently living in San Francisco, she recently earned her MFA in Poetry and Queer Theory at Mills College. Since 2013 she has been collaborating with Guillermo Gomez-Pena and La Pocha Nostra and has developed photo-performance projects with Manuel Vason, Herani Hache, RJ Muna, and Marcos Raya. She is currently working on a book titled, "A Brief Conversation With My Psychotherapist" and touring with Gomez-Pena/La Pocha Nostra.
Alex Rivera ​is a New York based digital media artist and filmmaker. He was born in 1973 to a native of Peru and a native of New Jersey. Growing up in a bi-cultural channel surfing tract home led him to rethink some assumptions about race, immigration, identity, and the global economy. Over the past fifteen years he's been making work that illuminates two massive and parallel realities: the globalization of information through the internet, and the globalization of families, and communities, through mass migration.
Date and time
Location
205 Hudson Street
2nd Floor
New York, NY 10013