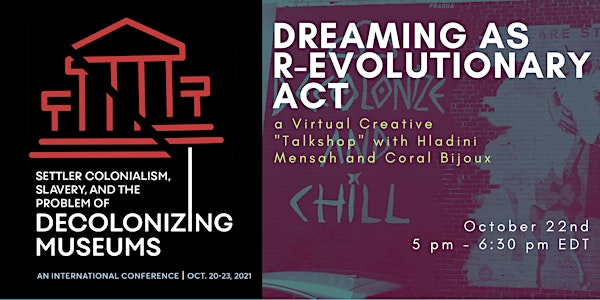 PERFORMANCE
A creative "talkshop" facilitated by Coral Bijoux, with reflections and response by Hladini Mensah
When and where
Location
Penn Museum 3260 South Street Philadelphia, PA 19104
About this event
Dreaming as a R-evolutionary Act: A Creative "Talkshop"
Facilitated by Coral Bijoux, with reflections and response by Hladini Mensah
The Dreams as R-evolution site specific installations at the University of Kwa-Zulu Natal Westville campus and at IZIKO South African National Gallery (ISANG) in Cape Town reference our ability to dream as an act of r-evolution or as a provocative act, towards transformation. The SELF is represented primarily as the Feminine through sculptural forms, plant-life and drawings. The notion of SELF or SELFHOOD lies at the heart of a society's ability to re-shape itself and within it, SPACE (like land and ownership) becomes the center, the stage, the canvas.
This "talkshop," which masquerades as a workshop/talk space/creative space, will begin with a brief presentation. Coral will then lead activities designed to encourage participants to play and create in order to situate themselves within the heritage of their own lives and communities. In a disparate world, we must find our truths therefore reclaiming, and where necessary transforming, the SELF and the lost heritages of the world.
What to bring?
Yourself and an open mind; paper preferably without lines; pens, pencils, anything you prefer to write with; a phone with a working camera and access to WhatsApp.
How will I join in?
When you register for the event, you will receive a link and we will request your cell phone number, which will be included in a WhatsApp group for the duration of the "talkshop" and will be deleted after the session. The WhatsApp group will form part of our way of interacting in this virtual space sharing our pieces with each other.
Please reach out to Deborah Thomas (deborah.thomas@sas.upenn.edu) with any questions.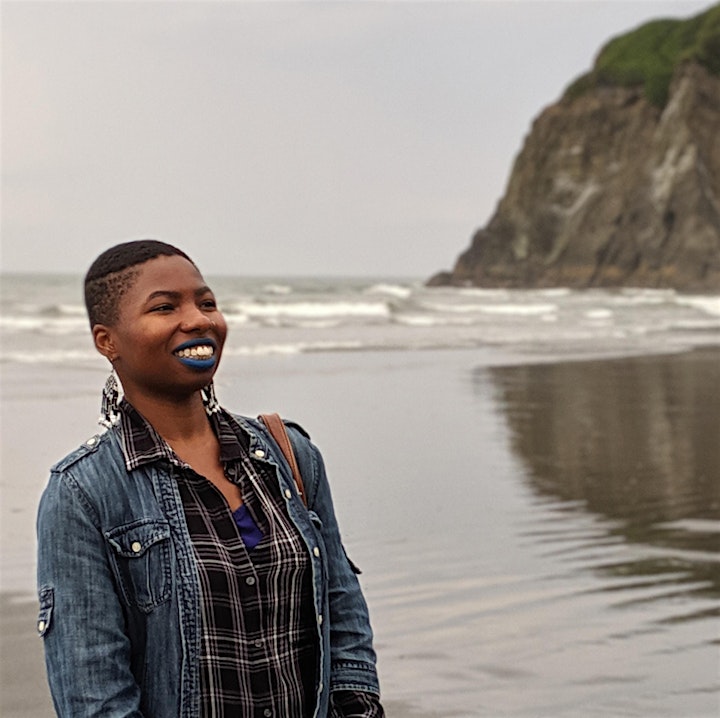 Hladini Mensah is an avid reader, writer, photographer, musician, dancer, traveler, and all-around creative. She is passionate about social justice and the environment and focuses her work on those intersections. Hladini received a bachelor's degree in Environmental Design from the University of Colorado at Boulder.
She worked at the Penn Museum for over 3.5 years in two non-curatorial roles and developed an awareness of the scope of the work that still needs to be done to align museums to their stated, culturally-responsive visions. She is especially interested in examining who is involved in this work and who is missing from these conversations.
Hladini currently serves as a Board Trustee for the Circle School (Harrisburg, PA) and as part of her work there, assists the school in navigating its long-term vision planning. Hladini also initiated the school's Anti-Racism Committee which has begun the process of examining race and racism at the school, both historically and in the present moment.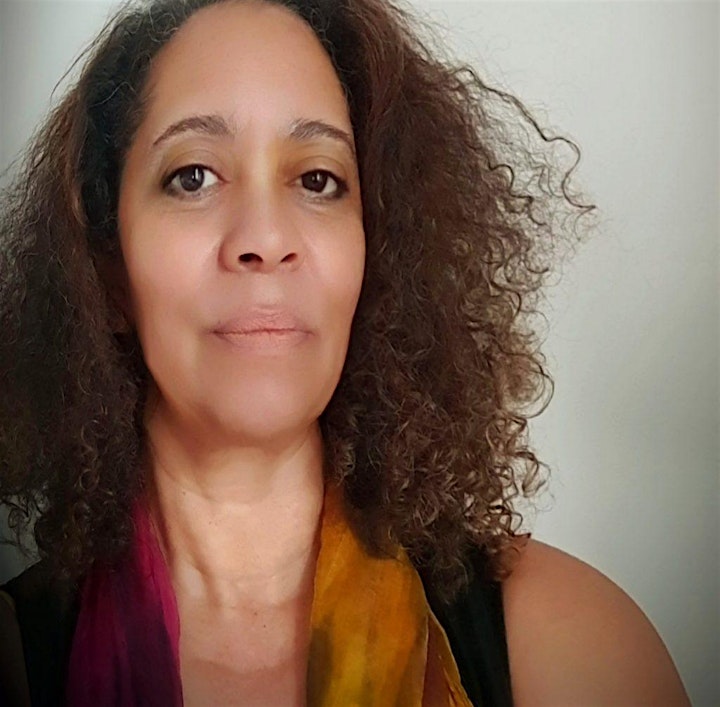 Coral Bijoux develops her ideas and concepts through an auto-ethnographic visual language which is fecund with metaphor and symbol, textured surfaces echoing layered meanings. Her artwork, curatorial practise and projects centre on these experiences and observations using predominantly installation as she engages space as a concept, sculptural forms, drawings, paintings and creative writing. She is mostly self-taught as an artist, has a teacher's qualification; more than 27 years' experience working in the arts, education and heritage sectors; an Honours degree in Gender Studies (summa cum laude) and is working on an inter-disciplinary Masters in Art Degree at the Drama and Theatre Department, UKZN. Find out more here: https://coral4art.co.za/about/
Settler Colonialism, Slavery, and the Problem of Decolonizing Museums
Over the past several decades scholars and practitioners have critically reconsidered the role of ethnographic museums in the development and representation of knowledge about people and processes throughout the world. Persistent questions have emerged again and again: What are the relationships between colonialism and collection? What issues of accountability surround contemporary knowledge production and representation? How do we think through the challenges of repatriation? And what might repair look like? These are not new questions, and they have been asked not only within museum settings, but also across the discipline of anthropology as a whole for the past thirty years. Yet as museums attempt to reevaluate their practices of collecting, exhibiting, and repatriating, we must still confront – and determine a new relationship to – the legacies of Enlightenment-based scientific humanism and its imperial underpinnings.
This conference builds on some of the issues being raised within European and South African contexts, while also thinking through the particularities of the view from the United States. Drawing from the insights and experiences of scholars, museum practitioners, and educators, we seek to join the conversations related to settler colonialism to those related to slavery and imperialism. We also seek to chart a terrain that emphasizes multi-vocality and multi-modality, and that imagines the kinds of collaboration that might be possible between European, North American, South African, and other stakeholders. Finally, we want to elaborate new forms of relationship museums might have to their audiences.
A hybrid international conference organized by the Center for Experimental Ethnography and hosted by the Penn Museum, 20-23 October 2021
Conference Website
Our website, https://decolonizingmuseums.com/, includes detailed information, resources, biographies, panelist videos, and the conference schedule.
Conference Format
The conference will open on Wednesday, 20 October and will run through Saturday. On Wednesday, we will start with synchronous virtual welcomes from the director of the Penn Museum and the director of the Center for Experimental Ethnography. These will be followed by our keynote speaker, Laura Van Broekhoven (Director, Pitt Rivers Museum). Panelist presentations will be pre-recorded (15-20 minutes) and posted to our website, and each of the remaining days we will convene for a synchronous moderated discussion and Q&A (at noon, EST). Each evening, we will also offer live events specific to the Penn and Philadelphia museum community, and these will also be streamed.