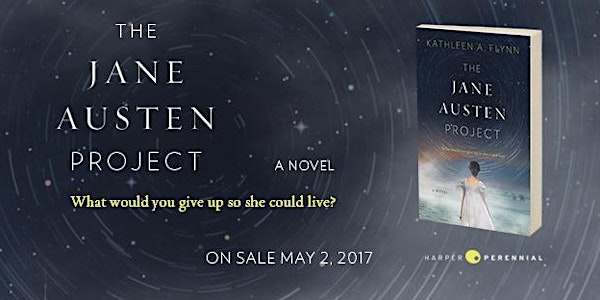 Performance Reading and Author Discussion: "The Jane Austen Project"
By Kathleen A. Flynn and Sarah Rose Kearns
Date and time
Wednesday, December 6, 2017 · 6:30 - 8pm EST
Location
Shakespeare & Co. 939 Lexington Avenue Between 68th and 69th New York, NY 10065
Description
Were she immortal, Jane Austen would be celebrating her 242nd birthday in December. But what am I saying? She is immortal. Not in the creepy manner of vampires, but in how she lives through all of us who remember and honor her in our own particular ways: re-reading, adaptations, cosplay, fanfictions. Join us on Dec. 6 for one unique homage as professional actors perform scenes from The Jane Austen Project, a novel by Kathleen A. Flynn. (HarperCollins, 2017)
The story blends romance, time travel and the world of Jane Austen as its two heroes travel back to nineteenth-century England and enter the Austen family's inner circle. Booklist describes this singular tale as "written in an engaging Austen style, full of witty dialogue, a secret engagement, and a delightful clan of loving siblings."
Amateur theatricals were a formative influence in Austen's childhood. As an adult, she loved theater-going while on visits to her brother Henry in London, and her novels address how the strictures of society often require playing a part one may not feel (and, as in Mansfield Park, the perils of actual acting). The Jane Austen Project shares this preoccupation: its time travelers must work at pretending to be what they are not as they navigate 1815's social minefields.
The entertainment is a collaboration of two local JASNA members, Flynn and the playwright/performer Sarah Rose Kearns, who will join a talented cast further consisting of Marc LeVasseur and Kate Armstrong Ross. After the performance, Robert A. K. Gonyo, a theatre director and podcaster, will moderate a conversation with Flynn and Kearns about Austen, adaptations, and the enduring power of genius.
---
Kathleen A. Flynn, an editor at The New York Times when not trying to write novels, studied English literature at Barnard College and is a life member of the Jane Austen Society of North America. thejaneaustenproject.com
Robert A. K. Gonyo is a theatre director, actor, podcaster, sound designer, voiceover artist, musician, and tour-guide residing in Queens. He is the producer & host of Go See a Show!, New York City's independent theatre podcast (goseeashowpodcast.com). robertgonyo.com
Sarah Rose Kearns is a writer, performer, and lifelong Austen enthusiast. She studied acting with Dan Daily, Ragnar Freidank, Austin Pendleton, and many others; and she holds a bachelor's degree in creative writing from Columbia University. As an actress, Rose has appeared at Symphony Space (with Gingold Theatrical Group), the Long Wharf, Baltimore Center Stage, Chez Bushwick, and elsewhere. She lives in New York City with her boyfriend and their cat. janeaustenspersuasion.com
Marc LeVassuer was first introduced to Jane Austen in high school by a teacher who espoused her ability to impress girls. He subsequently attended NYU undergrad and has worked with such off-Broadway companies as Red Bull Theater, Women Beware Women; The Pearl, Misalliance; The Flea, Love/Stories; NY Classical Theatre, The Winter's Tale; The Queens Players, Macbeth; Titan Theatre Company, The Importance of Being Earnest and Romeo and Juliet. He also performed for about six months in two consecutive productions of Pride and Prejudice in Philadelphia. That time nurtured a steadfast love of the divine Jane.
Kate Armstrong Ross is an actress, storyteller and outdoor kid born in Los Angeles and based in Brooklyn. She received a BA in Drama from Kenyon College and studied abroad at the British American Drama Academy in London. NY stage credits include: Ensemble Studio Theatre, Soho Repertory, LAByrinth Theatre Company, Incubator Arts, Dixon Place, Ugly Rhino, Wired Arts Fest, Dell'Arte Opera, and Calliope Theatre Co. Film credits include: NYU Tisch, NY Film Academy, NY Film Institute, the independent films A Natural Disaster, The Frogmarch, Trew Calling, and Keep the Gaslight Burning. Kate currently appears on stage in Point Break LIVE! and online in the webseries Rack & Ruin and Bar Tools. katearmstrongross.com