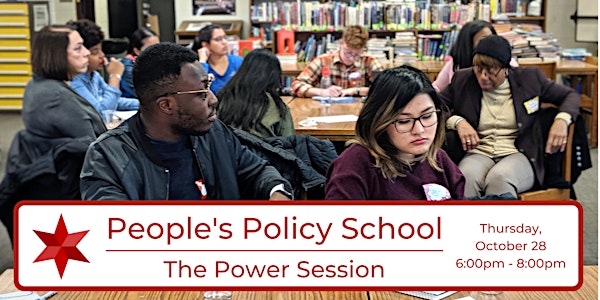 People's Policy School - The Power Session
Who's got the power to make decisions on the issues that matter to our communities- and how do we ensure they act on our community's needs?
About this event
Between neighborhoods and wards, agencies and sister agencies, Local School Councils and Park Advisory Councils, Alderpeople and the Mayor- the map of who makes decisions impacting the lives of Chicagoans is complex. That's not even including County, State, or Federal levels of decision-making.
This month, the People's Policy School will explore the multiple layers of power and decision-makers that craft the policies our communities face daily.
Join Chicago United for Equity on Thursday, October 28th for our second edition of the People's Policy School- a new public program offered by Chicago United for Equity for anyone working to build a Chicago that is responsive and accountable to our Black, Indigenous, and Immigrant communities. It's a place where Chicagoans can come together to learn how policy is crafted and implemented, discuss how issues are impacting our communities, and connect with others to help build the Chicago our communities deserve.
The People's Policy School will be held virtually to ensure that we're able to bring together these important conversations while also keeping our community's health & safety at the forefront during the pandemic.