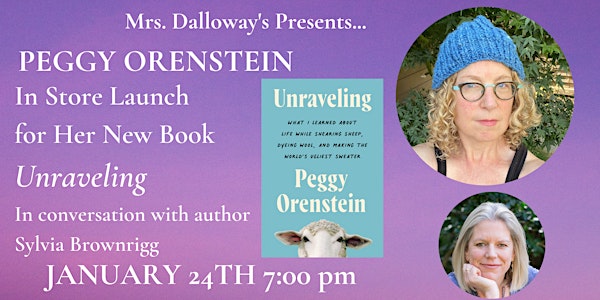 Peggy Orenstein In Store Launch And Signing For Her New Book UNRAVELING
Join us Tuesday January 24th @ 7:00 PM when bestselling author Peggy Orenstein comes to read from, discuss, and sign her new book UNRAVELING
When and where
Location
Mrs Dalloway's 2904 College Avenue Berkeley, CA 94705
About this event
Bestselling author Peggy Orenstein visits Mrs. Dalloway's Bookstore on Tuesday January 24th to launch her new book Unraveling: What I Learned about Life While Shearing Sheep, Dyeing Wool, and Making the World's Ugliest Sweater (preorder here). Peggy will read from and will be joined in discussion by author Sylvia Brownrigg. Peggy will sign copies of her book after the presentation.
In this lively, funny memoir, Peggy Orenstein sets out to make a sweater from scratch—shearing, spinning, dyeing wool—and in the process discovers how we find our deepest selves through craft. Orenstein spins a yarn that will appeal to everyone.
The Covid pandemic propelled many people to change their lives in ways large and small. Some adopted puppies. Others stress-baked. Peggy Orenstein, a lifelong knitter, went just a little further. To keep herself engaged and cope with a series of seismic shifts in family life, she set out to make a garment from scratch: learning to shear sheep, spin and dye yarn, then knitting herself a sweater.
Orenstein hoped the project would help her process not just wool but her grief over the recent death of her mother and the decline of her dad, the impending departure of her college-bound daughter, and other thorny issues of aging as a woman in a culture that by turns ignores and disdains them. What she didn't expect was a journey into some of the major issues of our time: climate anxiety, racial justice, women's rights, the impact of technology, sustainability, and, ultimately, the meaning of home.
With her wry voice, sharp intelligence, and exuberant honesty, Orenstein shares her year-long journey as daughter, wife, mother, writer, and maker—and teaches us all something about creativity and connection.
PEGGY ORENSTEIN is the New York Times bestselling author of Boys & Sex, Girls & Sex, Don't Call Me Princess, Cinderella Ate My Daughter, Waiting for Daisy, Flux, and Schoolgirls. A contributing writer for the New York Times Magazine and AFAR, her work has appeared in the Washington Post, New York, The Atlantic, The New Yorker, and other publications, and she has contributed commentary to NPR's All Things Considered and PBS NewsHour. Her TED Talk has been viewed over 5.7 million times.
SYLVIA BROWNRIGG is the author of seven works of fiction, including The Delivery Room, Ten Women Who Shook the World and a middle-grade novel, Kepler's Dream (published under the name Juliet Bell), which was turned into an independent film. Sylvia has written reviews for a wide range of publications including the NY Times, the LA Times, and the Guardian. Her most recent novel, Pages for Her, was a sequel to her Lambda award-winning story Pages for You. She lives in Berkeley with her family.
THIS EVENT is free but pre-registration is required. Registration ends at 4:30 pm on January 24th.
BECAUSE SEATING is limited, please register only if you plan to attend.
DUE TO SPACE limitations, we may not be able to accommodate every person at an event, so early registration is encouraged.
WALKINS will be accommodated only if space allows.
WE ASK that attendees arrive between 6:45 and 7:00 PM for the event.