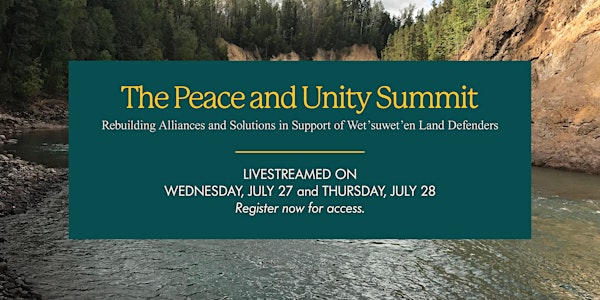 Peace & Unity Summit – Summer 2022
Rebuilding Alliances and Solutions in Support of Wet'suwet'en Land Defenders
About this event
Livestreamed on Wednesday, July 27 and Thursday, July 28.
Register now for access.
The fight to ensure our actions reduce rather than fuel the climate crisis; the fight to end police brutality; the fight to underscore Indigenous sovereignty—these fights belong to all of us. And, amidst this time of great upheaval, there is hope.
This summer's Peace & Unity Summit is hosted by the Office of the Wet'suwet'en, in support of the land defenders who continue to uphold Wet'suwet'en law in the face of police violence and Coastal Gas Link's fracked gas pipeline.
We celebrate the solutions and alliances—and hope—that can win these fights. Already we have seen victories against extractive industries that destroy our ecosystems and communities. We have successfully fought against the Enbridge pipeline, and prevented fracked methane in the Sacred Headwaters.
But with two more pipelines now proposed through Wet'suwet'en territory, we need to scale up our efforts. We will uplift past successes and explore how they were achieved—and what we can learn in the continued fight to protect Wet'suwet'en land.
Speakers include representatives from 12 Nations, including Gitanyow, Gitxsan, Gwich'in, Haida, Haisla, Nuxalk, Secwepemc, Tla-o-qui-aht, Tlsiamin, Tsleil-Waututh, Tsimshian, Yupuk Nations.
Speakers include: Na'Moks, Tara Marsden, Kai Nagata, Judy Wilson, Denzel Sutherland-Wilson, Jesse Stoeppler, Kolin Sutherland-Wilson, Taylor Wale, Cedar George, Rueben George, Kris Statnyk, and Nuskmata.
Agenda:
Wednesday, July 27th
9:00-11:00 Welcome from Wet'suwet'en Chiefs
11:00-12:00 Open Mic
12:00-1:00 LUNCH Break
1:00-1:45 Data Sovereignty with Tara Marsden
1:45-2:15 Open mic
2:15-2:30 Break
2:30-4:00 Fighting the Criminalization of Land Defenders
4:00-4:30 Closing and announcements
Thursday, July 28th
10:00-10:30 Morning Welcome Session
10:30-12:00 Land, Water and Air Stewardship in the Face of the Climate Crisis
12:00-1:00 LUNCH Break
1:00-2:30 Youth Fighting For Their Future
2:30-3:15 Open mic
3:15-3:30 BREAK
3:30-4:30 Reoccupying Traditional Territories
4:30-5:00 Closing and thank yous