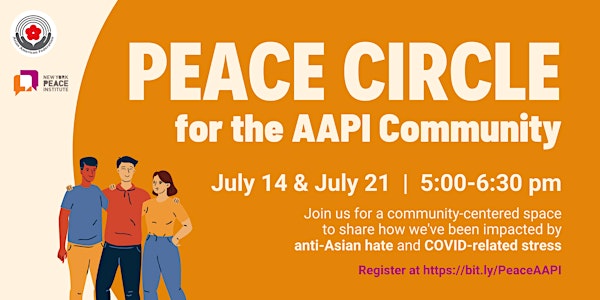 Peace Circle for AAPI Community
Join us for a community-centered space to share how we've been impacted by anti-Asian hate and COVID-related stress
By Asian American Federation
Date and time
Ends on Wednesday, July 21, 2021 · 3:30pm PDT
About this event
As the city moves towards recovery, we have more opportunities to take a pause and reflect on how we have been affected by the sustained period of stress, loss, and violence.
The Asian American Federation has partnered with the New York Peace Institute and the NYC Commission on Human Rights to offer a Peace Circle for the AAPI Community. Join us for a virtual, facilitated community space to share how you have been impacted by anti-Asian hate and COVID-related stress.
Facilitators from the New York Peace Institute will guide an intimate group of participants through a 90-minute Talking Circle that will allow us to slow down, practice deep listening, and build community with one another.
To allow for more participation, each individual is limited to one ticket for one of the sessions. Registration is required.
The New York Peace Institute is an organization dedicated to helping others have difficult conversations to resolve their conflicts. In addition to Talking Circles, they provide mediation services, conflict coaching, and restorative justice processes.
About the organizer
The Asian American Federation (AAF) is a nonprofit organization that works to raise the well-being and influence of the pan-Asian American community through research, policy advocacy, public awareness, and organizational development. Founded in 1989, AAF aims to overcome the significant obstacles that Asian Americans face by empowering our 70 member nonprofits to better serve their communities. Our leadership role helps us strengthen the collective voice of the more than 20 ethnic groups—diverse in language, culture, and religion—that make up New York's Asian community.