Peace and Prosperity 2017: Where We're Going And How We'll Get There
Description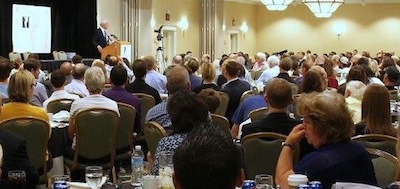 Peace and Prosperity 2017 Conference Agenda
Opening (Daniel McAdams)
Speaker: Jacob Hornberger
Whistleblower Roundtable
Special address by Julian Assange
Speaker: Louis Fisher (Constitution Project, retired CRS expert on separation of powers, war powers)
Ron Paul Congressional Staff Roundtable
Speaker: Ron Paul - "The Revolution at Ten Years"
The Ron Paul Institute and friends return to Washington, DC, as a follow-up to last year's sold-out conference. Three-quarters of a year into the Trump Administration where is our Peace and Prosperity revolution headed?
One day we hear encouraging sounds from the Administration on foreign policy, the next we hear more threats. New US bases spring up in Iraq and Syria, thousands more US soldiers back to Iraq, Afghanistan, Libya. More to Syria. Will the US attack North Korea? Military spending skyrockets while the economy at home crumbles. "Russiagate" rages on, built on a pack of lies.
Congress is for the most part completely out of the picture. Seemingly uninterested in carrying out its Constitutional obligations in matters of war and peace. The media acts as stenographers for the hyper-interventionists. The neocons and military-industrial complex continue to rule the foreign policy roost in DC.
Yet our movement continues to gather strength. Ours is the idea whose time has come.
Once again Ron Paul and his Institute for Peace and Prosperity will bring the most interesting and innovative speakers to share a message of hope and a roadmap to victory. Join us for a unique journey to foreign policy sanity...behind enemy lines!
We have secured a very special hotel rate of $89 per night at the Dulles Airport Marriott for conference attendees. Book your special rate room here.
Organizer of Peace and Prosperity 2017: Where We're Going And How We'll Get There
The Ron Paul Institute is former US Representative and three-time US Presidential candidate Ron Paul's post-Congressional vehicle to advocate for a peaceful foreign policy and the protection of civil liberties at home. The Institute's aim is to create a broad, beyond Left/Right coalition to educate, advocate, and innovate for fundamental changes in our foreign and domestic policy. A prosperous America is profoundly linked to a foreign policy rooted in peaceful relations and trade with all. With peace comes real prosperity. At home, we should never give up our civil liberties for promises of security. Overseas we must not meddle in the affairs of others. We should lead by example, not from the barrel of a gun. We must remain diligent and we must continue to educate others.