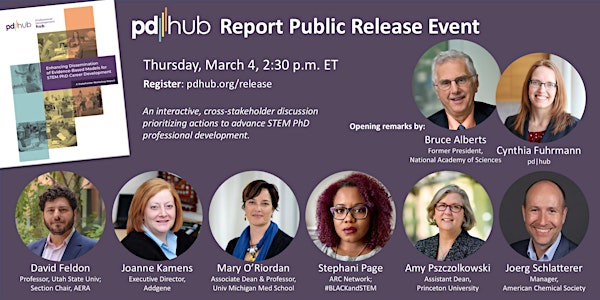 pd|hub Report Public Release Event
Enhancing Dissemination of Evidence-Based Models for STEM PhD Career Development; a Stakeholder Workshop Report Public Release Event
About this event
Professional Development Hub (pd|hub) will host a virtual event to discuss Enhancing Dissemination of Evidence-Based Models for STEM PhD Career Development; a Stakeholder Workshop Report. This report presents findings from pd|hub's convening of interdisciplinary and cross-sector stakeholders held at the Janelia Research Campus of the Howard Hughes Medical Institute that explored advancing the career and professional development (CPD) of early career scientists.
About the report and this Public Release Event
Please join us at this event to learn more about the report's recommendations and participate in an interactive discussion with our panelists to prioritize actions moving forward.
There is no cost for this event, but registration is required. A confirmation email will be sent prior to the event with the link and connection information.