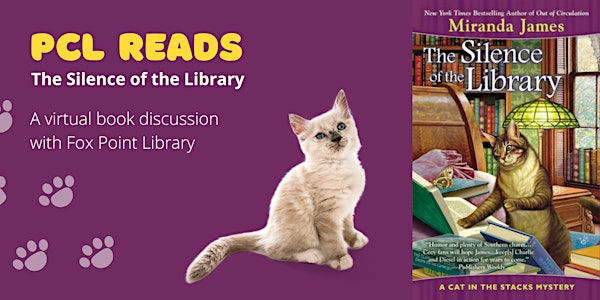 PCL READS The Silence of the Library: A Virtual Book Discussion
Get cozy this month with a Cat in the Stacks Mystery featuring librarian-turned-sleuth Charlie Harris and his cat Diesel!
About this event
Hosted virtually by our fur-ends at Fox Point Library this month, we can't wait to read this cozy Cat in the Stacks Mystery, The Silence of the Library by Miranda James! Place a hold on the book in our cat-alog. Register through Eventbrite to receive the Zoom link to this totally paw-some book discussion!
ABOUT THE BOOK
When a beloved mystery author's visit causes a stir in their small Mississippi town, librarian Charlie Harris and his cat Diesel must outwit a fiction fanatic turned real-life killer.
It's National Library Week, and the Athena Public Library is planning an exhibit to honor the centenary of famous novelist Electra Barnes Cartwright—creator of the beloved Veronica Thane series. Charlie has a soft spot for Cartwright's girl detective stories (not to mention an extensive collection of her books!). When the author agrees to make a rare public appearance, the news of her whereabouts goes viral overnight, and series devotees and book collectors converge on Athena. After all, it's rumored that Cartwright penned Veronica Thane stories that remain under wraps, and one rabid fan will stop at nothing—not even murder—to get hold of the rare books…
"Ideal for Christie fans who enjoy a good puzzle."—Library Journal
ABOUT THE AUTHOR
Miranda James is the pseudonym of Dean James, a seventh-generation Mississippian recently returned home after over thirty years in Texas. Currently a librarian in the University of Mississippi Medical Center in Jackson, Dean has published articles on topics in library science, the history of science/medicine, and mystery fiction. His first novel, Cruel as the Grave (Silver Dagger Mysteries) was published in 2000. Since then he has published more than thirty novels, writing under his own name and the pseudonyms. In August 2010 he launched a new series writing as Miranda James. Since then most of the books in the series have made national bestseller lists, including the USA Today and Barnes & Noble bestseller list.
CONTACT US
Do you have questions about the book discussion? Contact Amy Rosa at arosa@provcomlib.org or Lee Smith at lsmith@provcomlib.org.