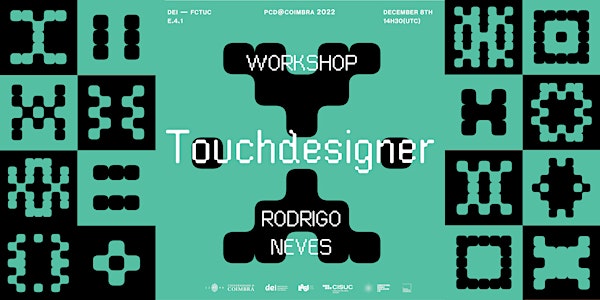 PCD@Coimbra 2022 — Touchdesigner Workshop: GLSL and node-based programming
The second day of PCD@Coimbra 2022 will include a Touchdesigner Workshop!
When and where
Location
DEI - Departamento de Engenharia Informática - FCTUC, Room E.4.1 Universidade de Coimbra, Pólo II - Pinhal de Marrocos 3030-290 Coimbra Portugal
About this event
The Processing Community Day initiative is supported by the Processing Foundation and has the goal of celebrating art, code and diversity while promoting creative coding and computational thinking as tools for creative students, researchers and professionals. PCD@Coimbra aims at being a showcase for what is currently being developed in Portugal, especially in Coimbra, and also a place for stimulating discussion and initiating future collaborations.
The second day of PCD@Coimbra 2022 will include a second workshop — Touchdesigner: GLSL and node-based programming languages — by Rodrigo Neves (DEI, NEI).
Presenter bio and workshop abstract:
I'm Rodrigo. My friends know that I'm a lover of nature and that you will likely find me contemplating the forests and the mountains most of the time. I am a musician on my free time, and music is one of the main things in my life, both listening to new things but also creating and manifesting my melodic ideas. Professionally, I have a graphic design degree, which also gave me a 3 month internship in the UK. I then joined the University of Coimbra and got a bachelor's degree in design and multimedia, and am currently finishing my masters of the same course. I have had the opportunity to work for multiple clients, mostly doing webdesign, illustration and artwork. I self taught programming and kept on learning since then. Recently I have started teaching myself to work with Touchdesigner and understanding more of visual effects and compositing.
Workshop Abstract:
A brief introduction to using GLSL in TD and how to think from nodes to GLSL processes and vice versa. Previous basic understanding of GLSL and Touchdesigner 2021 is important for the class, as the basics will be only briefly mentioned. Bring your own laptop (Win/Mac/Linux) with the TouchDesigner installed (download it for free here: https://derivative.ca/download)