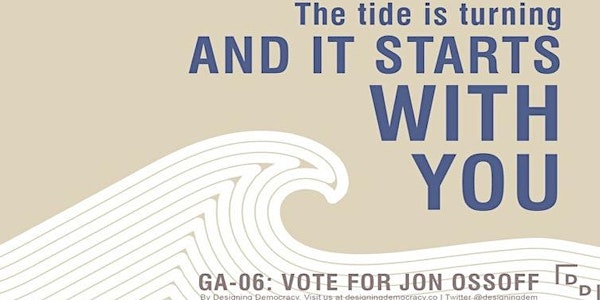 PaveItBlue: 6th District Visibility Rally for Jon Ossoff
When and where
Location
Various corners throughout 6th District
Description
DISTRICT WIDE RALLY AND DAY OF ACTION FOR JON OSSOFF
Hosted by PaveItBlue
Saturday April 8th, 11:00am - 1:30pm


Brookhaven

,

Chamblee

, Dunwoody, Roswell, and Northlake
For media inquiries, please contact:
Jen Cox - Director of Communications - PaveItBlue 404.680.8383
Co-Sponsored By

Briarlake Concerned Citizens
Call to Action Georgia
Common Path
Damsels in Defiance
Designing Democracy - @designingdem
East Cobb Huddle
Indivisible Progressive Action Group for Atlanta (IPAGA)
John's Creek - Milton Progressives
Milton Marchers
Nasty Women's Book Club - Atlanta Chapter
North Georgia Democrats
Rise Up! Resist! Rectify! Tucker Huddle
Smyrna Cobb County Huddle
Together We Will - Georgia
United We Stand Dunwoody
We Are Watching (Dekalb)
********
Please join us at BROOKHAVEN or CHAMBLEE! These are HIGH DENSITY DEMOCRATIC NEIGHBORHOODS and we need to ensure all voters know about the special election on 4/18/17, and are ready to VOTE!
********
Join PaveItBlue and our progressive partners as we take over five street corners across the 6th Congressional District to rally for Jon Ossoff! Afterwards, we'll meet at the Chamblee office and then hit the streets to canvass to GOTMFV. ✨Jon Ossoff will meet us at the Chamblee office to kick off our Day of Action and help us GOTV!✨
Why rally? Well - there are still tons of people in the 6th District who don't know about the special election on 4/18 - or don't know about Jon Ossoff! Let's get them FIRED UP AND READY TO VOTE!
How It Works
- Pick your street corner below. 1 person = 1 "ticket" (Please RSVP with the total number you are bringing so we have an accurate count and can open up more corners if needed!)
- Bring your family, your friends, or any Ossoff supporters you've picked up while canvassing!
- Show up at 11:00am on Saturday 4/8/17 with your signs, your coolest campaign couture, and your positive attitude, and be prepared to Rally Your Ossoff!
- After the rally, we'll meet at the Chamblee office at 2:30 p.m., and we'll hit the streets to GOTV. Address: 3652 Chamblee Dunwoody Rd, Chamblee GA 30341

DOs and DON'Ts
DO invite all your liberal/progressive/Democrat friends, family, and kids! This is OPEN TO THE PUBLIC.

DO bring your awesome positive signs promoting Jon Ossoff, Democrats, or turning GA blue!

DO listen to your rally captains - four at each corner! They have your safety in mind.

DON'T be a rude rally partner…we reserve the right to ask you to leave if you're endangering the safety of anyone at the rally sites.

DON'T pick a corner not on this list. These locations were chosen specifically to target high concentrations of Democratic voters. Help us reach the people who need a nudge to get to the polls!


1ST AMENDMENT SAFETY RULES
We're allowed to rally on public sidewalks without a permit because we're awesome citizens who respect the rule of law. Public assembly is covered under the 1st Amendment.

Allow all pedestrians to use the sidewalks with ease - make way, make room!

Don't block driveways to businesses or houses.

Don't cross the street unless you're at a crosswalk with a clear walk signal and plenty of time. Jaywalking citations aren't cool!

Don't encourage people to stop their cars to talk to you - but do wave them towards the nearest parking lot so they can join us!

Stay back from the curb and don't step into or stand in the street. You're voting for Jon Ossoff - we need you to stay safe to vote!

If the police or media show up, calmly direct them to your nearest rally captain. They're trained and know what to do and say!
RALLY SITES

Dunwoody: Perimeter Center W at Ashford Dunwoody Road (parking: Perimeter Mall)
Brookhaven: Peachtree Road NE at Dresden Dr (parking: Brookhaven - Oglethorpe MARTA)
Chamblee: Peachtree Industrial Blvd at Chamblee Dunwoody Rd (parking: nearby)
Northlake: Henderson Mill Road at Briarcliff Road NE (parking: Northlake Mall)
Roswell: Holcomb Bridge Road at Alpharetta Highway (parking: nearby!)
Questions? Email paveitblue@gmail.com
Big huge thank you to Designing Democracy for permitting us to use their graphic. Follow them on Twitter @designingdem