Learn tools, practices, and techniques that support "working software" delivered frequently with technical excellence aligning with Scrum.
About this event
****Guaranteed to Run****
Live Online/Instructor-Led Course
Purpose
This Certified Scrum Developer training course is aimed at software developers (programmers) who are building software in an Agile environment. The goal is to expose students to the most important tools and techniques that need to be applied in order to build good software in the iterative and incremental way. These ideas are central to the entire field of Agile software development.
To understand the value Certified Scrum Developer training in agile technical practices can bring to your team, please watch this conversation between R9 founder Scott Dunn's and technical coach and trainer Paul Moore. 
Format
Our CSD technical course is unique in that we spend the second half of the course cycling through online mob programming exercises. Instructor models the XP practices required for strong agile tactical development. Then students pair and group together to practice the collaborative nature of agile engineering teamwork. Our low instructor/student ratio allows for excellent support throughout the class, so no one gets left behind.
Scope
The Learning Objectives cover the critical skills in coding, testing, refactoring, continuous integration, and other related topics that are needed for successful team software development.
Learning objectives:
By the completion of the Certified Scrum Developer training technical practices course, the student will be able to perform test-driven development, refactoring, and continuous integration in a course-provided sandbox situation. The student will be familiar with the terms and practices involved, and with why these practices are important. They will have taken the first steps toward becoming expert in iterative and incremental development.
By the completion of the Certified Scrum Developer training technical practices course, the student will be able to… 
Testing
Understand why highly-effective developers write their own tests
Understand assertions
Understand the full spectrum of testing options
Identify various types of tests (unit tests, integration tests, functional tests, acceptance tests, etc)
Know how to write automated tests
Collaboration – This might include, but is not limited to, the following concepts:
Define pair programming and mob programming
Define "collective code ownership"
Describe "working together as one team."
Test-Driven Development – A study of test-first development, including but not limited to, the following concepts:
Describe Test-Driven Development (TDD) as a design approach.
Review the steps of the red-green-refactor cycle.
Explain, using examples, at least three unit testing principles and practices.
Outline five qualities of a good test.
Describe how to measure test effectiveness.
Legacy Code
Describe what "legacy code" is
Develop a strategy for working effectively with legacy code
Refactoring – An introduction to the practice of refactoring, including but not limited to, the following concepts:
Define refactoring
Describe when to refactor.
Understand SOLID principles
Outline refactoring for maintainability. Define refactoring to patterns.
Understand—and recognize—code smells
Technical Debt
Describe what Technical Debt is
Understand the influences for technical debt
Match the benefits of various technical practices to influencers of technical debt
Test Doubles
Understand what test doubles are (e.g. mock, stub, fake, spy, etc)
Understand when to use a test double
Understand how to balance the trade-offs in using mocks
Continuous Mindset – An introduction to the key practices of continuous integration:
Define a single command build.
Summarize how to create a build that is automated, self-testing, and fast.
Describe the importance of a single-source repository.
Define increasing visibility and automating deployment.
What past students have said about the Certified Scrum Developer training technical practices course:
The content is great. The explanations were very good too. Very active Environment with all the exercises.

The instructors were very knowledgable and made it easy to see how adjusting our practices could benefit us greatly.

I liked practicing test driven design through pair programming and mob programming. The training offered a way to work on these concepts through low-risk, easy-to-kickoff exercises.

The programming exercises were great but I'm not a programmer so I probably did not get as much out of it as developers.

All of the pair / mob programming exercises were very productive, and made me more comfortable working with my team.

Doing TDD in a mob is an awesome experience! 
Bundle to Complete the Full CSD and Save
As you probably know, getting the full CSD certification requires completing another two days of coursework (explained as "Track 1" here). To make this simple, if you bundle this CSD technical course with a Rocket Nine Solution's CSM course, you will receive a $200 refund off the CSM class purchase. Simply request the refund following the purchase. Feel free to contact us (below) if you have questions. :-)
Prerequisites:
The candidates for this Certified Scrum Developer training hands-on technical practices course should generally be programmers in a conventional programming language such as Java, C#, JavaScript, Python, Ruby, Swift, C++, and so on. The course involves programming in a team environment. This course also offers student slots to testers who have some experience with test automation. All students will be using pair programming throughout the course and testers are typically paired with programmers. The course is a programming course, not a survey, overview, or discussion. Actual code will be written, tested, and reviewed by the instructor(s).
Students should also arrive at the course familiar with:
An understanding of programming logic
A willingness to code
Agile Manifesto (4 values, 12 principles) (AgileManifesto.org)
Attendee Requirements:
A computer with a prepared development environment. Students will be pair programming in this course and we will need at least 1 working computer for every two students.
When you register, you will be asked to submit your top two programming-language preferences. The Certified Scrum Developer training technical practices course will likely be presented in Java or C#. Small teams will choose their preferred implementation language.  This could be Java, C#, JavaScript, C++, Ruby...
US-based attendees will receive a physical course workbook to guide their participation in the course provided they sign up more than a week before the course is set to run.
Please go to our website for more information about how to get Agile Technical Practices (ATP) or Certified Scrum Developer (CSD) training in Southern California.
About Rocket Nine Solutions
Rocket Nine Solutions stands out in the marketplace of Agile training and coaching organizations because we choose to focus on building up our local communities. We sponsor and participate in our local agile meet-ups and conferences. We strive to build up a local talent pool of coaches in an effort to come alongside our clients implementing Agile transformations. We offer a complete range of Agile training from the C-suite and management to team leads and developers. We cover Agile mindset, Scrum process, and hands-on Agile technical practices like Extreme Programming. We partner with top-notch trainers who are leaders in the global marketplace to provide the highest quality training for our clientele. All of our courses are taught interactively with an emphasis on learner engagement. Please click here to learn about our founder Scott Dunn's background and why he is so passionate about agile.
Rocket Nine Solutions offers:
Scrum Master Training Product Owner Training
Scrum Master Training in San Diego Product Owner Training in San Diego
Scrum Master Training Los Angeles (near LAX)
Certified Agile Leadership Training
Looking for Private Training?
For private certified or agile overview training, assessments, or management or team building workshops, please click here to contact us.
About Rosa Media Productions
Rosa Media Productions is the marketing and training logistics management licensee for this Rocket Nine Solutions course. Rosa Media Productions provides video studio consulting, online course creation, and content marketing video production services for the product development corporate training and public education markets.
Cancellation Policy - You may cancel and receive a full refund up to 14 calendar days before the course start date.  Substitution of the attendee for this course can be made at any time prior to the course start date. Cancellation requests made within 14 calendar days of course start date will result in a 60% refund. No-shows on day of class are non-refundable. 
Guaranteed to Run Policy - When Rocket Nine Solutions classes are marked "Guaranteed to Run" this means that the class will not be cancelled. In other words, barring instructor illness or major catastrophe the class will run at the time and location listed.  
Media Release Policy - Please be aware that Rocket Nine Solutions (Scott Dunn, et al) may choose to record electronic and traditional media (e.g., photographs, video, audio footage, testimonials) at this event and attendees may appear in these recordings. By submitting a registration for yourself or someone else, or by attending this event, you grant permission for Rocket Nine Solutions to store those recordings in a database and to use them in future print, electronic, or other visual media for educational and promotional purposes. If you do not wish to grant permission, please contact the event manager listed below prior to attending the event.
If you need assistance, please contact Cliff Rosa at cliff@rocketninesolutions.com or call 714-699-4679.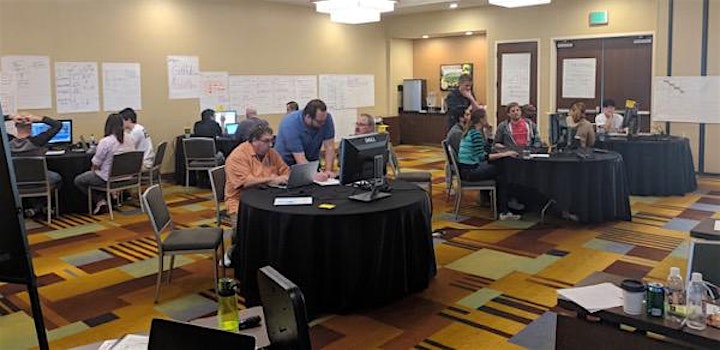 Organizer of Paul Moore|Certified Scrum Developer-Tech Practices-CSD| Online |Dec. 2020
About Rocket Nine Solutions
Rocket Nine Solutions has been offering agile training in the SoCal area for over five years. We offer Cerfied Scrum Training as well as Kanban (LKU) and Large Scale Scrum (LeSS) certifications. Our trusted agile consultants, coaches, and trainers work at the technical and team level, with middle management, or with executive leadership to make the necessary mindset and behavioral shifts key to becoming Agile and doing Scrum.