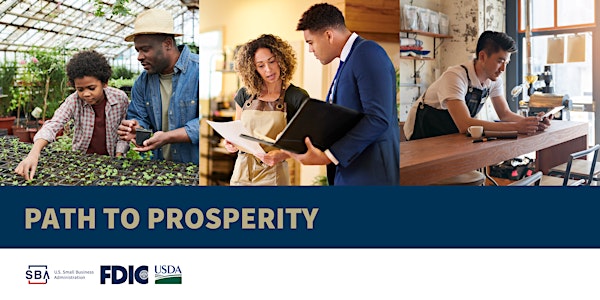 Path to Prosperity: Incentivizing Small Business to Build a Path Forward
Join the FDIC, SBA and USDA for an online discussion series titled "Path to Prosperity" and help small businesses build a path forward!
About this event
Small businesses contribute an estimate 47 percent of U.S. employment and serve as the primary vehicle of wealth creation for minorities and women nationwide. Prior to the COVID-19 pandemic, research shows that businesses in communities of color were the most cash-constrained but the least likely to have existing relationships with large banks, playing a role in keeping them out of recovery efforts. Today, minorities and women still index high in business startups and entrepreneurship initiatives despite the various liquidity constraints and limited access to credit.
Our presenters will share how financial institutions, non-profits and community-based organizations can encourage the development of a "Path to Prosperity" by incentivizing unbanked and under-banked small business owners and individuals to establish a relationship with an insured financial institution and/or accessing financial services.
This virtual summit will focus on the southern United States and we will be hearing from experts in the banking and lending industry, community partners, government contracting officers, and Asian American and Native Hawaiian/Pacific Islander-owned small businesses engaged in healthcare services.