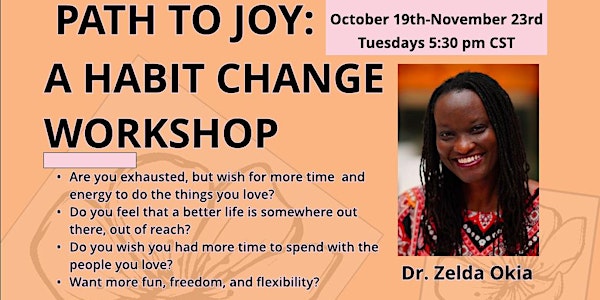 Path to Joy: A Habit Change Workshop
Take your habits from the sideline to the front line then join me starting October 19, 2021. This workshop sponsored by CCHD and 5PNA.
About this event
Zoom link sent upon registering.
PATH TO JOY — A HABIT CHANGE WORKSHOP
Are you exhausted but wish for more time and energy to do the things you love?
Do you feel that a better life is somewhere out there, out of reach?
Do you wish you had more time to spend with the people you love?
Want more fun, freedom, and flexibility?
You can have this and so much more if you develop better habits.
Do you feel stuck in a rut?
Want to master new skills and develop your expertise?
Want to learn new habits to get you that toned, healthy body you desire?
Do you wish a brighter future would come and find you?
Then join me for my Path To Joy — Habit Change Workshop
Create a path to a better future by breaking old habits and taking bold, audacious action.
Stop doing the same thing over and over and expecting a different result.
Produce new results by taking new actions!
During this 6-week workshop,
You Will:
— Learn why changing habits can be so darn difficult
— Discover a systematic approach to making habit change a cinch.
— Zap that sneaky, negative self-talk that derails you every time
— Understand the system that makes you do what you do.
— Create habits that make room for your passions and desires
— Design habits that create space for possibility.
— Use your habits to discover the path to the life of your dreams