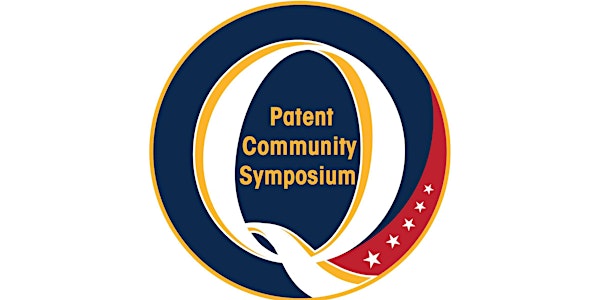 Patent Community Symposium - Empowering innovation through enhanced quality
When and where
Location
Rocky Mountain U.S. Patent and Trademark Office 1961 Stout Street 14th Floor Denver, CO 80294
Description
Join Us in an Open Discussion on Enhancing Patent Quality!
We are hosting this Patent Community Symposium to update the public on the status of our quality enhancing programs, to introduce some developing programs and collect your feedback, and to continue the discussion from a stakeholder's perspective on what patent applicants and their representatives can do to enhance quality. The programs of the Enhanced Patent Quality Initiative, as well as other quality-focused programs in the patents area, will be highlighted.

If you are a patent applicant, practitioner, or litigator, please attend to:
Learn how we are improving our processes and work products to foster enhanced patent quality;

Experience how we review examiners' work product to assess quality;

Participate in a workshop to use and provide feedback on the office's new Master Review Form; and

Gain strategies and contribute to a panel discussion on enhancing your application filings, responses, and examiner interactions during prosecution.
The program is free and open to the public - click here to view the agenda for program being livestreamed from Alexandria, VA.
The draft agenda for the program being held at the Rocky Mountain Regional Office in Denver, CO, is detailed below. For inquiries about this event, please email RockyMountain@USPTO.GOV.

---
8:00 AM to 8:30 AM Participants Arrive and Sign in | Networking
8:30 AM to 8:35 AM Welcome
Michael Carone, Rocky Mountain Regional Manager

Dan Ryman, Senior Advisor, Office of Patent Quality

Mark Radtke, Supervisory Patent Examiner
8:35 AM to 8:45 AM Opening Remarks: Before and After (Livestream):
How is Enhanced Patent Quality Making a Difference
Michelle K. Lee, Under Secretary of Commerce for Intellectual Property and Director of the USPTO
8:45 AM to 9:05 AM Post-examination Enhancements (Livestream):
Highlights include: Post Grant Outcomes
Jack Harvey, Acting Assistant Deputy Commissioner for Patent Operations
9:05 AM to 9:45 AM Improving Evaluation of Examination (Livestream)
Highlights include: Topic Submission for Case Studies and Big Data
Brian Hanlon, Director of the Office of Patent Legal Administration
9:45 AM to 10:00 AM Morning Break
10:00 AM to 10:45 AM Search & Training Enhancements (Recorded Livestream)
Highlights include: Global Dossier and Clarity of the Record Training
Maria Holtman, Director of International Programs

Don Hajec, Assistant Deputy Commissioner for Patent Operations
10:45 AM to 11:00 AM Quality Metrics (Livestream)
Improving Patent Quality Measurement
Marty Rater, Chief Statistician, Office of Patent Quality Assurance
11:00 AM to 12:15 PM Master Review Form (MRF) Hands-On Workshop
Reviewing for Correctness, Clarity, and Consistency
Dan Ryman, Senior Advisor, Office of Patent Quality

Rocky Mountain Regional USPTO Management Team
12:15 PM to 12:30 PM MRF Report Out (from the workshop)
Dan Ryman, Senior Advisor, Office of Patent Quality

Rocky Mountain Regional USPTO Management Team
12:30 PM to 1:15 PM Lunch Break
1:15 PM to 2:15 PM Panel Discussion (Livestream)
How Applicants Can File and Prosecute a Quality Application
Russ Slifer, Deputy Under Secretary of Commerce for Intellectual Property and Deputy Director of the USPTO

Bill Bunker, Knobbe Marten

Rick Nydegger, Workman Nydegger

Kevin Noonan, MBHB

Laura Sheridan, Google

Tim Wilson, SAS
2:15 PM to 2:50 PM Q&A with Panel (Livestream)
Moderated by Russ Slifer, Deputy Under Secretary of Commerce for Intellectual Property and Deputy Director of the USPTO
2:50 to 3:05 PM Afternoon Break
3:05 PM to 3:35 PM Prosecution Enhancements (Recorded Livestream)
Highlights include: Clarity of the Record Pilot
Robin Evans, Director, Technology Center 2800
3:35 PM to 3:45 PM Closing Remarks (Livestream)
Drew Hirshfeld, Commissioner for Patents
3:45 PM to 4:00 PM Networking and Q&A
Dan Ryman, Senior Advisor, Office of Patent Quality

Rocky Mountain Regional USPTO Management Team