Pat McGee's Down The Hatch encompasses the best stuff in life: music, friends, the beach, but so much more!
About this event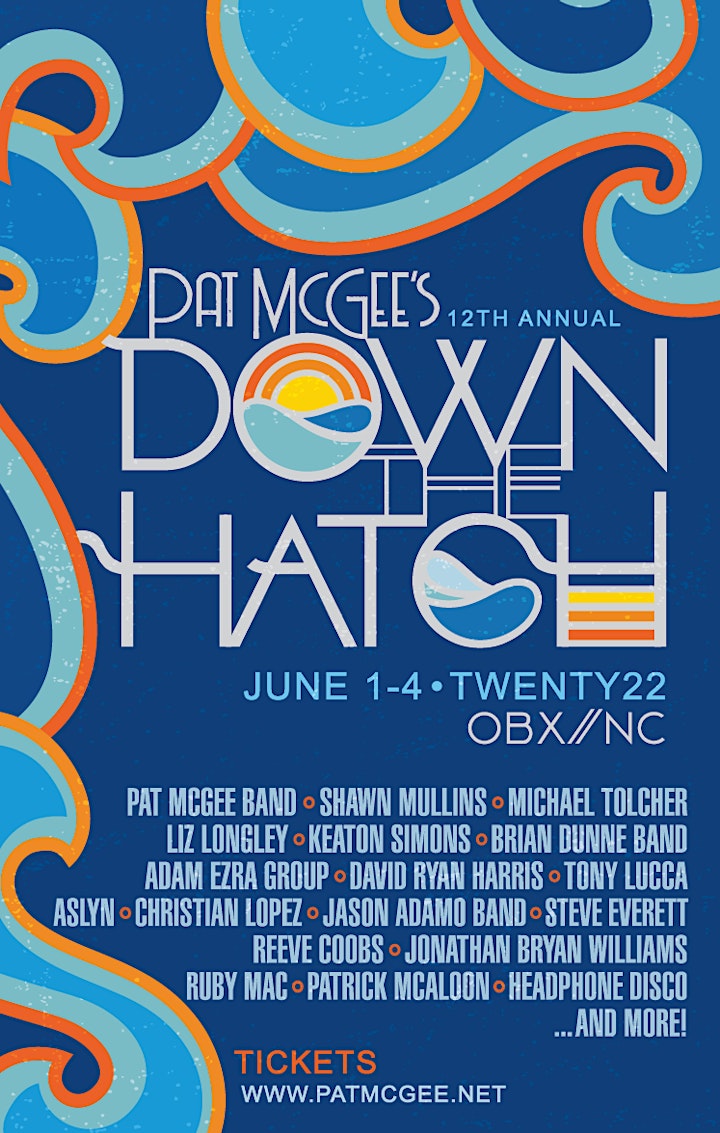 Pat McGee's Down The Hatch has become a truly unique experience. Friends and artists share the same beachfront resort during 4 glorious days in the Outer Banks of North Carolina (OBX).
For those of you who are veterans of this epic event, DTH needs no explanation. For any music fan searching for a slightly different getaway, look no further than Down The Hatch. It rejuvenates the heart and soul while invigorating your senses on all levels. It's the joy of discovering new music, and not just online, but really getting to know the artists in a relaxed and breathtaking setting and doing so with like-minded friends.
The music has always been the focus but a very close second is OBX. Pat spent many years there throughout his youth and later with Pat McGee Band when they would make OBX a 3-day tour stop, setting up shop at a local venue and inviting friends and family to join. Those early days planted the passionate and creative seed to one day return and host a full scale festival.
What makes DTH different than other music festivals?
Well, first off, it's ARTIST-RUN.
Pat McGee started this as a two-fold way to showcase relatively unknown artists and bands while enlightening people to the beauty of the Outer Banks.
The invited musicians were opening for Pat McGee Band on the road throughout the year and Pat simply felt that they deserved more exposure and time in the spotlight.
THE SETTING:
The Ramada is the perfect laid-back setting to showcase all this talent utilizing the hotel's beach, back decks, tiki bars and ballrooms in innovative and flat-out fun ways. Pat turns this oceanfront resort into an artists' playground. The key being that acts are never competing for the attendees' time and the artists get the chance to unwind with their peers for several days, putting a pause on the normal hectic touring lifestyle. This always lends itself to inspired collaborations that are exclusive to DTH.

THE EXPERIENCE:
Because it's artist-run, Pat is always looking for creative ways to give attendees, as well as artists, an experience they just can't get at any other events. Songwriting/guitar lessons with fans, casual Q&A sessions, incredible collaborations and, of course, the wildly great time, Headphone Disco, where the artists treat you to a crazy dance party that even the most stern wallflower cannot resist. DTH constantly evolves each year, the best "stuff" is brought back and somehow improved on and new fun is dreamed up and delivered.
THE ARTISTS:
When choosing artists for Down The Hatch, Pat uses a very simple method. Pat has said, "If James Taylor came to dinner at my house (stay with me here, a guy can dream), I would proudly invite ANY of the many DTH artists to come and blow him away with their authenticity. Each artist does what they do as well as anyone else at any level. This is what I want to share with you a DTH - that discovery feeling of, WOW, I am now a lifelong fan!"
DTH 2022 lineup is once again amazing and is sure to be added to (artists are subject to change). It's just too much fun to not share and invite more musicians.
YOU:
Year after year, the attendees (and artists) treat this as one big ole family reunion with some of our nation's best singer-songwriters as their house band. DTH crew are so proud and inspired to create an atmosphere that really gives everyone in attendance the chance to unwind or, in some cases, wind up if that's your speed! Come experience all that is DTH… It always sells out, so we don't advise waiting. AND it makes a fantastic gift (the holidays are coming). BAM! DONE!
Check out prior years' DTH recaps if you're not totally sold yet...
https://www.facebook.com/notes/pat-mcgees-down-the-hatchocean-state-of-mind/pat-mcgees-down-the-hatch-2019-recap/1131455013717014/
GET YOUR TICKETS TODAY HERE ON EVENTBRITE
THEN....
STAY WITH US:
Get your rooms!
YOU MUST CALL RAMADA DIRECTLY at: (252) 441-2151
ASK FOR "PAT MCGEE'S DOWN THE HATCH ROOM RATE/BLOCK."
DO NOT CALL THE 1-800 #, WYNDHAM HOTEL GROUP will not be able to book this for you. Only the front desk of the Ramada. ANY issue at all email us at patmcgeeinfo@gmail.com
Down The Hatch!