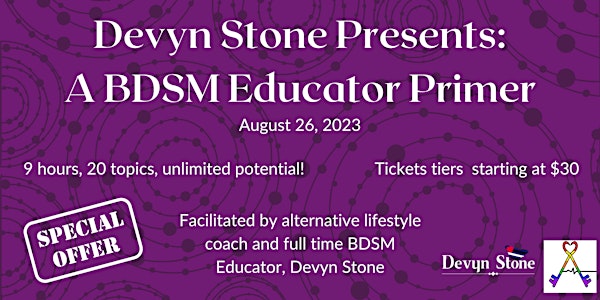 Passing Wisdom On: A BDSM Educator Primer
So you've been thinking you want to teach in BDSM spaces? Join Devyn Stone for a full day of advice and insight on that very topic!
Date and time
Saturday, August 26 · 10am - 7pm PDT
Refund Policy
Contact the organizer to request a refund.
Eventbrite's fee is nonrefundable.
About this event
Kink/BDSM education is an unregulated field. There is no degree or certification to achieve. There are also very few resources available to those who may want to get started. So check this class out! Devyn Stone, BDSM educator and event organizer, takes you on a fast paced and bumpy ride through what he has found to be the basics of calling oneself a "kink educator." You will hear about everything from negotiation and boundaries to scheduling to booking and even some marketing and material development.
*Tickets are on a sliding scale for accessibility. Price is the only difference. Choose the amount that fits your budget.*
WHO IS DEVYN STONE?
Master (Devyn) Stone is an author, educator, and JEDI consultant. He is a Leatherman, an extrovert, a dominant, a Sons of Anarchy fan, and a foodie. He also enjoys organizing events, volunteering, moderating, speaking, and emceeing! He dreams of globe trotting and helping folx achieve the connections they desire, while they learn themselves more deeply. He has been practicing authority transfer dynamics since 2004. He earned the title "Master" and was covered in 2023 at South Plains Leatherfest. Today he lives in Colorado with his property and his doll.
Devyn is the author of "DAMN! That's A Nice Ash! A Comprehensive Guide to Cigar Service & Play" and "Why I Don't Own Them... Yet… ," offering a concise and easy to digest guide to negotiating authority in relationships. He is the Founder of Pragmatically Kinking, an organization that provides virtual education on the practical aspects of BDSM, and THRIVE, a virtual conference dedicated to the intersection of neurodivergence, mental health, and BDSM.
Master Stone has a passion for giving and receiving education. As an educator and consultant, he offers over 50 classes and programs to organizations, groups, and events all around the world. His favorite topics to speak on include: productivity, leadership, consent, event coordinating, authority transfer, and neurodivergence. He believes in diversity not division, and actualizes that idea by promoting strongly affirming spaces and interactions. He was presented the Inferno award at FLAME in 2021, in recognition of his work providing inclusive and accessible education to the BDSM, Leather, and Kink Communities.
To keep up with his work and get in touch please visit https://DevynStone.com
(All times in MST)
**Stop by for one class or stay all day!**
11am - 11:10am Welcome and Settle In
11:10am - 11:30am Introductions
11:30am - 11:45am What do you want to learn today?
11:45am - 12:00pm Intro to Intensive
12:00pm - 2:00pm Payment, Accessibility, and Free Boundaries
2:00pm - 2:30pm BREAK
2:30pm - 4:00pm Educator Goals & Educator Boundaries
4:00 - 6:00pm Marketing and Class Creation
6:00 - 6:30pm BREAK
6:30 - 7:00pm Books and Self Publishing
7:00 - 8:00pm Open Discussion/ Q & A / Wrap Up