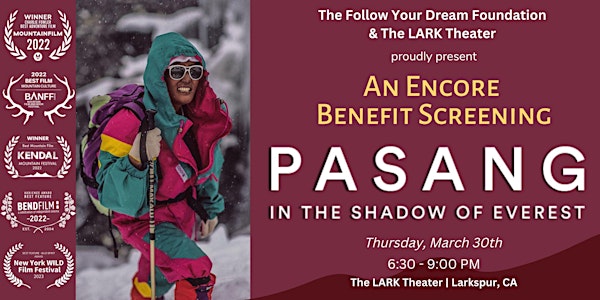 PASANG: In the Shadow of Everest | An Encore Benefit Screening
Journey to Everest for the inspiring true story of Nepal's climbing legend in the award-winning film PASANG: In the Shadow of Everest.
By Follow Your Dream Foundation
Date and time
Thursday, March 30 · 6:30 - 9pm PDT
Location
Lark Theater 549 Magnolia Avenue Larkspur, CA 94939
About this event
PLEASE JOIN US!
Back by popular demand, The Follow Your Dream Foundation and the LARK Theater invite you to a very special encore benefit screening (and Q&A with the filmmakers following) of the award-winning documentary film, PASANG: In the Shadow of Everest, the epic story of Pasang Lhamu Sherpa, Nepal's first female Sherpa to summit Mt. Everest.
PASANG is Director Nancy Svendsen's feature directorial debut and the fruition of a remarkable ten-year commitment to track down and bring Pasang's inspiring story to audiences worldwide. A product of a decorated Marin and San Francisco-based filmmaking team, Pasang's is a universally relevant story of one woman's resilience and the importance of claiming one's rightful place at the table. Pasang's journey demonstrates the remarkable power within each of us to create change.
This critically acclaimed documentary is a film festival favorite, garnering wins for Best Mountain Film and Audience Awards at festivals both domestically and internationally.
Join film team members Nancy Svendsen (Director), Dorjee Sherpa (Executive Producer, Cast Member and Pasang's eldest brother ) and Andrea Pierpont (Associate Producer) at what promises to be an unforgettable film event brought to life in the crown jewel of Larkspur, the beautifully renovated Lark Theater.
EVENING PROGRAM
6:30-7:00 PM: Socializing with special Nepali lite bites and local wine.
7:00-9:00 PM: Film screening followed by Q&A with filmmakers.
Film run time: 71 minutes
___________________________________________________________________________________________________
FOLLOW YOUR DREAM FOUNDATION
The Follow Your Dream Foundation, a Marin County based 501(c)(3), tells the stories of courageous women who have overcome physical, racial, geographical and social challenges to achieve their dreams. We bring these stories to life through the creative arts – film, theater, music and art – we hope each woman's unique story will be a catalyst for another woman's journey. We will share proceeds from the evening's event with the LARK theater and their non-profit efforts toward
THE LARK THEATER
The LARK Theater offers a broad range of cultural programming in a friendly and intimate setting. The repertoire includes first-run, independent, foreigh and classic films, live broadcasts of opera, theater, ballet, and art. The LARK aspires to be the foremost example of a revitalized single-screen/single stage theater that runs as a community-based film and cultural center.
If you are unable to attend the event but would like to support the film and theater, click HERE to reach The Follow Your Dream Foundation's tax- deductible donation page. Proceeds will be shared with the LARK. Thank you!
THANK YOU: This evening is made possible through the coordinated efforts and support of the Follow Your Dream Foundation and the LARK Theater.