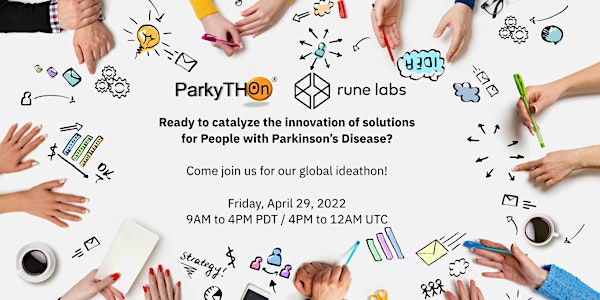 Parkython & Rune Labs Ideathon
Interested in brainstorming new ideas for solutions that can improve the lives of people living with Parkinsons' Disease?
Date and time
Friday, April 29, 2022 · 9am - 4pm PDT
About this event
You are invited! Rune Labs and Parkython are co-hosting an "ideathon" for Parkinson's Disease (PD) Friday, April 29th from 9 am - 4 pm PT. Our goal is to gather diverse and passionate people together for a day to brainstorm new ideas for solutions that can improve the lives of People living with Parkinson's Disease (PwPs).
For more information, please visit here.
Is the event in-person or online?
Both! Join us in person at Rune Labs' headquarters in San Francisco, CA or the University of Cincinnati Gardner Neuroscience Institute in Ohio. For folks who are unable to make it in person, please join us virtually via zoom.
Who can participate?
PwPs, their caregivers, families, friends, coaches, doctors, therapists, dietitians, neurologists, neuroscientists, researchers, professors, students, technologists, app developers, designers, startups, medical device makers, and anyone else who wants to contribute to the cause.
How big will the teams be?
Depending on the final head count, there should be between 4 and 6 people per team, with at least one engineer and one PwP on each.
Where will it be hosted?
In person at Rune Labs HQ in San Francisco and at the University of Cincinnati Gardner Neuroscience Institute. You can also join us virtually via Zoom from wherever you are.
Note: Rune Labs address is: 649 Irving St, San Francisco, CA 94122 . We recommend public transport if possible. The N-Judah MUNI line from downtown San Francisco drops off a block away (at 9th Ave. and Irving St.) Metered street parking is available, and some free parking in Golden Gate Park for longer durations. The closest parking lot is at 7th Ave and Irving St. If you have a handicap placard, you can park the whole day in that lot and most street parking, but always check the signs carefully to be sure.
When will it be?
Friday, April 29th at 9am to 4pm PDT / 4pm to 12 midnight UTC
Will we be working with data?
Using Rune Lab's open source API, we will provide de-identified patient data including Apple Watch and StrivePD app data (steps, gait, heart rate variability, self-reported data etc.). Rune Labs will also provide de-identified brain sense data from Medtronic's deep brain stimulation implant, Percept. This data may be used by the teams for the hackathon/ideathon challenge. All participants will be asked to sign a waiver acknowledging that you do not own any creations made with Rune Labs' data.
I am attending in person. What are the COVID rules?
To ensure the safety of participants, we are following CDC guidelines addressing COVID-19 and public gatherings. To participate in person, we politely request all attendees to be vaccinated. Proof of vaccination will be required. For those attending the SF office, we will provide hand sanitizer and KN95 masks if necessary. For questions or concerns, please reach out to us directly.
Will there be food?
For those who are attending in person in San Francisco, we will provide breakfast (pastries), lunch (pizza), snacks (power bars, chips, etc.) and beverages. Come network with passionate people motivated to improve the lives of people living with Parkinson's Disease.