Parents Have the Power to Change the World
About this Event
The first 1000 days of a child's life are a critical period of development. At least one nurturing adult relationship builds resilience and helps children grow and flourish, even when exposed to stressful experiences. Supportive parents are also key to raising new generations of children who are accepting and compassionate. Parents have the power to change our community and ultimately the world. First 1,000 Days Sarasota fosters positive parent-child relationships, builds community resources to help families, and supports parents as community leaders. This presentation will highlight two-parent stories of resilience, review the impacts of childhood trauma, and offer suggestions for getting involved.
This event will be held on Zoom and live-streamed on the SRQ Strong Facebook. Please register through Eventbrite to receive details on how to join.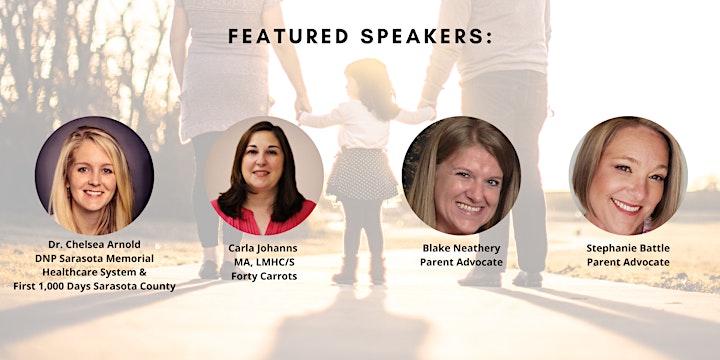 Featured Speakers:
Chelsea Arnold is the Program Coordinator for First 1,000 Days Sarasota. In her previous role as a Nurse Practitioner, she saw firsthand the struggles families faced navigating services. Her passion is building relationships; between organizations to coordinate care; between service providers and their clients to build trust; between parents with their children to help families thrive. As a member of SRQ Strong, she knows in addition to building support for people who have a traumatic past, we must also work on prevention.
Carla Johanns is the Clinical Director at Forty Carrots Family Center. Forty Carrots Family Center is guided by a vision that all parents will provide their children with experiences and environments that are emotionally and physically safe so that they can grow into capable and caring young people. Carla has worked with children, adolescents, and adults in the mental health field for over 20 years. Throughout her work, she has learned that healthy family foundations and supportive relationships set the foundation for healing and resiliency.
Stephanie Battle-Mollison is a wife and mother as well as an orthodontic and pediatric dental assistant. When she isn't making a home and caring for her family, she enjoys reading, spending time outdoors and boating. Her long time career as a dental assistant has allowed her to pursue a passion for educating her patients and building confidence in others.
Blake Neathery experienced a lot of trauma throughout her life and was an addict for 12 years. She recently celebrated 4 years of being clean. Today she is a stay-at-home mom who still struggles with everyday life, like everyone else. She is focused on breaking generational cycles of trauma, being the best version of herself, and a dedicated, nurturing, and loving mother to her children.