How to Support Anxious or Depressed Kids: What Therapists Want You to Know
About this event
This Session: Tuesday, March 30
How to Support Anxious or Depressed Kids: What Therapists Want You to Know -- Travis Pilarcik, MA, QMHP, NCC, Sequoia Mental Health Services
Description: Working with kids in mental health, Travis has noticed some very similar trends with parenting and mental health in children/adolescents. Let's dive into both anxiety and depression as they go hand-in-hand with understanding many other things about children/adolescents!
The WCK Parent Speaker Series are free presentations designed to provide useful information, tips, and tools for parents/guardians of children K-8.
Each one-hour session begins with an informative and informal presentation by our professional speakers and allows adequate time for participants to ask questions.
Sessions are provided at no cost to registered participants
Sessions are scheduled for Tuesdays from 6-7:00 PM PST (session recordings will be available)
Door prize drawing (thanks to Albertsons and Safeway!)
Presenter bio: Travis Pilarcik was born and raised in Colorado. He went to Central Washington University originally for music before switching and getting two bachelor's in psychology and sociology. Travis moved to Portland in 2013 and went to Lewis & Clark College for his master's degree in professional mental health counseling and addictions, supporting himself with jobs at subway and the suicide hotline. He has been working with children/adolescents since 2015 when he served as supervisor for the teen2teen hotline and an internship working with foster kids. He secured his license and has been working at Sequoia since 2020.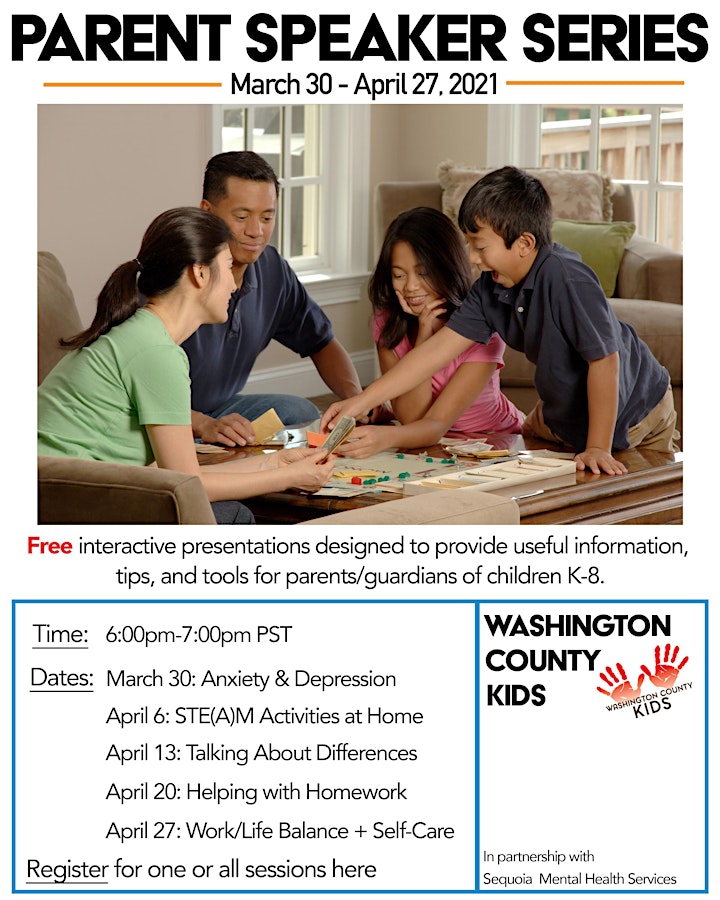 Organizer of Parent Speaker Series: How to Support Anxious or Depressed Kids
Our vision is to have a world where all children are given the opportunity to reach their full potential. Washington County is the second most populated Oregon county with over 137,549 children ages 0-17. WCK fills an important need in the county as the only county-wide coordinator serving afterschool and summer OST programs and is also a liaison to the county's early learning hub. WCK facilitates networking, educational opportunities, the sharing of best practices, and fostering collaboration among providers.
When it comes to academic performance, emotional development, and preparation for employment, County kids are missing out. Please help us strengthen our community by giving children access to the kind of programs they need to succeed.